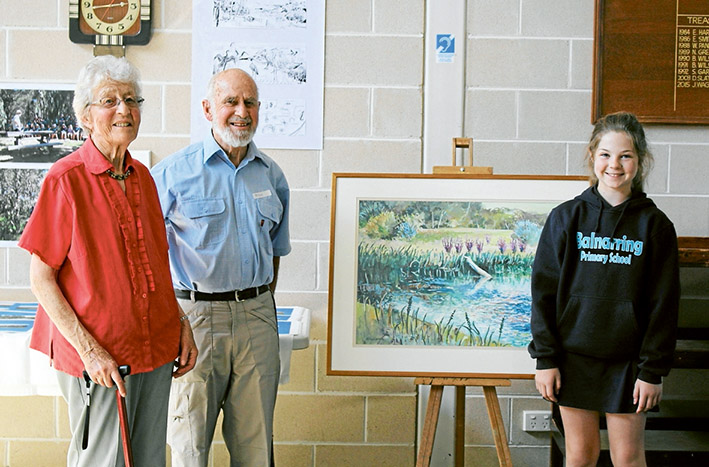 AN afternoon tea for Peter and Kathie Strickland at Balnarring Hall in mid-March was an "acknowledgment of their considerable contribution to the local environmental and art communities".
The couple, active members of community groups and environment organisations, are leaving their Beattie Av, Bittern, home and moving to Queensland to be near their children after more than 50 years on the Mornington Peninsula.
The farewell was attended by friends and representatives of these groups.
"[Kathie and Peter] have made many friends and been inspirational with their sense of commitment and can-do attitude and, importantly, they have always delighted in sharing their knowledge and mentoring others," farewell organiser Annette Bunyevich said.
"This can be seen in their passion for the environment, particularly in maintaining its integrity, and promoting the planting of indigenous species.
"They have been involved in the establishment and nurturing of the Balbirooroo Wetlands at Balnarring, which is a treasure for the community and, especially, for pupils at Balnarring Primary school for whom it is a wonderland of experiences and learning."
Ms Bunyevich said the school motto, Where Nature Meets Nurture, underscores the school's role as a Sustainability School. "The wetlands, after years of hard work by many people, have developed into the wonderful oasis," she said.
"Peter's detailed botanical illustrations of its flora and fauna are placed along the Wetlands walk, as are drawings by Nambooka about their Koori story.
"Peter and Kathie were involved from the early days, donating indigenous plants from their Kareelah Nursery and rolling up their sleeves at community plantings and working bees.
"Their love of nature is reflected in Peter's wonderful paintings of the peninsula and of many other breathtaking places around Australia."
Mr Strickland was the foundation art teacher at Woodleigh School.