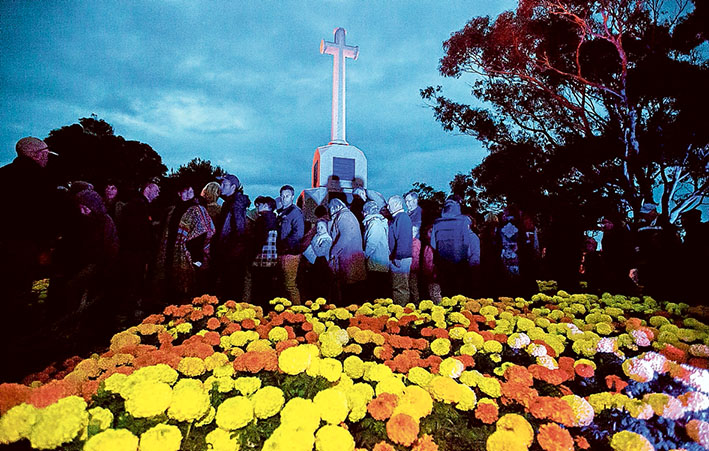 THERE will be 13 Anzac Day marches and services on the Mornington Peninsula.
The mayor Cr Bev Colomb said the day is a time for "reflection, thankfulness and remembrance of the Anzac landings at Gallipoli".
"While Anzac Day has always been a huge day of national pride, each year reignites the community's dedication to remembering the sacrifice so many have made for our country.
"We will remember not only the original Anzacs who served at Gallipoli, but commemorate more than a century of service by Australian servicemen and women."
Anzac Day program:
Balnarring 9.30am service at Balnarring Village Shopping Centre.
Crib Point 10.55am march from Crib Point RSL for 11am service at the cenotaph in Tingara Place.
Dromana 6am dawn service at Peninsula RSL; 9.15am march from O'Donohue St for 9.40am service at the cenotaph at Dromana Hall.
Flinders 10am service at Flinders Hall; march leaves hall at 11am for monument at top of Cook St.
Hastings 5.30am dawn service at the foreshore; 10.30am march from Hastings RSL for 11am service at the foreshore.
Mornington 6am dawn service at Memorial Park in Barkly St; 9.45am march from corner Main and Queen streets for 10am service at Memorial Park.
Mt Eliza 1.30pm service at Mt Eliza Community Centre.
Red Hill 11am service at Red Hill Community Park.
Rosebud 6am dawn service at Rosebud RSL; 9.30am march from corner Ninth Av and Point Nepean Rd for 9.45am service at cenotaph, corner Jetty and Point Nepean Rds.
Rye 6am dawn service at Rye RSL; 12.15pm march from Rye pier for 12.35pm service at Rye RSL.
Somerville 6am dawn service at the cenotaph at Fruit Growers Reserve.
Sorrento 6am dawn service at Sorrento Foreshore; 11.30am march from opposite flagpole on Ocean Beach Rd for midday service on the foreshore.
Tyabb 5.45am dawn service at the cenotaph at Tyabb Recreation Reserve.
Full Anzac Day program at mornpen.vic.gov.au/anzacday
First published in the Southern Peninsula News – 18 April 2017