By Ben Triandafillou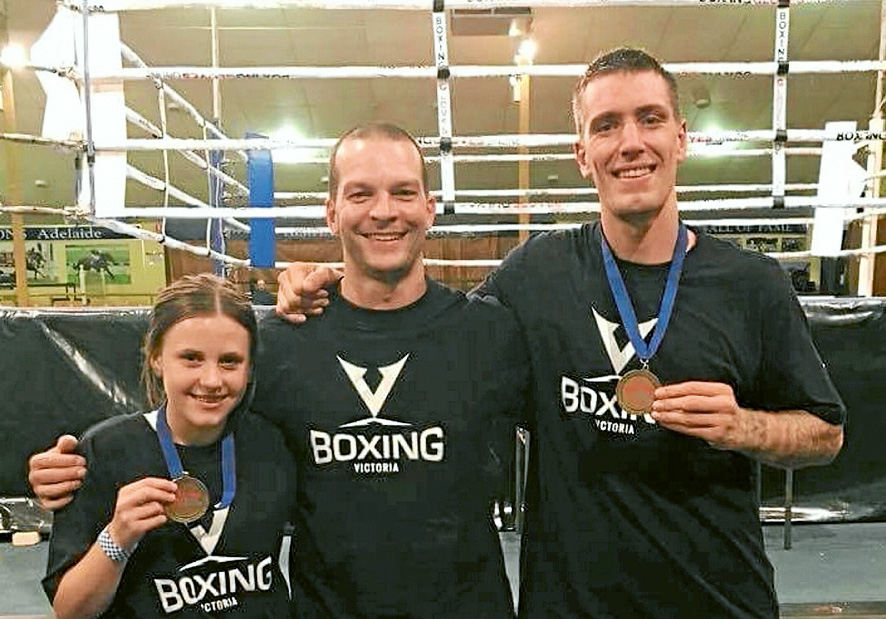 PENINSULA Boxing has been rewarded with two gold medals after a flawless performance at the 2017 Australian Boxing Championships in South Australia on April 8.
Peninsula Boxing went undefeated at the national championships with the Victorian representatives Tyla McDonald and Jason Whateley triumphing in their respected divisions.
Tyla McDonald, 13, added to her impressive record defeating last year's national champion, Tameriah Barney-Sandy, in the final round of the 'Schoolgirls Division'.
Jason Whateley, showed his class at the Elite World Games breezing through the opening rounds of the 91kg division and earning gold, defeating fellow Victorian, Adrian Paoletti, in the final.
Peninsula Boxing head coach, Marcos Amado, said that the result is recognition of the athletes continuous training and constant hard work.
"It takes a lot of commitment and dedication to reach a high standard," Amado said.
"We really make sure that we are training with a purpose and have a goal in mind otherwise it doesn't work, you can't do it aimlessly."
The training has clearly paid off for Peninsula Boxing as they returned home as the only gym in Victoria with two gold medals.
Amado said that the gym rallies behind their athletes when they have an important fight coming up.
"It's an individual sport but it's been a team effort," Amado said.
"We all chip in to help out our boxers and with one person being successful out of the gym, the whole gym feels the success."
Tyla was the only female in Victoria to earn a gold medal at the nationals and will now be looking to head to Canberra for an AIS Boxing Camp.
"She could go five or six months without getting a fight but we want to keep her active and she's flying at the moment so we might as well strike while the iron's hot," Amado said.
Whateley has taken his record to five wins from five fights since joining Amado at Peninsula Boxing and will be attempting to qualify for the Commonwealth Games later in November.
"He's at the pinnacle of boxing and to have five fights already for a 91kg boxer is massive," Amado said.
Whateley will fly over to Poland for the Feliks Stamm tournament in four weeks before heading to the OCBC Oceania Confederation Boxing Championships in June.