NEPEAN LEAGUE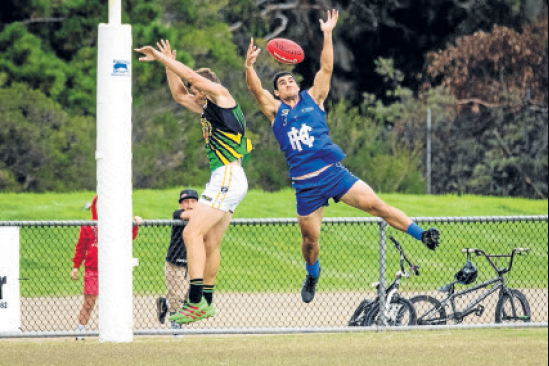 IT may have taken five matches of football to get there but reigning Nepean champions Hastings slipped into top gear on Saturday against Dromana.
The Blues found the spark it has been looking for and booted seven goals to one in a blistering first term and by half time had opened up a 68 point lead. The final score was 22.22 (154) to 8.5 (53).
Hastings' form before this match had been ordinary, despite the fact that it won three of its first four matches.
Its match against Frankston Bombers last week proved to the defending premiers that it had some work to do to recapture its form of late 2016.
Premiership coach Brendan Dunne told the RPP Footy Show on Saturday morning that his team had a few hiccups early in the season.
"We had a faultless pre-season but into the practice matches and early in the season, we got a few injuries and niggles to some key players," Dunne said.
"We have been just off it a little but I was really happy that we were able to get some wins despite being below our best.
"Hastings teams of the past wouldn't have won those early games so I'm really happy with the resolve of the group," Dunne said.
Dunne said that his players were not complacent and were "just as hungry" for more success.
"Like I said, the boys came back in great shape and we had a really great pre-season – it's just those hiccups that affected us early," Dunne said.
There were no signs of early-season bad form on Saturday with Ricky Ferraro back in the team and dominating and Josh Mulheron controlling the ruck.
Luke Hewitt was back to his best with seven goals in a dominant display and Luke Clark was also back for the Blues and playing well.
It wasn't a great day for the Tigers. Cameron Carmody ripped a calf which robbed it of a tall and left Adam Hunter to spend time in the ruck.
On the eve of the match, there was more good news for the Blues. Former Somerville coach David Hirst trained with the Blues on Thursday night and is set to make his return.
Frankston Bombers held on to win a thriller against Red Hill.
Both teams came into the game with good form and in a tight contest, it was going to come down to a little bit of luck on who won the match.
In the dying minutes of the game, Red Hill failed to get a 50m penalty after Allan Williams was reported by two umpires. The result was a missed opportunity, Frankston taking it to the other end of the ground and converting to make the difference nine points.
The Bombers booted two goals to two behinds in the last to win 8.5 (53) to 6.9 (45).
Once again, Red Hill dominated early in the match but just couldn't convert its opportunities. Frankston, without stars Beau Muston and Alex Harnett (both leg injuries), made the most of its opportunities.
Collingwood premiership player Chris Dawes made his debut for Sorrento on Saturday and was one of four players to boot three goals in the teams big 22.22 (154) to 2.6 (18) win against Crib Point.
It was the first sign of the Player Points System 'issue' that Sorrento has with Justin McCleary dropped to the seconds to make way for Dawes. Some would say it's a great 'issue' to have.
Nick Corp booted three and was one of the team's best yet again while Daniel Grant and Luke Tapscott dominated.
There is no love lost between Sorrento and Crib Point and the Sharks would have loved nothing more than to bury the Pies on their own turf.
Brad Arnold and youngster Riley Bowman were the best of the Pies.
It was a big day for Rye, winning its first match of the season against Pearcedale.
It has been a tough start to the year for the Demons and it didn't get much worse than last week against Sorrento, however, it put that behind them and led for much of the day to beat the Dales.
Tim Churchin booted four goals and Oscar Whitty and Matt Whelan three each while Ben Winters-Kerr kicked a couple in his 200th game. Winters-Kerr will play his 200th senior match in three weeks time.
Harry Prior was once again the best of the Dales while Danny Marshall finished with four goals.
Devon Meadows made it two wins on the trot on Saturday, beating Tyabb by almost 12 goals, 21.9 (135) to 10.4 (64).
Allan Murray continued his superb start to the season with nine goals while Jesse Bowe and Kyle Salerno with five goals starred.
Jordan Alves with three goals was the best of the Yabbies.
In the final game of the round, Rosebud bounced back from its shock defeat last week, smashing Somerville by 48 points, 14.17 (101) to 8.5 (53).
The Buds jumped out of the blocks and iced the game in the first quarter, booting eight goals to one.
Keegan Downie was back to his best with seven goals while Jack Jarman was his side's best player for the second week in a row.
Kane McKenzie and Luke Burton were the best of the Eagles.