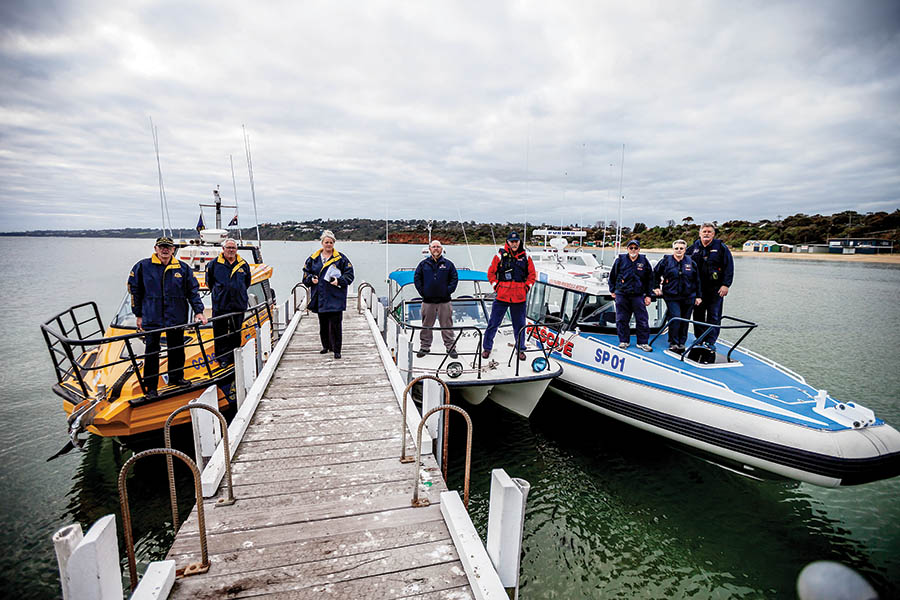 VOLUNTEER groups which play a huge role in rescuing those in distress on Port Phillip and Western Port bays are "bewildered" at being overlooked in last month's state budget.
The 26 marine search-and-rescue units in Victoria, include the Victorian flotillas of the Australian Volunteer Coast Guard, Volunteer Marine Rescue Victoria and Southern Peninsula Rescue Squad.
They say they are the only emergency service providers not to receive regular government funding and are unable to work to a budget.
A Coast Guard vessel is based at Safety Beach, the VMR at Mornington and the Southern Peninsula Rescue Squad at Blairgowrie. Their rescue work takes them into both bays.
The Coast Guard's national public relations captain Deanne Semmens said the went on strike in February 2016 to "draw attention to our plight and save marine search and rescue in the state from going down the gurgler".
"Now all marine units in Victoria are standing shoulder to shoulder to fix this problem," Ms Semmens said.
"The problem is that we are small and easily overlooked."
The volunteer units – which rely on public donations and the occasional government grant – are after a minimum $5 million in recurrent funding "just to survive".
"Considering the boating community contributes around $4.5 billion to the Victorian economy annually why can't we get the $5 million we need to provide them with the best marine emergency service possible," Ms Semmens said. "We need this and the boating community deserve nothing less.
"We need adequate funding and we need to be sustainable. It's like [the government has] forgotten us."
Emergency services minister James Merlino said the government "greatly values" the work of marine search and rescue volunteers.
He said they "selflessly devote their time and skills to promote the safety and wellbeing of the community".
"In the past 12 months, Emergency Management Victoria has undertaken significant work within the marine search-and-rescue sector. EMV is working with the government to identify funding sources so that [the volunteer organisations] can operate on a sustainable basis."
Ms Semmens said the volunteer groups had provided a boating safety back-up to paid rescue services, such as the water police, for up to 60 years – overnight as well as on weekends and public holidays.
"This group of passionate seafaring volunteers are critical for all waterway users, whether at ports, seas or lakes in Victoria. We are not a large group of volunteers but we are an important one," she said.
"The state government could not afford to have us off the water."
She said volunteers had done a "lot of tin rattling and barbecues" over the years to raise money to keep boats on the water, but much of the money was spent on operational costs and training. The Carrum flotilla's insurance bill is $10,000 a year.
"That's not what most volunteers signed up for. They'd rather be out there helping rescue people."
Mr Merlino said the marine search-and-rescue sector was funded through the boating safety and facilities program, volunteer emergency services equipment program and valuing volunteers programs.
The 2014 Inquiry into Marine Rescue Services in Victoria – whose recommendations Mr Merlino said the government was actively implementing – confirmed the boating safety and facilities program was the main source of funding for marine search-and-rescue services.
However, the inquiry found the three programs typically offered single-purpose grants for vessels, equipment or training for vessel operation qualifications but "were not intended to finance ongoing operational costs, such as maintenance or land-based vehicle running costs".
"The marine search and rescue sector has shown it can come together to initiate change and implement positive reform which is to be commended," Mr Merlino said.
"There is a real sense of achievement in the sector, and this improves the ability of [volunteer] units to provide an effective service to the Victorian boating community."