NEPEAN LEAGUE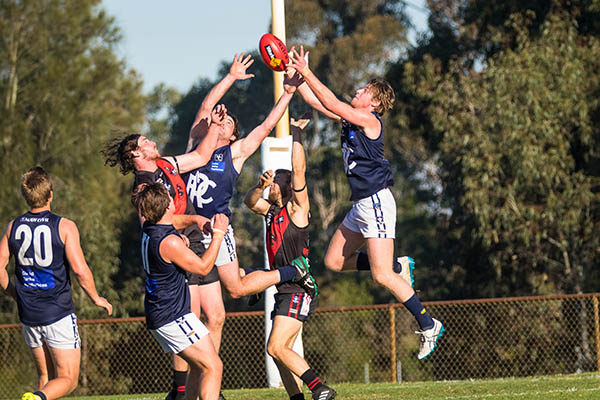 FRANKSTON Bombers will need to improve considerably if it is to go one step better in 2017, despite getting over the line against Rosebud at Greg Beck Oval on Saturday.
The Bombers were beaten all over the ground for the large majority of the afternoon, however, in a really tight contest, a couple of dubious umpiring decisions early in the last quarter swung momentum Frankston's way and it was able to record a 10.9.69 to 7.14 (56) victory.
Rosebud led at every change and by as much as nine points late in the third quarter, however, it did cost itself dearly also with inaccuracy in front of goal.
For a 20-minute period in the second quarter, Rosebud completely dominated the contest, however, four behinds, two out of bounds on the full and one that trickled over the boundary line cost them a match-winning lead at the major interval.
Matters weren't helped for Rosebud when star forward Keegan Downie went down with what appeared to be a broken ankle in the first quarter.
Frankston often have a 'targeted' player for the opposition each week and clearly, on Saturday it was Sean Downie – he received a lot of attention, not all of it within the spirit of the game. He was wrapped in ice from head to toe after the game.
Rosebud has been inaccurate in front of goal all season and it was only a matter of time before it caught up with them. On Saturday, even if they converted three of those seven second-quarter chances, it would have been enough to win them the game. It was a tight contest and a four-goal break was always going to be enough to win.
Frankston just wasn't playing good enough footy to come back from that and frustrations flared as a result.
Frankston was unaccountable in defence and the forward lacked firepower. The only player that looked dangerous at any time was Sam Fox, however, he managed just one goal.
In Frankston's defence though, it did go into the game without Michael Maiorino, Scott Foster, James Degenhardt, Allan Williams and Josh Chapman.
Bombers coach Beau Muston conceded on the RPP Footy Show on Saturday morning that his forward structure was a concern. It looked at sea again on Saturday.
Their goals came from midfielders. Matt Harris booted three and was good all over the ground, and Jason Kingsbury (two), was the best player on the ground. Along with Harris and Kingsbury, Dale Sutton was the only other consistent contributor.
Ben Dwyer again proved that he was the best ruckman in the competition, beating Ryan Kitchen comfortably, while Matt Baker was one of Rosebud's best given his ruck work, help in defence and three goals when he went forward.
Greg Bentley was outstanding also, however, was a catalyst in the inaccuracy in front of goal. In saying that though, he kicked one of the goals of the year with a left foot snap from 45 metres.
At the end of the day, Muston would be happy to take away the four points in a game I'm sure he would concede that his team was outplayed – it's a sign of a good side that wins games when they're not playing well.
However, if it is to match Sorrento, and we get to see it first-hand this Saturday, there's a lot of improvement that needs to come. Alex Harnett will return, which is important.
For Rosebud, I suggest goal kicking practice, both from set shots and running at goal. It's been threatening to hurt them and on Saturday it cost them the match.
Reigning premiers HASTINGS is another team that is far from playing its best footy but still manages to win games.
The Blues were lucky to escape on Saturday though, coming from behind to beat a gallant SOMERVILLE.
Whilst the Blues have been a little lucky at times this season, the Eagles have been the opposite – it led all afternoon only to be pipped on the line.
Paul Rogasch proved to be the difference between the teams, the MPNFL star booting five goals for the Blues.
Adrian Speedy continued his dominant season for the Eagles.
SORRENTO trailed DEVON MEADOWS by three goals midway through the last quarter and only led by 22 points at half-time, however, a 15 goal to four second half saw the Sharks win by almost 100 points, 23.13 (151) to 9.5 (59).
Chris Dawes and Nick Corp booted five each for the Sharks and Luke Tapscott was best afield with four goals while a further eight players contributed on the scoreboard.
Jesse Bowe was once again the Meadows' best, dominating the ruck work.
CRIB POINT overcame a sluggish start to get the job done against PEARCEDALE, winning comfortably in the end 13.12 (90) to 9.12 (66).
Dean Warry booted four goals for the Pies and coach Brad Arnold was again sensational with a best on ground performance. Luke Murray and Matt Cottrell were the best of the Dales.
RYE trailed TYABB early in the match but the visitors got their noses in front late in the second quarter and went on to record a 18.6 (114) to 8.8 (56) victory.
The Demons are now just a game and percentage off fifth place, along with Somerville and Red Hill, while Dromana is four points clear in fifth after playing an extra game.
Tim Churchin and Adam Kirkwood each booted three for the Demons while Oscar Whitty and Ben Trivett were again outstanding.
Darcy Underwood was very good for the Yabbies and Jake Anderson was amongst the best in his 100th game.