NEPEAN LEAGUE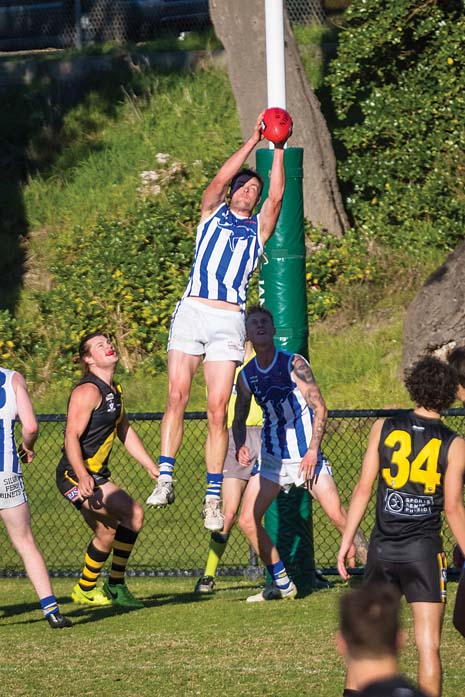 SORRENTO was able to put a tumultuous week behind it, embarrassing Hastings in front of the Blues' own supporters on Saturday and inflicting a massive 94-point thrashing against the reigning premier.
The Sharks have now blown away both of the 2016 grand finalists by more than 15 goals, after belting Frankston Bombers last week.
Yours truly broke the news at 11.20pm on Saturday night that Sorrento coach Nick Jewell had resigned his position at the club for personal reasons.
Whilst social media blew up, it didn't seem to deter the Sharks one little bit as it booted 11 goals to two in the second half to win 17.25 (127) to 5.3 (33). Had Sorrento kicked straight, the margin would have been well more than 20 goals. It found the big win even without Chris Dawes, who was rested, while Troy Schwarze is injured also.
If the belting wasn't enough for Hastings to swallow, it had to look on as star forward Luke Hewitt received a compound fracture of his leg and will be out of action for the remainder of this season and most of next.
The Blues already have some substantial problems kicking a winning score and eight scoring shots on Saturday was more evidence of that. Now it's also missing its most powerful forward in Hewitt.
At Sorrento, the jury is out as to what the future holds for the coach. There are some powerbrokers at the club who believe they should push on without Jewell at the helm, while there's also talk that others are supportive of Jewell and want him back inside the next month.
One thing is for sure though at Sorrento, it's better viewing than an episode of Home and Away – there's always something going on.
Another thing is for sure at Sorrento, its argument against promotion-relegation or divisional football is going to fall on deaf ears. They are simply making a joke of the Nepean Division competition right now.
Somerville staged a miraculous comeback to inflict the second straight defeat on Frankston Bombers.
The Eagles trailed by 17 points midway through the last quarter, only to boot the final four goals of the game to win 12.18 (90) to 12.10 (82).
At quarter time, the Bombers led by almost five goals.
Steve Crowe was vintage for the Eagles with three goals and Rohan Hogenbirk is back to his devastating best. It was also great to see Luke Rowe back out there for the Eagles.
Beau Muston booted four for the Bombers and Jarryd Amalfi continued his excellent form despite carrying an injury.
Dromana made it six wins on the trot with a demolition job on Devon Meadows, smashing the opposition 14.15 (99) to 5.9 (39). It was one of the Meadows' worst losses of the year.
I have personally been waiting for the Tigers to crash but there seems to be no signs of going backwards for the exciting Tigers.
After being on the Tigers' wagon in the pre-season, it was hard to find any level of confidence given their putrid showing earlier in the year. However, after six wins in a row, anything is now possible.
Inaccuracy cost Rosebud a couple of weeks ago against Frankston but it doesn't seem to have corrected the problem, despite winning again on Saturday against Crib Point.
The Buds had 36 scoring shots to 15, booting 16.20 (116) to 7.8 (50).
Daniel Wilson is an underrated workhorse of the competition and he was superb again on Saturday for the Buds.
Pearcedale and Tyabb went toe to toe for four quarters and it was the Panthers who tasted the sweetness of victory, winning 12.11 (83) to 11.13 (79).
Red Hill had 33 scoring shots to Rye's 12 but only won by 61 points, 13.20 (98) to 5.7 (37). Ben Hughes booted five goals for the Hillmen.