SOCCER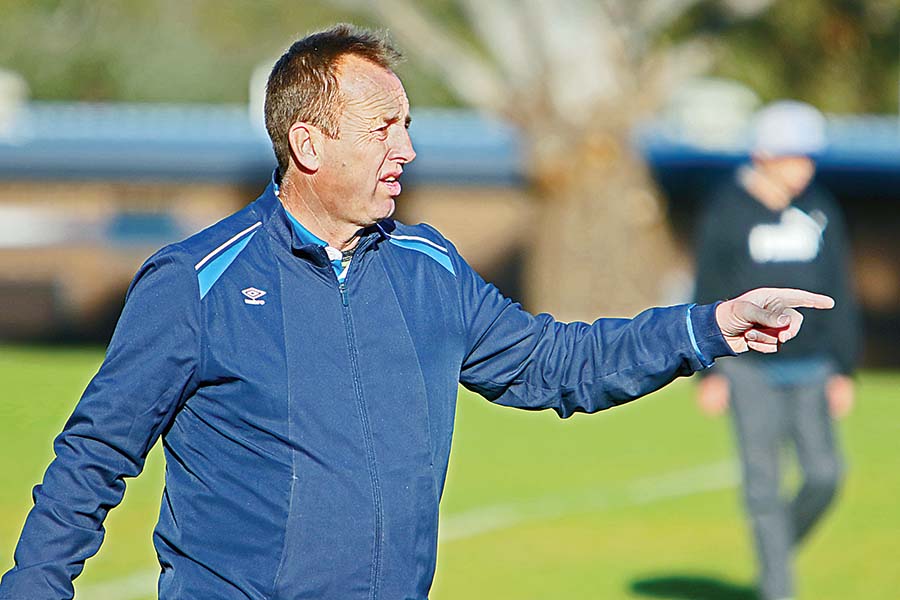 By Craig MacKenzie
ROY Kilner will step down as head coach of State 4 South promotion candidate Baxter at season's end and has a succession plan in place.
Kilner made the decision to call it a day some weeks back and wants current first team keeper Francis Beck to become the club's new player-coach.
Kilner has told the first team squad of his intentions and Beck has been given more responsibility in overseeing training sessions.
While Beck is yet to fully commit to the succession plan there's also the matter of whether or not his candidature will be approved by the committee that leads the club into the 2018 season.
"I don't think there will be an issue with the committee because Francis has been there for a long time and he's a club favourite," said Kilner, whose sons Liam and Owen are senior team mainstays.
When the final whistle blows in Baxter's last league game of 2017 Kilner will have been in charge for three full seasons.
"I've got no idea how Gus Macleod (Langwarrin coach) can last 19 or 20 seasons. He needs psychological help," said Kilner with a laugh.
"Coaching takes so much out of you – your family time, your work time – because once you put your hand up for a job like that you do so heart and soul.
"You put everything into training sessions and talking to the boys before the match then you're watching the game and you're kicking every ball, heading every ball – it's absolutely exhausting."
Kilner is 52 and came to Australia when he was 26 having played with Peebles Rovers and Tweeddale Rovers in his native Scotland as a right-sided midfielder.
"One of my biggest regrets was not concentrating more on my football as a player because my sights were set on coming to Australia and that's why I encourage my boys so much and hope they keep playing for as long as they can."
The chances of Baxter saying goodbye to Kilner on a winning note weren't helped in their last match, a 3-1 home loss against promotion rival Bayside Argonauts and this Saturday they travel to Fotheringham Reserve to take on another promotion aspirant in Dandenong South.
It's a daunting task but one that Kilner is relishing.
"We're definitely still targeting promotion and we'll turn things right around against Dandy South on Saturday," said Kilner.
"To me they are the strongest team in the league but I'm delighted to be playing them and I can guarantee that the boys will be up for this one."
Kilner's confidence is in part due to the availability of new signing Grady Vickers, a young striker from Casey Comets.
"Don't be surprised to see him playing from the start.
"We need the three points and while a draw keeps us in it by jings a win there would really be something and I think we can do it.
"You won't see the lacklustre performance that you saw against Bayside Argonauts."
Kilner is one of the more colourful characters in the local game and is never short of a word but he was initially reluctant to comment when questioned about his legacy at Baxter Park.
"That's really not for me to say but for others to judge.
"What I am chuffed about though is that we've still got the nucleus of the players we had three years ago and they have got themselves into a position where they believe they can win games and go from strength to strength.
"When I arrived the players weren't that interested and didn't care much win, lose or draw so to see them winning games now and wanting to achieve success is very satisfying."
Although Baxter is currently in fifth spot in the league it is just three points behind the top two sides so Kilner is still a chance to say goodbye waving to the masses from the open-top bus he often has joked about hiring should his side win the championship.
Meanwhile State 3 South-East promotion candidate Skye United kept the pressure on second-placed Brandon Park with a 2-1 home win in its catch-up fixture against Brighton last Wednesday night.
The result leaves Skye two points behind Brandon Park with a superior goal difference.
Skye led 1-0 at half-time thanks to a Marcus Collier header at the back post following Jacob Scotte-Hatherly's 32nd minute corner.
Brighton hit back a few minutes into the second half when Alex Greatorex was at the far post to head in from close range.
The winner came from substitute Lawrence Komba who miraculously fashioned a finish from a near impossible angle on the right of the area 10 minutes from time after beating Brighton keeper Adrian Drury in a race to the ball.
Striker Nick Theodore has quit Skye citing lack of game time and is considering joining Bayside Argonauts while midfielder Tom Natoli has rejoined Brighton after a short stint at Seaford United.
The word from Lawton Park is that veteran striker Caleb Nicholes could retire at the end of the season.
Nicholes turns 35 in November and is in his third stint with Langy.
He joined Langwarrin reserves in 1999 under coach Terry Kirkham and the following year first team supremo Gus Macleod gave the then teenager his chance of senior football.
Nicholes scored his first senior goal for Langwarrin on Saturday 15 July 2000 at Lawton Park in a 6-0 win over Nunawading City in a State 3 South-East clash.
Nicholes took a year out of the game in 2001 then joined Fitzroy City in the Premier League in 2002. However, halfway through that season he switched to Frankston Pines and his five goals in 10 games played a part in Pines' successful push to gain promotion to Premier League.
In 2003 he played with East Richmond in State 3 South-East but returned to Pines the following season and started in 16 games and scored six goals but when the chance arose at the end of the season to rejoin Langwarrin he jumped at it.
In the first half of the 2007 season he played with Springvale White Eagles in the Victorian Premier League but rejoined Langy halfway through the season.
During his time at Langwarrin he has been a regular club and league leading goalscorer and has played 244 league games and scored 190 league goals.
He has captained Langwarrin and has won numerous club and league awards.
Nicholes and wife Zoe are senior ministers at Southern Lights church in Skye and have two daughters, Aurora and Eva.
His late grandfather Stan Nicholes was inducted into Sport Australia's Hall of Fame in 1998.
The former weightlifter was a sports science pioneer who was internationally acclaimed for his work with some of the most iconic figures in Australian sport including Olympic gold medallists Herb Elliott and Peter Antonie, grand slam tennis champions Margaret Court and Frank Sedgman and a host of AFL luminaries including Tony Lockett, Ron Barassi, Tom Hafey and Kevin Sheedy.
Stan Nicholes was also involved in two Richmond premierships and was awarded the Medal of the Order of Australia (OAM) in 1986 for his service to sport as a fitness consultant.
In other news local women's NPL outfit Southern United had victory in its grasp but had to settle for a 1-1 draw with Alamein at Comets Stadium on Saturday.
Southern took the lead through Candela Ferreyra Bas in the 75th minute but Alamein's second-half substitute Lucy Richards snatched a last-gasp equaliser.
It's been a breakout season for Southern's senior team which finished last in its inaugural season in 2016 but is currently in fifth spot seven points behind Alamein.
The club fields seniors, under-18s, under-15s and under-13s in the elite competition and tasted success last year when its under-15s won the grand final.
This season Southern's under-13s led by head coach Debbie Nicholls and assistant Emma Bracken are on top of the table and consolidated their position with a 2-0 win over Alamein on Saturday.
Southern's goals came from Candice Kilderry and Rhys McKenna and diminutive midfield dynamo Alessandra Davis impressed with her range of passing and vision.
The under 15s match ended 0-0 and Alamein won the under-18s clash 4-1 with Zoe Cooper scoring for Southern.
This weekend's games:
FRIDAY, 8.30pm: Casey Comets v Langwarrin (Comets Stadium), Doncaster Rovers v Frankston Pines (Anderson Park).
SATURDAY 3pm: Clifton Hill v Mornington (Quarries Park), Doveton v Peninsula Strikers (Waratah Reserve), Middle Park v Skye Utd (Albert Park Field 16), Dandenong South v Baxter (Fotheringham Reserve), Bayside Argonauts v Rosebud Heart (Shipston Reserve), Somerville Eagles v Chelsea (Barber Reserve).
SUNDAY, 3pm: North Caulfield v Seaford Utd (Caulfield Park).