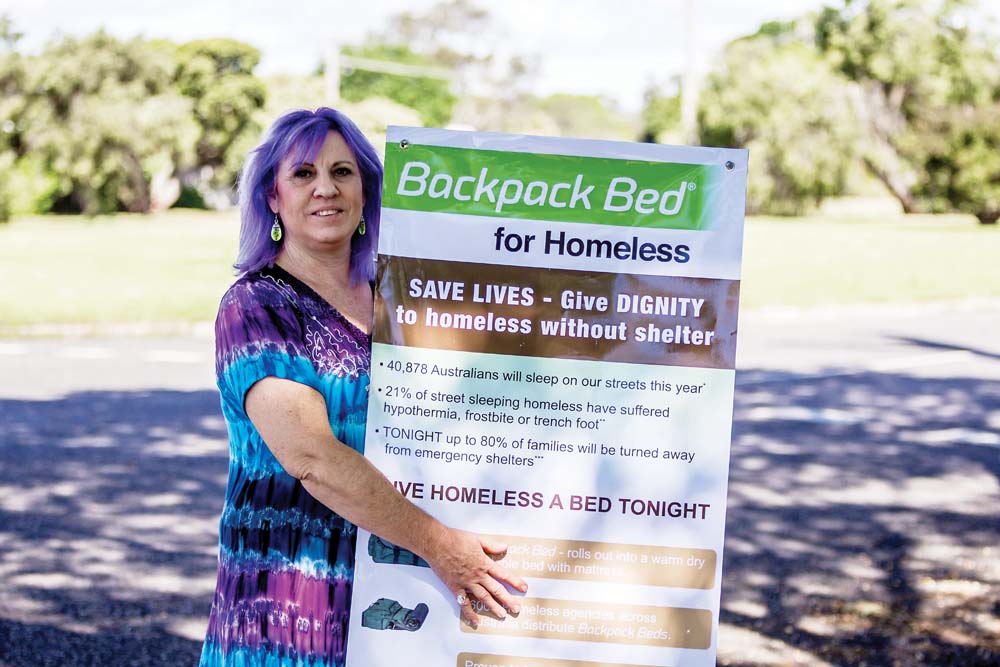 CAROL O'Brien has raised enough money to buy 12 swags for those "sleeping rough" on the southern peninsula.
The swags sell for about $100 each and make sleeping safer and more comfortable.
Ms O'Brien belongs to the Wednesday Night Rosebud Community Group that meets at the New Peninsula Baptist Church. There, low income people with life struggles can come for a meal, learn how to support one another and make a difference within their community.
Rosebud Community Group team leader Mark Matthews said Ms O'Brien has "not had the easiest of journeys with housing over the past 10 years and has experienced homelessness herself".
She has lived in rooming houses, which have proven to be unsafe, particularly for women. She now lives in a small caravan in a Rosebud caravan park.
She can't afford to pay market rates for private rental and so obtaining a higher standard of housing is not an easy option. She is on the waiting list for public housing.
But her own plight has not stopped Ms O'Brien from being a strong advocate for those experiencing homelessness in the Rosebud Community Group, and the wider Rosebud community. Mr Matthews said her struggles with housing had motivated a "deep empathy" for those who are sleeping rough.
"She is an amazing example of how anyone with a vision and passion for social justice can impact those less fortunate than themselves," he said.
"She demonstrates that you don't need to have wealth to make a powerful and positive difference in your local community."
Ms O'Brien started raising money three months ago by selling cards at Wednesday Night Community Group meetings where part of the proceeds going charity and "tin rattling".
"Homeless people lose their dignity because they usually wear the same clothes and rarely have use of a shower and laundry which also identifies them as homeless," Ms O'Brien said.
"They carry their belongings in a trolley or bag and blanket. They cannot hide the fact that they are homeless. They suffer from chest infections, hypothermia, frost bite, trench foot, skin infections and mental health issues, which affects homeless people even more so because of their living rough.
"Society discriminates, shuns and can also physically and verbally abuse them.  They lose trust in people which encourages more isolation impacting upon their mental health."
Mr Matthew's said Ms O'Brien's goal had been to raise enough money to buy two swags by the end of this year. "Through her dedication and persistence she has raised enough to buy 12 swags," he said.
"For a homeless person, receiving a backpack swag will provide a sense of dignity, self-esteem, renewed hope and, hopefully, the understanding that someone cares about them.
"The backpack also provides security for better sleeping and it can improve a person's health by providing protection from the elements."
Australian Bureau of Statistics show that, on any given night, more than 100,000 people sleep rough or in inadequate housing. Rosebud is not quarantined from this struggle.
First published in the Southern Peninsula News – 12 December 2017