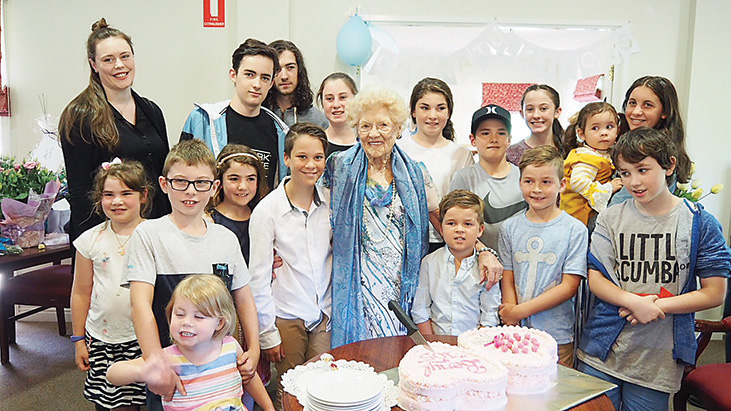 SHOREHAM House, Balnarring, was overflowing with family and friends of Beryl Sheedy who celebrated her 105th birthday, Sunday 14 January.
Congratulatory messages were received from Queen Elizabeth, Governor-General Sir Peter Cosgrove, Prime Minister Malcolm Turnbull and Flinders MP Greg Hunt, who dropped by to wish her a happy birthday.
Ms Sheedy gave a speech and circulated among four generations of family and many friends.
Four generations of her big family celebrated her birthday, including her five children, 14 grandchildren and 30 great-grandchildren.
Born on 14 January 1913, Ms Sheedy says she owes her good health to a happy home life, hard work (for many years), family, sports, friendships and "a glass of wine with dinner".
A Shoreham House resident for the past three years, Ms Sheedy previously lived independently at Balnarring in her own home and enjoyed active membership of the Balnarring Seniors Citizens' Club, CWA and Balnarring Bowling Club.
Husband Jim lived to 90 – mostly at Sandringham where they spent the first 47 years of married life. Together in retirement they explored Australia in their car and Ms Sheedy toured Europe while in her 80s.
Daughter Gail Finlay said her mum was always a "fantastic homemaker: great cook, dressmaker, knitter and gardener".
"All her family appreciated her love, dedication and skills. Her sponge cakes are legendary," she said.
"She also enjoyed playing many sports, in particular tennis, then lawn bowls in retirement. As a young woman, skiing at Mt Buffalo was her favourite sport.
"Mum cooked all the meals for five children with great skill and care. Dining out was never considered. She is a great dressmaker and knitter and made our clothes: from everyday wear to coats, evening wear and wedding dresses, even hats.
"With her growing family she played sport: tennis, golf on the putting course in our backyard, swimming at the beach, cricket and so much more. She and dad excelled as dancing partners.
"Beryl has always loved using her intellect: crosswords, card games and board games, reading newspapers, encouraging and helping us kids with our studies. For many years she corresponded in French with dad's sister-in-law, Suzanne, in France, having learned French at school where she matriculated in the 1920s.
"She has many friends at Balnarring Bowling Club where she competed in and won tournaments, then trained new players.
"She enjoys the company of friends at Balnarring Seniors and at CWA, and especially appreciates the care given by the happy, kind and competent staff at Shoreham House."