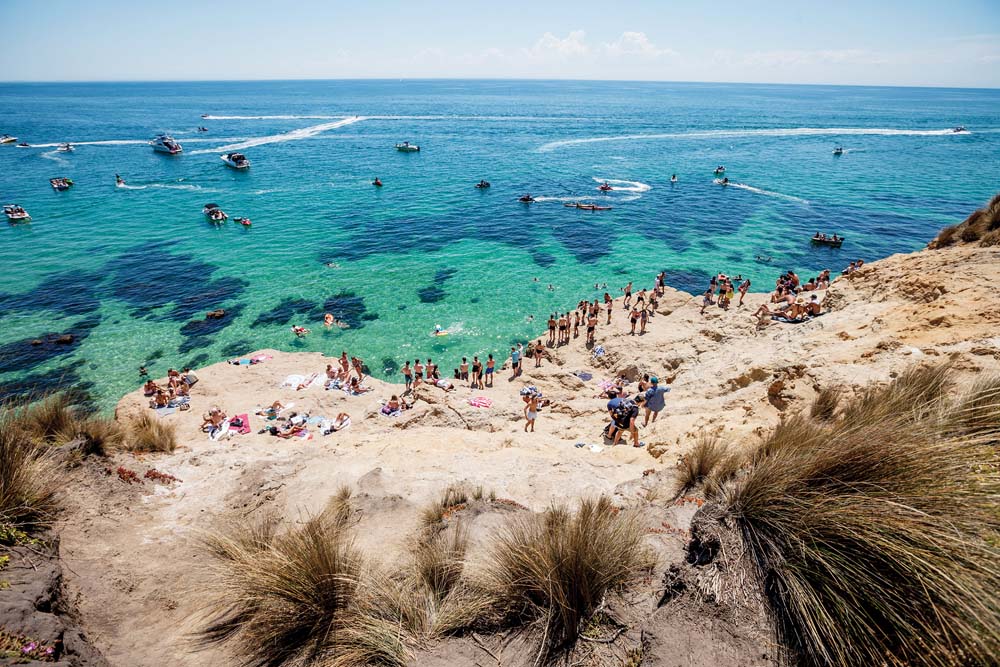 AUTHORITIES are still struggling to find ways of reducing anti-social behaviour at what has become a major tourist attraction – The Pillars, off the Esplanade between Mt Martha and Safety Beach.
The rocky outcrops which provide ideal jumping off platforms into the water are a magnet for visitors but cause problems for nearby residents.
Located between Deakin Drive and Marguerita Av, there is little parking nearby and the many people wanting to enjoy themselves at The Pillars can only do so by walking along alongside a narrow busy road and then scrambling across a precarious clifftop.
Other rock jumpers come by boat or jet-ski, usually launched at Safety Beach.
Mornington Peninsula Shire has launched its own program to improve road safety and defuse the situation by collecting rubbish, tightening and enforcing parking restrictions and banning alcohol. Unavoidably, the alcohol bans also apply to residents of nearby streets.
While the state government has thwarted the shire's plan to fence off land access to The Pillars, it has agreed to later this year "evaluate the effectiveness of the measures put in place".
Meanwhile, the shire has organised a meeting on Wednesday (31 January) to discuss issues surrounding The Pillars with residents, the Department of Environment, Land, Water and Planning "and other key agencies".
"Council continues to work hard to protect the safety of people and the amenity of our residents. We look forward to meeting with the community to hear your concerns and to discuss the management of issues relating to this site," the mayor Cr Bryan Payne said.
Cr Payne, when asked if the shire had any plans for safety fencing or a viewing platform above The Pillars, said a long-term management plan was being developed.
"As part of the development of the plan, a number of options including feasibility and cost will be explored to address the issues associated with people using the site," Cr Payne said.
Cr Rosie Clark said the "project has been shaped by the community voicing their concerns about inappropriate behaviour at The Pillars. We look forward to continuing our efforts with the community and relevant stakeholders to push for the area to be made safer and more respected".
As well as providing "data" collected over summer period to the state government a report will be presented to council in May.
Issues of concern about The Pillars can be made at mornpen.vic.gov.au/thepillars. The public meeting starts at 5.30pm tomorrow, Wednesday at the Mornington Peninsula Shire offices in Queen St, Mornington.