SOCCER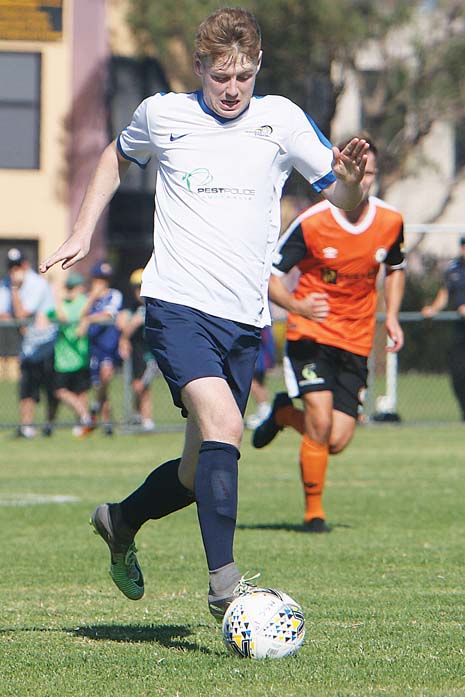 A FIRST-HALF hat-trick from Ryan Thompson spearheaded Peninsula Strikers' 4-0 away win over Old Scotch last weekend.
The English import became the 22nd player to get a hat-trick for the local side and former Everton striker Femi Orenuga completed the rout in the second half when he ran onto Stefan Karac's pass and rounded the Old Scotch keeper before stroking the ball into an unguarded goal.
Strikers had lost the opening league fixture after a tumultuous pre-season and the victory kick-starts its promotion campaign under new head coach Jamie Paterson.
The Centenary Park outfit was the only local State League club to win last weekend as a recurring theme of played two lost two emerged.
That is the reality that Mornington, Skye United, Seaford United and Baxter must confront as they strive to win their first points of the season.
Mornington went down 2-0 away to Beaumaris on Saturday in their State 1 South-East fixture.
Mornington dominated the first half but paid dearly for its profligacy in front of goal.
Early in the second half, it blew another good chance to open the scoring before Zach Lemke put Beaumaris ahead in the 52nd minute.
Eight minutes later Mornington defender Josh Valadon was red carded.
"We seemed to lose our confidence when we went down to 10 men and we were terrible after that," Mornington gaffer Adam Jamieson said.
Toby Nowell put the home side further ahead in the 74th minute.
Mornington winger Keegan Ziada came off the bench for the last 20 minutes and is pushing for a place in the starting line-up to face Richmond at Dallas Brooks Park on Saturday while Charlie Parker looms as an obvious replacement for Valadon and Wayne Gordon returns from suspension.
The club is hopeful that Sammy Orritt can recover from injury in time to face Richmond.
Meanwhile, a first-half strike from Boroondara-Carey's Abboud Dib was enough to send Skye United to a second successive defeat on Saturday and things won't get any easier for Billy Armour's men as they square up to State 3 South-East leader South Yarra at Fawkner Park next weekend.
Harry McCartney reports that Seaford United lost 2-0 away to Collingwood in their State 3 South-East contest on Friday night but was much more competitive compared to its insipid round one display.
In the 14th minute, Ugar Tumkaya broke a dubious offside line and rounded advancing Seaford keeper Patrick Bretherton before slotting home the opener as Seaford defenders argued with the assistant referee.
Young Conor Mcfall finally won his first senior start of the league season and his hard running complemented the guile of Dylan Waugh and Matt Morris-Thomas.
Seaford hit the bar in the second half in what became a spiteful game with both sides lucky to finish with a full complement of players.
In the 88th minute with Seaford pushing hard for an equaliser, Collingwood broke quickly and Kenzo Noritomi sealed the win with a thundering low strike that gave Bretherton no chance.
Baxter went down 3-1 to visitor Dandenong South in Saturday's State 4 South clash at Baxter Park.
Fitim Ibraimi's through ball in the 2nd minute sent Malik Sulemani clear and he lobbed Baxter keeper James Foster to open the scoring.
Six minutes later Ibraimi was on the end of a cross from the right to slot home easily from close range and make it 2-0.
Baxter should have scored in the 18th minute when Dan Disseldorp put Ben Meiklem through but Meiklem scuffed his shot sending the ball wide.
In the 42nd minute, Disseldorp won the ball on the touchline and his audacious attempt to lob the Dandy keeper from 35 metres struck the bar.
Big Disseldorp made amends early in the second half with a looping header following a Matt Morgan free kick and in the 51st minute Baxter fans were up in arms after claims of handball inside the area were ignored by the referee.
They were further incensed when a perfectly timed tackle from Andy Bayliss-White late in the contest saw the referee point to the penalty spot.
Lindurim Tairi's attempted conversion was superbly saved by Foster but Tairi pounced on the rebound to round off the scoreline.
Frankston Pines went down 1-0 to title contender Mazenod at Monterey Reserve on Saturday and it took a stunning solo effort from Jack Haggerty in the 83rd minute to decide this State 2 South-East clash.
Haggerty weaved his way past a series of ill-timed lunges as he motored into the area on the left before his low strike from a tight angle beat Pines keeper Jarrod Nardino.
Mazenod bossed the contest for most of the first half with a James Neighbour header in the 32nd minute striking the bar before being cleared.
Pines caused Mazenod a few anxious moments in the second half and substitute Ioasa Saemo blew a great chance to break the deadlock in the 75th minute after a great run down the right from CJ Hodgson but Saemo's shot was blocked by the foot of former Pines custodian Kris McEvoy.
That was to prove Pines' best chance of getting something out of a fiercely contested affair against a quality opponent.
NPLW outfit Southern United put on one of its best performances of the season going down 4-0 to Heidelberg United away from home on Saturday.
The fixture was supposed to be played on Sunday as a home game for Southern but an objection by Heidelberg on religious grounds (Greek Orthodox Easter) meant FFV only switched the venue and date last Wednesday.
The late reschedule meant five players in Southern's starting line-up were unavailable due to work commitments.
Southern's under-12s thrashed Heidelberg 7-1 with Kayla McLeod (3), Emilia Ingles (2), Jasmine Smith and Rhiannon Kelleher scoring for Southern, the under-14s won 3-1 with goals from Candy Kilderry (2) and Alessandra Davis, the under-16s lost 3-2 with Jasmine Ristevski and Haylea Porter scoring for Southern while the under-19s lost 2-1 with Maylinda Emini scoring for Southern.
Next Saturday's NPLW clash between Geelong Galaxy United and visitor Southern United will have an added edge given that both clubs have been drawn against each other in this week's Team App Cup and are in dispute about both the venue and kick-off time.
Southern is now likely to forfeit the Cup match.
In NPL2 news Langwarrin turned in a superb performance on Sunday away to Nunawading City coming from 2-0 down to record a memorable 4-3 win.
Former NSL and A-League star Massimo Murdocca ran the show for Nunawading in the first half but an incident-packed second period involved six goals with both sides being reduced to 10 men.
Substitute Sam Klepac opened Langy's account in the 57th minute with Viktor Medini (67th) and Liam Baxter (penalty 72nd) also getting on the scoresheet.
Veteran Langy keeper Robbie Acs was sent off late in the match with scores tied at 3-3 and Luke Burgess, who is having an outstanding season, grabbed the winner for the visitors in the 92nd minute.
FFV's competitions department is having a bad run at the minute and has been unable to provide details of next weekend's big local derby between Strikers and Pines listed as a home game for Strikers whose pitch at Centenary Park remains unplayable.
FFV also was unable to provide a venue for Saturday's clash between Dandenong Warriors and Baxter.
Here are next weekend's games:
SATURDAY 3pm: Geelong Galaxy Utd v Southern Utd (Banyul Warri Reserve), Mornington v Richmond (Dallas Brooks Park), Peninsula Strikers v Frankston Pines (venue unknown), Seaford Utd v Bayside Argonauts (North Seaford Reserve), South Yarra v Skye Utd (Fawkner Park), Dandenong Warriors v Baxter (venue unknown), Somerville Eagles v Aspendale (Tyabb Central Recreation Reserve).
SUNDAY 3pm: St Albans Saints v Langwarrin (Churchill Reserve).