DIVISION TWO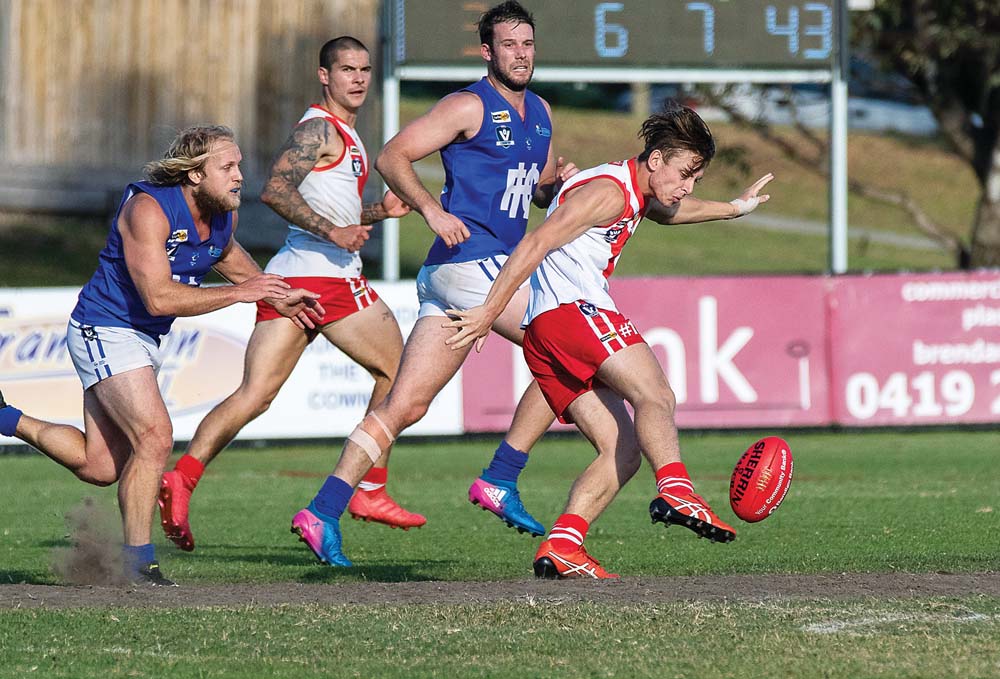 IT was neck-and-neck between Karingal at Hastings, until the first bounce. Then it was all downhill for the Blues. They trailed all day and never really got a sniff.
Karingal were up by 27 points at the main change and took the day by 33 points at the final siren. In doing so, they've grabbed Hastings' third spot on the ladder and sent the Blues one further back to fourth.
Dromana has maintained its place on the top of the Division Two table after charging back for the win against Rye.
Rye couldn't have started better with ten scoring shots to two in the first quarter. They must have started celebrating early, as it was all downhill from there.
The margin went from 28 points at quarter time, to 11 points at half-time, scores level at the last break and going down by 23 points at the final siren.
Between them, Ben Holmes (five goals) and Ethan Johnstone (four goals) kicked nine of Dromana's 15 goals, with another six players with one goal each.
Crustaceans everywhere would have been hanging their heads in shame after the Tyabb Yabbies got belted again, this time by Chelsea.
In the end, they went down by 57 points. The Yabbies are in hot water for 2018.
The only thing that Tyabb have to be happy about is they're not Crib Point.
The Magpies horror start to 2018 continued with a shellacking at the hands of Red Hill. They went down by a resounding 79 points. The only positive was that the margin could have been much higher. Wayward kicking by Red Hill saw them slot 20 minors in their score.
Langwarrin burst out of the gates against Devon Meadows and had hit the half-century by quarter time. The Panthers had only managed seven points in the same timeframe.
Langwarrin coasted along for the rest of the day, maintaining their margin, and winning the match by 37 points.
Somerville did it easily against Pearcedale in front of a home crowd. Again, it was a one-sided affair, and Pearcedale were never really in it. Somerville took home the chocolates 14.23 (107) to 8.6 (54), while Pearcedale only got to lick the wrapper.