IN the end, it took just one cut with the scissors for the beach at Point Leo to be more accessible to the public.
The ribbon cutting by former Disabled Surfers Association Mornington Peninsula president Jenny Angliss-Goodall signalling the official opening last Saturday of a new boardwalk, viewing platform and ramp to the beach was the completion of a project started more than three years ago.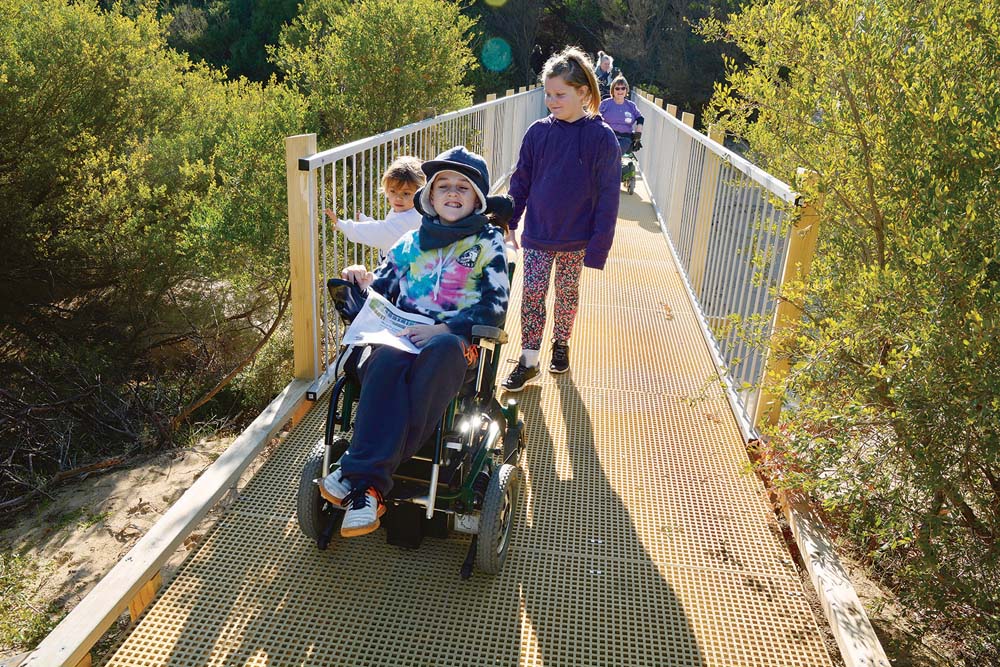 The viewing platform enables sightseers and lifesavers, for the first time, to stand on a level surface to see from one end of the beach to the other.
The 82 metre long "boardwalk" is made of fibreglass grating supported on a timber frame and poles. It crosses a gully between two sand dunes and passes through some coastal vegetation before arriving at the viewing platform overlooking the sea and beach.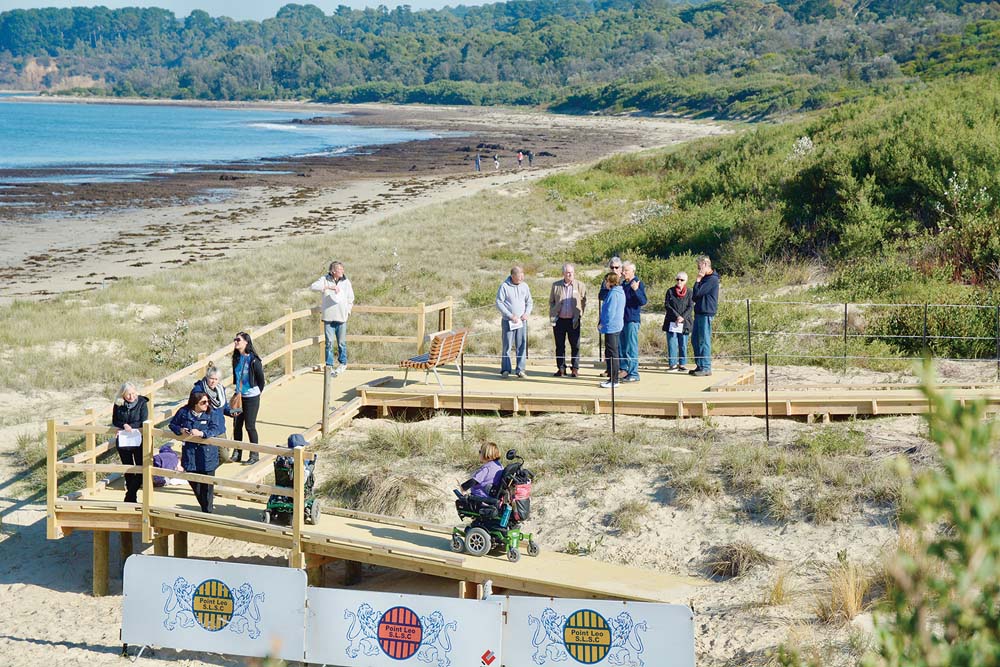 The boardwalk is the result of a project envisioned by the Disabled Surfers Association Mornington Peninsula, the Point Leo Foreshore Committee and the Point Leo Surf Life Saving Club.
The project goes back to 2015, when Bill Hallett and John Bowers (now DSAMP president), Andrew Gibson (PLSLSC) and Tony Walkington (PLFSC) decided that a boardwalk would improve access to the beach. In consultation with experienced locals like Phil Trigger, the future path of the boardwalk was set.
"The partners had several objectives: to provide better beach access for all people including an ageing community, mothers with prams and people with a disability, maintaining a less cluttered access to beach for lifesavers and emergency equipment, and to improve safety with a viewing platform with uninterrupted views along the whole beach for the lifesavers," Mr Bowers said.
The DSAMP was formed in 2011. Money was raised, equipment bought and a call made to volunteers to be trained to help out.
For the past six years that call has continued to be answered twice a year by hundreds of volunteers who come to Point Leo to give a surfing experience to an ever-growing number of people who want to have fun in the surf.
Point Leo Surf Lifesaving Club lets the DSAMP use its clubrooms on surf days and beach tents and food are provided to volunteers and surfers alike.
"The advantage of the boardwalk  to DSAMP is the ease of returning surfers to the change facilities in bypassing the steep sand dune from the beach," Mr Bowers said. "With the opening of the boardwalk, observation deck and access ramp, the DSAMP can keep putting smiles on dials."