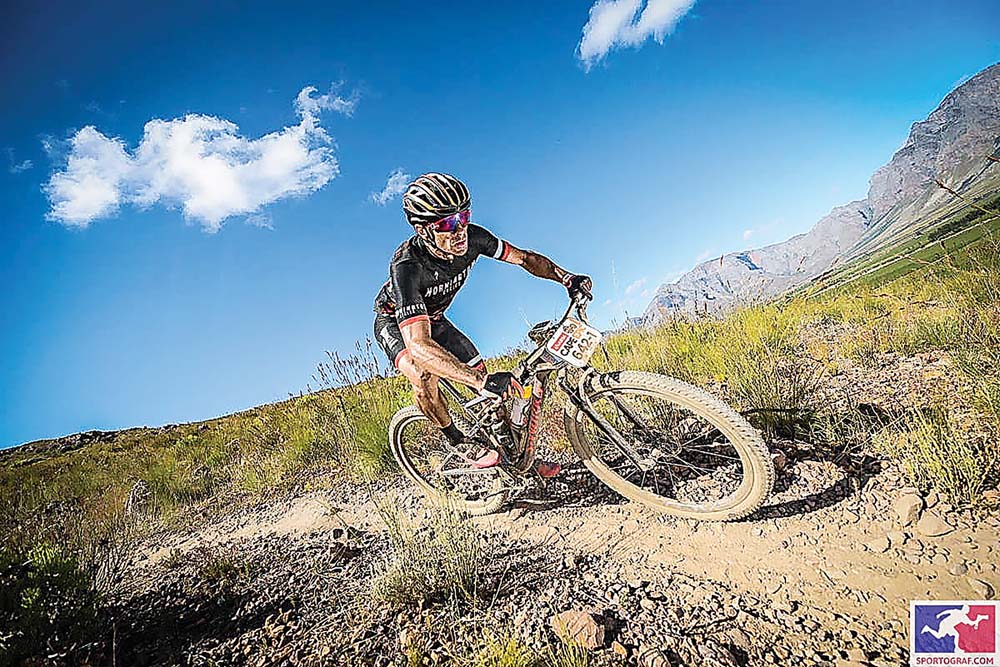 MORNINGTON Cycles owner Brad Clarke competed in one of the world's toughest mountain bike races in South Africa on Wednesday 28 March.
Clarke partnered with common competitor, Rohin Adams, in the gruelling eight-day Absa Cape Epic race and covered more than 650km of rugged land.
With 650 teams entered into the competition, the pair managed to claim third place in the Masters category (40-49 years old) and finished 30th overall.
For Clarke, it was his second time attempting the race which included 13,530m of climbing – that's one and half times higher than Mt Everest – and the first word that came to his mind when describing the course was "untamed".
"It's just rugged, raw and brutally hard," he said. "Every single kilometre you have to work for."
"There are no easy trails, and if a section did look easy, it'd be full of sand or jagged rocks."
While the track is incredibly demanding physically and mentally, Clarke said that that is exactly the sort of challenge which lures him back.
"It's a real adventure and an amazing event," he said.
"It's extremely rewarding after you've put in all of that hard work in training, and then to complete the course as well."
It has taken Clarke just over six months of training to prepare for the race in which he competed against some of the best riders from around the world.
Having competed once before, he knew exactly what it took to prepare for the event but said it was "actually tougher than the first time".
"I was a bit naive [the first time] and didn't realise what I had gotten myself into," he said.
"That's why it was tougher this time as I knew exactly what I was in for. Whenever I got unwell in the lead-up to the race, it would stress me out a lot.
"You've got to get yourself to be able to commit to really hard, tough training to get to that top level. There are more hours a week that you need to put in, and it's a bit more specific training to the race as well as you need to be able to ride for 100 kilometres at full speed.
"You have those ups and downs in the preparation but [having competed before] it helped give me the confidence that I was undertaking the right training."
There was no financial gain for Clarke in undertaking this adventure but he said that overcoming the challenges of the course has been a massive reward.
Clarke doesn't believe he is ready to back up again next year but said he would "definitely like to go back".  He thinks 2020 would be a possibility but it would "depend on my situation and how I'm travelling."