SOCCER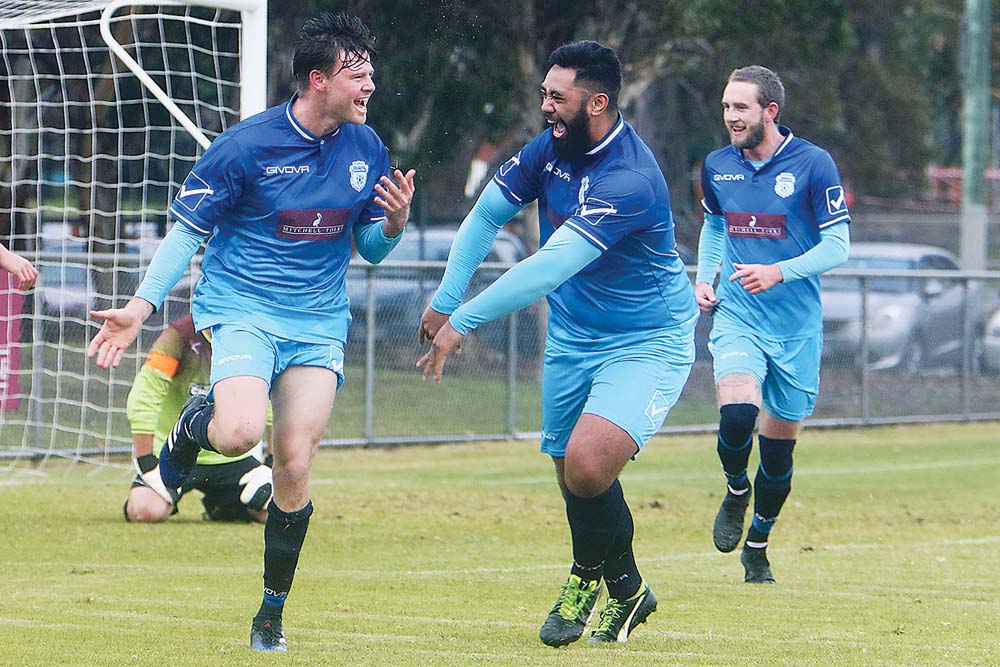 A SUPERB first half-display from Frankston Pines and the shock resignation of Peninsula Strikers president Trevor Johnston were the big talking points to emerge from last weekend's round of matches.
Pines blitzed Heatherton United early and led 4-0 at the interval eventually running out an easy 5-0 winner.
Ben Millward opened the scoring in the 13th minute and two minutes later CJ Hodgson struck.
When Lewis Potter headed home from a set piece in the 31st minute Heatherton was staring down the barrel and Hodgson was at the back post right on half-time to drive another nail into the visitors' coffin.
Mitch Lander and Hodgson were constant threats as Pines exploited Heatherton on the break and Lander rounded off the scoreline in the 68th minute to provide gaffer Paul Williams with his biggest win of the season.
"What pleased me most was the confidence this win will give the lads as we've had some good performances this season but here we turned a good performance into a great result," Williams said.
State 2 South-East neighbour Peninsula Strikers is in crisis following Johnston's departure coupled with Saturday's 4-1 home loss to Brandon Park which anchors the club to the foot of the league ladder.
Two goals from Hamlet Armenian and one from Josh Caruana had Brandon Park in control before referee Brandon Smith reduced Strikers to 10 men when he ruled that Washid Rashimi had deliberately stopped a goalscoring opportunity and issued a straight red card in the 36th minute.
Two minutes later Oscar Marsden made it 3-1 but Armenian completed his hat-trick in the 42nd minute.
Strikers had planned to sign three players from Kingston City this week as well as Nat Daher from Langwarrin's under-20s but there is uncertainty about those moves given Johnston's departure.
The club recently lost captain Ryan Wilson to Casey Comets after he turned his back on a substantial offer from Mornington.
Johnston's decision caught most observers by surprise.
"There were a lot of things going on behind the scenes and there are a lot of cultural changes that need to be made," Johnston said.
"I'm proud of the fact that I got the club out of a massive financial hole but I can't take them any further.
"I was doing so many things and the lack of support was disappointing.
"I tried and tried but when it starts to affect your family, your kids, then it's time to make some changes.
"We've had five coaches in 12 months and quite frankly I can't wait till next year with the potential to get someone of the calibre of Adam Jamieson to the club."
In NPL2 news Langwarrin travelled to Shepparton and came away with a point following Saturday night's 1-1 draw with Goulburn Valley Suns.
Alou Kuol gave the home side the lead after just six minutes but Suns keeper Fraser Greenwood handled outside his area and was sent off in the 22nd minute.
Mehdi Sarwari's low drive in the 35th minute made it 1-1 and shortly after Liam Baxter found the back of the net with a superb volley only to be controversially ruled offside.
A bone-jarring tackle from substitute Frankie Lagana in the 60th minute saw the Suns reduced to nine men and despite Langy dominating possession three superb saves from Suns' substitute keeper Lucas Enders kept the visitors at bay.
Langy's under-20s lost 4-3 but a scything challenge on 16-year-old Langy forward Keegan Guy forced his departure and incensed coach Kevin "Squizzy" Taylor.
The referee didn't deem the incident worthy of punishment however a few hours later Guy was in hospital being treated for an injury described as being more consistent with a car accident judging by the internal bruising he had received from the impact of an opponent's knee in the back.
In NPLW news Southern United lost 8-0 to championship challenger South Melbourne at Middle Park on Saturday.
The last time these sides met South Melbourne won 13-1.
Southern's under-12s drew 2-2 with both Southern goals scored by Rhiannon Kelleher.
Southern's under-14s continued their march towards a second successive title by downing South Melbourne 3-0.
Danica Vukcevic gave Southern a half-time lead and a highlight of the second half was a rare headed goal from last season's Golden Boot winner Rhys McKenna.
Taylah Hennekam scored Southern's third goal.
Southern's under-16s lost 3-0 while the under-19s lost 11-0.
Meanwhile the NPL door is ajar for Manningham United after it increased its lead in State 1 South-East with a 1-0 home win over Mornington last weekend.
Dean Lorenzi got the winner in the 48th minute.
Mornington's UK import Max Etheridge came off the bench in the second half after returning to Australia last week and is pushing for a spot in the starting line-up against Beaumaris this weekend.
In State 3 South-East news Skye United lost 2-0 at home to Monbulk Rangers on Saturday.
The visitors opened the scoring in the 15th minute when Skye couldn't stop Chris Wynne's run on the right of the area and his cutback was slammed home low by Patrick O'Loughlin from 10 metres.
Skye's best chance of the first half came in the 23rd minute when Daniel Attard skinned a defender on the right and cut inside but his square ball to Mitch Blake was met with a sidefoot strike that sailed harmlessly over the bar.
Attard, Blake and Jason Nowakowski all blew good chances to level and the goal that ended Skye's chances came in the 72nd minute and completely bedazzled a ragged Skye defence.
Scott surged forward and passed to substitute Shaun O'Rourke on the right and he cut inside before squaring the ball to McRae who first dummied to shoot then calmly slotted the ball past Crook for the clincher.
Skye head coach Billy Armour didn't mince his words after the loss.
"The promotion push is over. It's as simple as that. Right now our focus is on trying to finish in the top half of the table," Armour said.
Skye midfielder Marcus Collier is out for the season and may require surgery to repair his ACL.
In State 4 South news Baxter lost 2-1 away to Monash Uni last weekend.
There were few clear-cut chances in the first half and the deadlock was broken by a long drive into the top corner from Miles Rodriguez in the 63rd minute.
Baxter equalised four minutes later with a clever finish from just outside the area by substitute Ben Meiklem.
The visitors were caught napping in the 80th minute when a quick free-kick sent Monash substitute Stephen Harvey clear and he slipped the ball under advancing Baxter keeper James Foster.
Monash striker Sampath Mishra received two yellow cards in quick succession and was sent off late in the match.
The big news at Baxter Park this week is the return of former senior coach Roy Kilner who becomes Francis Beck's second assistant alongside Mitchell Ball.
In State 5 South Somerville Eagles triumphed in a seven-goal thriller away to Rowville Eagles last Friday night.
Somerville player-coach and league leading scorer David Greening had the visitors 2-0 up after 30 minutes with his second goal coming from the penalty spot.
But two goals in a minute from Louis Palmire's header and a Ruben Ichim chip drew the home side level.
Rowville hit the front three minutes into the second half thanks to a stunning Ichim free-kick but an unstoppable left-foot strike from outside the area from Greening secured his hat-trick.
The master scorer wasn't done with yet and in the 91st minute substitute Jarryd Lymer won a 50/50 challenge and Greening burst past two defenders and slotted home the winner to send Somerville supporters and players into wild celebration.
"That was a fantastic advert for State 5 football tonight," Greening sad.
"The spirit we displayed to come back from going behind shows the character we have at this club and I couldn't be more proud of them."
Aspendale lost its State 5 away clash with Casey Panthers 3-1.
Domenic Paul scored from the penalty spot for Aspendale in the first half.
Noah Berends, Pal Calvino and Paul were Aspendale's best.
Next weekend's games:
SATURDAY 3pm: Mornington v Beaumaris (Dallas Brooks Park), Peninsula Strikers v Old Scotch (Centenary Park), Mazenod v Frankston Pines (Mazenod College), Seaford Utd v Collingwood City (North Seaford Reserve), Boroondara-Carey Eagles v Skye Utd (Wilcox Field, Carey Sports Complex), Dandenong South v Baxter (Tatterson Park), Somerville Eagles v Chelsea (Somerville Secondary College), Aspendale v Endeavour Hills Fire (Jack Grut Reserve).
SATURDAY 3.15pm: Southern Utd v Senior NTC (Monterey Reserve, under-16s 11.40am, under-19s 1.15am).
SUNDAY 3pm: Werribee City v Langwarrin (Galvin Park).