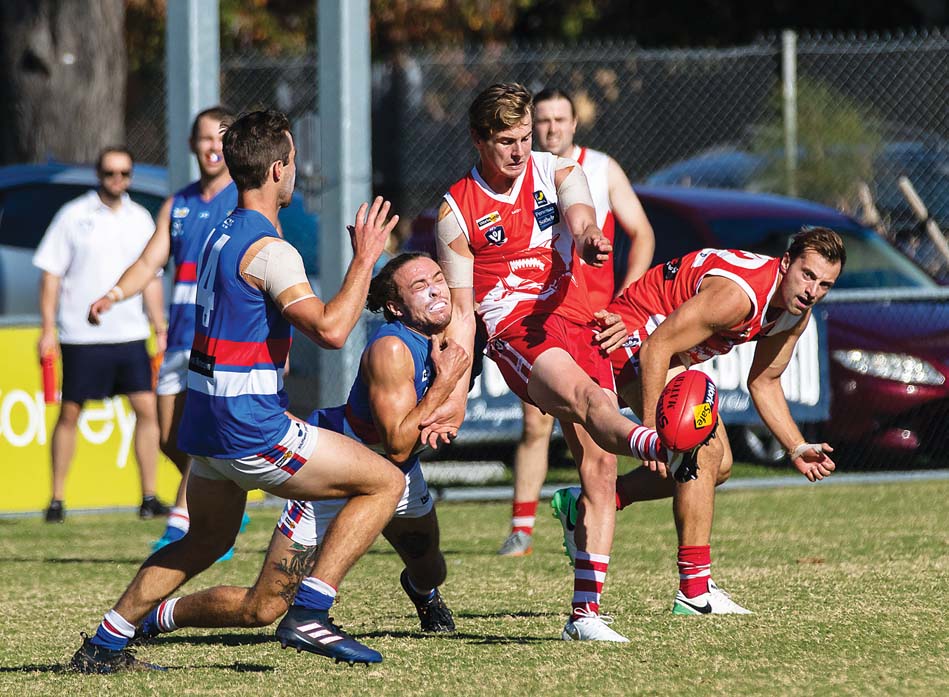 DIVISION ONE
WITH five games left to play in MPNFL Division One the finals landscape has started to take shape but things are far from over. With just two wins separating third-placed Mt Eliza from seventh-placed Bonbeach, it's all still to play for in the final month of the home and away football. Here's who each team will have to get through in order to book their spot in the finals.
CURRENT LADDER
SORRENTO – 40 PTS, 124.68 per cent
NEXT FIVE – Mornington (Home), Pines (H), Seaford (Away), Bombers (H), Edithvale-Aspendale (A)
Sitting on top of the ladder with 10 wins from 13 games, Sorrento are a lock for finals and one of the red-hot premiership favourites. Boosted by the recent onfield return of playing coach Luke Tapscott, the Sharks will be difficult to beat in the coming weeks. Bonbeach showed it can be done though, as they handed Sorrento their first loss in a month in a scrappy game last Saturday.
Sorrento face a fairly easy run into the finals, and should be able to secure enough wins to earn themselves first place and a first-week finals bye. Mornington, Pines, and Seaford over the next few weeks are easily winnable, but their final two games of the year against Bombers and Edi-Asp will pose more of a challenge. Should Edi-Asp continue their winning run, that final game could determine who finishes on top, given the two sides are currently sitting on equal points.
EDITHVALE-ASPENDALE – 40 PTS, 106.27 per cent
NEXT FIVE – Frankston YCW (A), Rosebud (H), Bombers (H), Mt Eliza (A), Sorrento (H)
Currently in a stunning streak of form, Edi-Asp are on a four-match winning run and are the in-form side in the competition. Their wins haven't always been pretty, and they've been made to work hard for some close results, but as the siren sounded has sounded Edi-Asp have been on top on each occasion.
Although they are enjoying a good run of results for the moment, their final five games for the season look to be much more challenging. To keep their streak going, Edi-Asp will have to face both the Nepean and Peninsula League Premiers in YCW and Sorrento, and they will also be challenged by matches against third and fourth-placed Mt Eliza and Frankston Bombers. Among all the sides in the competition, Edithvale-Aspendale's run home shapes up as the most difficult, but they have made a habit out of grinding out results in recent weeks. Given their recent form, it would be impossible to count them out. Their final home and away match against Sorrento Sharks looms as hugely important, and may be one of the blockbuster games of the year. To claim top spot, they will likely need to rely on Sorrento to drop points over the next few weeks, given the significant percentage gap between the two sides.
MT ELIZA – 32 PTS, 118.98 per cent
NEXT FIVE – Bonbeach (A), Seaford (H), Rosebud (A), Edithvale-Aspendale (H), Frankston YCW (H)
Mt Eliza have been one of the surprise packets of the reformed Division One this season, turning a solid fifth-place finish in last year's Peninsula Division into a third-place spot in a much more difficult competition. With just five games left, the Redlegs have legs, and will be considered one of the teams to beat come the business end of the year. Mt Eliza are in good form and have claimed all four points from three of their last four games. Although their good form has them in third place on the ladder, they are only ahead of Frankston Bombers by a narrow 0. 71 per cent.
Mt Eliza should secure a finals spot in the coming weeks with matches against Bonbeach, Seaford, and Rosebud, three of the bottom four sides in the division. If they slip up in any of these matches though they have a fight on their hands to retain their position, as they close out the year with two huge matches at home against Edi-Asp and the Stonecats. While the home crowd advantage will help, the quality of these opponents cannot be overlooked, and Mt Eliza can't afford to drop points with Frankston Bombers hot on their tail.
FRANKSTON BOMBERS – 32 PTS, 118.13 per cent
NEXT FIVE – Pines (A), Bonbeach (H), Edithvale-Aspendale (A), Sorrento (A), Rosebud (H)
With the divisional restructure in 2018, it was widely expected that both sides from Frankston would perform well, and while the Stonecats have disappointed, the Bombers have certainly been impressive. Only the narrowest of percentage margins away from the coveted third place spot, it wouldn't be wise to count out last year's Nepean League grand finalists.
The Bombers face a mixed run going into finals, and will be challenged with consecutive away trips to the two top sides on the ladder. Despite those difficult clashes, they will be happy to finish the year with a clash at home against 8th place Rosebud. The Bombers will be desperate to finish in third place to earn a second chance and avoid the difficult first-week elimination final, but likely will need to secure four points from at least one of their tough games against Sorrento and Edi-Asp to achieve that.
PINES – 28 PTS, 126.08 per cent
NEXT FIVE – Bombers (H), Sorrento (A), Frankston YCW (H), Mornington (A), Bonbeach (H)
Pines sit in a precarious position in fifth place, with the always dangerous Stonecats just four points behind them and waiting to steal their finals spot. Pines' toughest challenges will be in the next few weeks against both Frankston sides and ladder leading Sorrento. They will likely need to win two of those games to hold onto their finals position and win their final two matches against Mornington and Bonbeach. Although they have been inconsistent this year, there is a lot to like about Pines. They boast the best forward in the league in Aaron Edwards, though he can be susceptible to injury. His fitness is key to their finals hopes.
With Pines and the Stonecats just two points apart, their clash on 4 August at Eric Bell Reserve shapes up to be a classic. Pines are helped by the fact they have the best percentage in the league, so if they continue winning they could realistically rise as high as third. While it could go so right for them, Frankston YCW sit just four points behind them and will be ready to strike should Pines slip up, meaning they have little margin for error in the coming month.
FRANKSTON YCW – 26 PTS, 109.59 per cent
NEXT FIVE – Edithvale-Aspendale (H), Mornington (H), Pines (A), Rosebud (H), Mt Eliza (A)
The change in structure to merge the Peninsula and Nepean leagues into two divisions was always going to shake things up and see some sides struggle more than usual, but nobody could have predicted what has happened to Frankston YCW.
To call the Stonecats a dominant side would be an understatement. Frankston YCW have won seven of their last eight premierships and four in a row. They started this year off strongly, blitzing their first six games to sit undefeated and on top of the ladder going into Round 7.
Now going into Round 14, they haven't won in seven weeks, and they shockingly sit outside of the top five. Their match against Pines in Round 16 shapes as one of the biggest games of the year, and it could be crucial in determining fifth place. They avoid Sorrento in their final few games but will have to beat the impressive Edi-Asp and Mt Eliza sides to salvage their season. They have a lot of work to do but you can never count a champion side out.
BONBEACH – 24 PTS, 89.28 per cent
NEXT FIVE – Mt Eliza (H), Bombers (A), Mornington (H), Seaford (A), Pines (A)
Bonbeach have struggled badly with inconsistency this year, however they find themselves in the middle of a good run of form. The Sharks will be elated to have claimed back to back underdog wins over Frankston YCW and Sorrento. Bonbeach sit four points away from fifth, but are helped by a run home that sees them avoid playing Sorrento and the Stonecats again, and also sees them avoid second placed Edithvale-Aspendale.
Despite being surprisingly poor this year, Bonbeach face a run home with five very winnable games. With both Bonbeach and the Stonecats placed outside of the finals spots, the league is currently in a situation in which one of last year's Peninsula League Grand Finalists will almost certainly miss out on the finals.
ROSEBUD – 18 PTS, 71.65 per cent
NEXT FOUR – Edithvale-Aspendale (A), Mt Eliza (H), Frankston YCW (A), Bombers (A)
Last year Rosebud finished second in a competitive Nepean League, and would have been expected to back up that showing with another good performance, but instead they have struggled badly and sit just above bottom of the ladder.
They and Seaford only have four games left to play after playing this Saturday as the only match in a split round, but Rosebud will be glad to have secured a win in that game. Working against Rosebud is their nightmare run home, as they only face one team outside the top five, that being reigning Peninsula League Premiers Frankston YCW.
MORNINGTON – 16 PTS, 83.67 per cent
NEXT FIVE – Sorrento (A), Frankston YCW (A), Bonbeach (A), Pines (H), Seaford (H)
Mornington are placed three games outside the top five, and would essentially have to win the remainder of their games and hope the results go their way to scrape into the finals. Although September football may be out of reach for this season, Mornington can rest easy knowing that they have shown great signs of improvement in recent times, with coach Simon Goosey steering them upwards from bottom of the ladder after a tough start to the year.
They will be underdogs in their next couple of games, with away trips to Sorrento and Frankston YCW a difficult task for even the best of sides. A game at home against bottom-placed Seaford shapes as a great opportunity to finish what has been a hopeful season for the Bulldogs with a bang.
SEAFORD – 8 PTS, 70.52 per cent
NEXT FOUR – Mt Eliza (A), Sorrento (H), Bonbeach (H), Mornington (A)
It's been a difficult and disappointing season for Seaford, who have only claimed one win and two draws from 13 games this year. Their last two games against Bonbeach and Mornington are certainly winnable, but being eight points behind their next closest opponent on the ladder means they'll need to push hard to overcome that gap.
Seaford could be set to face potential relegation to Division Two for next season, with the league yet to confirm how many teams will be moving up and down the divisions next season.