SOCCER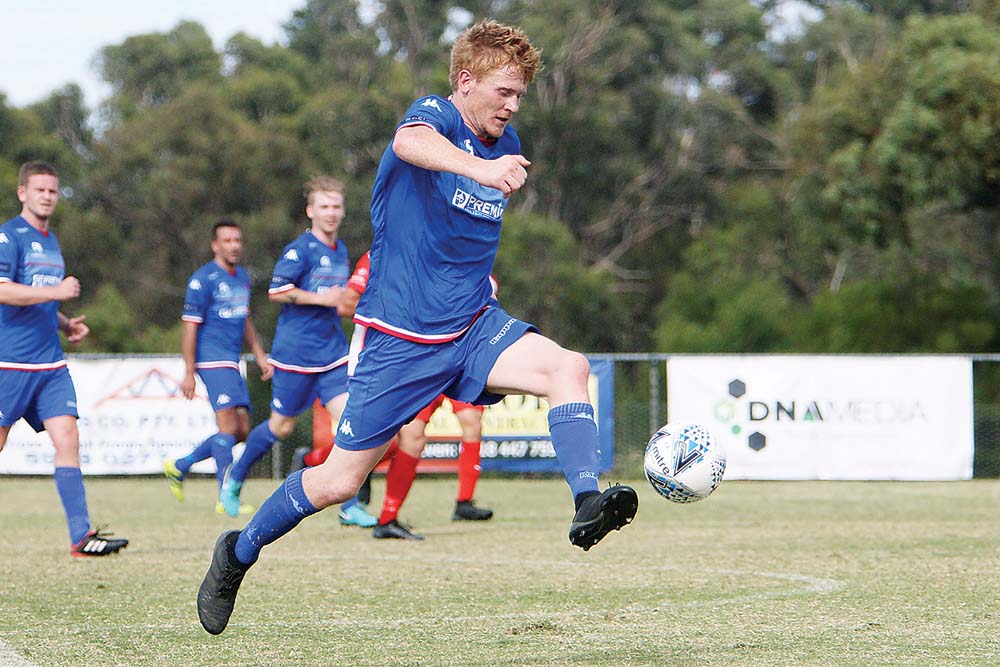 GUS Macleod has come through the toughest test of his coaching career by steering Langwarrin to NPL2 safety.
The veteran gaffer is in his 20th season at Lawton Park and has enjoyed league titles and multiple promotions highlighted by the 2017 State 1 South-East title which was Langy's ticket to the NPL.
"I've felt the weight of the club's expectations on my shoulders and it would have been a disaster for us if we'd have been relegated in our first season in the NPL," Macleod said.
"This has been the hardest season of my coaching career and I'll sit down with the club at the end of the year and decide where we go from here."
Langy's 2-1 away victory the previous week over Whittlesea Ranges secured its NPL place for 2019 so Saturday's 3-2 home loss to Sunshine George Cross was no major setback.
In what turned out to be a goalfest a quick one-two between Langy midfielders Paul Speed and Mehdi Sarwari in the opening minute saw the latter send Johnny Kuol clear and Langy led 1-0.
It took until the 71st minute for the visitors to equalise but for George Cross fans it was worth the wait as a superb curling free-kick from Jungho Kim made it 1-1.
Then an attempted cross from Karl Baricevic on the left wing in the 78th minute looped over Langy keeper Robbie Acs and Georgies were ahead.
Kuol equalised from close range in the 85th minute breaking onto a great through ball from central defender Lloyd Clothier but Ben Mammone nabbed the winner a couple of minutes later with a good finish from 10 metres.
One of the highlights of Langy's season has been the consistency of Scottish recruit Andy McLean and the former Berwick Rangers defender is a leading candidate for player of the year honours.
"I wish I had another dozen like him," Macleod said.
"He travels all the way from St Kilda and he never complains or answers you back and he's just happy to play wherever you select him.
"He's a gem."
In NPLW news US import Michaela Dooley made an impressive debut in Southern United's 2-0 loss against Box Hill United at Wembley Park on Saturday.
Just when it looked as if Southern had secured a point Box Hill scored in the 89th and 91st minutes.
Southern's under-12s continued their impressive debut season with a 5-0 win thanks to goals from Emilia Ingles (2), Rhiannon Kelleher, Chiara Renzella and Leah Plavljanic.
Southern's under-14s stayed on track for another title by winning 5-0 with goals from Rhys McKenna (2), Erica-Derrick Sarfo-Sarpong, Macey Butler and Candy Kilderry.
Second-placed Calder United lost ground in the championship race by drawing 1-1 at home to South Melbourne which gives Southern a five point buffer with four games remaining.
The under-16s lost 3-0 and the under-19s lost 4-0.
In State 1 South-East news Mornington had a bye after the withdrawal from competition of Morwell Pegasus late last week.
Morwell has struggled to field senior and reserve teams for some time and senior coach Carlos Retre has recommended to the committee that it re-enters the local competition for next season and appoints a local coach.
Warragul is now the only Gippsland side in State 1 and carries the hopes of FFV which is known to be keen to establish an NPL presence in the region.
In State 2 South-East news Frankston Pines lost 1-0 away to Berwick City on Saturday while Peninsula Strikers were preparing to take on North Caulfield at Caulfield Park on Sunday as we went to print.
The decisive moment in the Pines' game came in the 20th minute and a near post header from Jarod Blackbourn settled the issue.
Pines' best chance in the second half fell to CJ Hodgson but he blew a one-on-one by shooting straight at Berwick keeper Christian Morales.
Five minutes later Ben Millward blazed his strike over the bar in a scrappy contest in which both sides struggled to fashion many chances.
In State 3 South-East news Skye remained in the promotion race thanks to a 1-0 home win over Collingwood City last weekend.
Caleb Nicholes scored the decider in the 38th minute after holding off two defenders before finishing well from the left of the area.
It was a dour struggle for the most part and Skye's best was keeper Jonathan Crook.
Harry McCartney reports that Seaford United remains locked in a relegation battle after losing 4-0 away to promotion candidate Monbulk Rangers on Friday night.
This contest was over by half-time thanks to a hat-trick from Orien Hummennyi-Jameson and a simple tap-in by Cameron Poynter.
Seaford's dismal night got worse in the 87th minute when a Matty Schwellinger challenge earned a straight red.
Baxter is clinging to its State 4 South status by a fingernail and remains at the foot of the table after a 2-2 home draw against Sandringham City last Saturday.
Baxter was leading 2-1 until a long punt downfield by Sandringham keeper Adam Chesterton was allowed to bounce over the heads of a bamboozled Baxter defence and teenage Sandy winger Ben Harris nipped in to neatly guide the ball past advancing Baxter keeper James Foster in the 88th minute for the equaliser.
The sides were locked at 1-1 at half-time and both goals were absolute crackers.
Sandy striker Bailey Nievaart mistimed an attempted volley in the 27th minute but when the ball bounced back up he made no mistake a second time sending it like a tracer bullet past Foster from 20 metres.
A minute later Stuart McKenzie was the only player inside the box to attack the ball with intent from a corner sending a powerful header past Chesterton for the equaliser.
Substitute Dan Disseldorp stroked the ball home from point blank range in the 60th minute following good work on the left of the area from Baxter's most dangerous player Ben Meiklem and just when the home side thought that it had secured all three points it paid dearly for a late defensive brain fade.
In State 5 South news Somerville Eagles are locked in a five-way tussle for promotion after Saturday's 0-0 home draw with fellow contender Lyndale United.
Saturday's clash featured some thunderous tackles and plenty of needle.
Apart from looking dangerous from numerous set pieces and long throws Lyndale found it hard to muster a clear-cut chance in open play.
And the visitors can thank their lucky stars that the assistant referee saw an offside against Joel Wade that no one else did to deny Somerville from taking the lead in the 25th minute.
Lyndale goalkeeper Danny Pehar pulled off two blinding saves, one in each half, to deny Somerville player-coach Dave Greening.
With less than five minutes to go a clever pass from Damian Finnegan found Greening who took a stunning first touch between two defenders only to be denied by a remarkable save by Pehar.
"Before the game with so many players missing we probably would have taken a point but on the balance of chances we probably should of won," Greening said after the match.
"We knew we were in for a battle today and there were no passengers out there. It really was blood and thunder stuff, so credit to our boys for matching them and standing up to the physical challenge."
The result allowed Old Mentonians to jump to the top of the State 5 South ladder after their 3-1 win over Aspendale at Jack Grut Reserve on Saturday.
A Marcus Spivey goal in the 18th minute gave the visitors the lead but a long-range strike from Dominic Paul in the 54th minute made it 1-1.
A superb solo effort from James Bingham restored the visitors' lead seven minutes later.
Young midfielder Claudio Barracos had only recently joined Aspendale and had to be replaced with what looks like a season-ending knee injury and Cameron Ironside completed the scoreline in the 86th minute.
Next weekend's games:
SATURDAY 3pm: Murray Utd v Langwarrin (La Trobe Uni, Albury-Wodonga), Warragul Utd v Mornington (Baxter Park, Warragul), Frankston Pines v Mooroolbark (Monterey Reserve), Peninsula Strikers v Doveton (Centenary Park), Seaford Utd v Boroondara-Carey Eagles (North Seaford Reserve), Bayside Argonauts v Skye Utd (Shipston Reserve), Harrisfield Hurricanes v Baxter (W.J. Turner Reserve), Somerville Eagles v Knox Utd (Tyabb Central Recreation Reserve), White Star Dandenong v Aspendale (Greaves Reserve).
SATURDAY 3.15pm: Southern Utd v Heidelberg Utd (Monterey Reserve, U12s 9am, U14s 10.15am, U16s 11.40am, U19s 1.15pm).