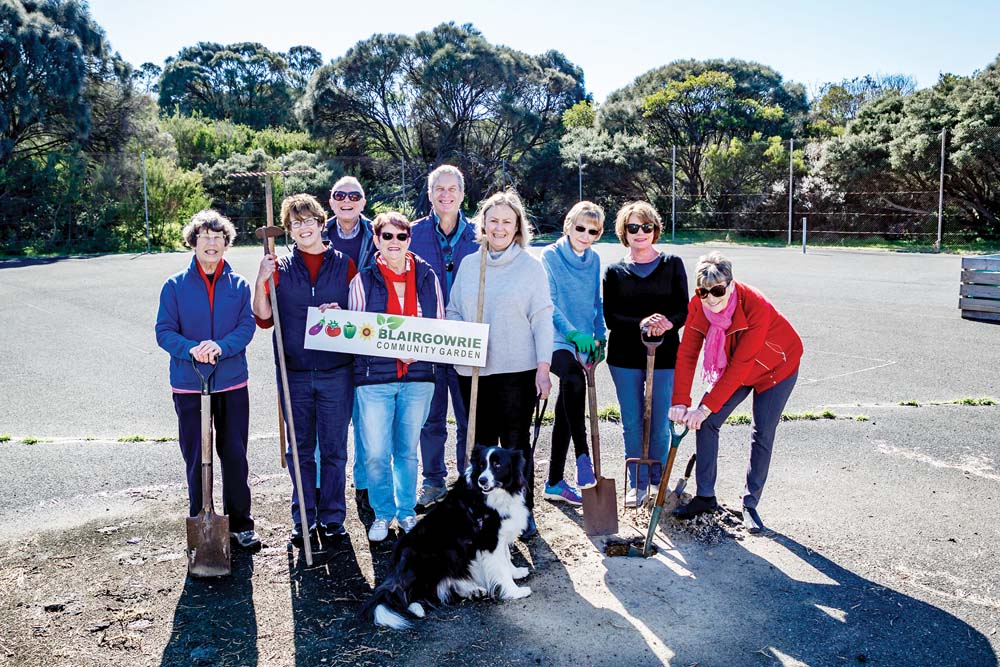 BLAIRGOWRIE Community Garden Group members are excited at being given the opportunity to develop an extensive vegetable garden at Stringer Road Reserve.
The group – aligned with the Sorrento Community Centre – was last week granted a five-year lease on a section of the reserve by Mornington Peninsula Shire Council. The group had been in discussions with the shire over the past year to secure the site, in Melbourne Road.
The council believes the area is underutilised and development of a community garden, on two unused tennis courts, will improve the area's amenity, as well as offer recreational benefits to participants.
The gardening group's Anne Van Veen said members – and "a large proportion of Blairgowrie" – were thrilled with the lease approval. "We've raised $3000 over the past six months through sausage sizzles, wine drives and through selling plants," she said.
"We've tried to keep everything with a garden theme. Now everyone's getting behind us. We've had people dropping off their compost and Blairgowrie IGA are giving us their vegetables peelings.
"We will develop a garden that unites people and be a place where they can grow vegetables, fruit trees and succulents. We'll do workshops and promotions, such as teaching the art of bottling and preserving fruit and vegetables."
The garden group has already established four beds on the courts. It is applying for $4000 in grants for a 25,000-litre water tank, with more applications anticipated. They are looking forward to working with schools and other groups as the gardens become established.
Other parts of the reserve are used by Rye junior football and cricket teams.
It has a leash-free area and takes in overflow parking during major sailing events at the Blairgowrie Yacht Squadron. Buildings on the site include a small pavilion, ground maintenance sheds and a public toilet block.
The mayor Cr Bryan Payne said the garden would "bring many benefits to the Sorrento community".
"Community gardens are a valuable recreational activity contributing to the health and wellbeing of the whole community and provide a wide range of environmental, social and educational benefits," he said.
An officers' report to council stated the group had already supported the Sorrento Primary School kitchen garden program, Sorrento connected garden monthly workshops and community grow and play gardens planter boxes.
The shire's property operations team leader Greg Collins and senior social planner Rosalyn Franklin said in a report to council that the garden group had demonstrated "considerable understanding" in developing community gardens. It had developed relationships with CERES Environment Park as well as online support from the Australian City Farms and Community Gardens Network.
"Community gardens are a valuable recreational activity that contribute to the health and wellbeing of the community and provide a range of environmental, social and educational benefits," the pair stated.
"There is increased interest and participation from [people] seeking access to community gardens on the peninsula. Support with growing and eating fresh local produce is supported by several community houses and primary schools."
Community gardens already use council land at Rosebud, Dromana, Mornington and Crib Point. Last year the shire supported a community garden at The Salvation Army Mission at Hastings.
First published in the Southern Peninsula News – 21 August 2018