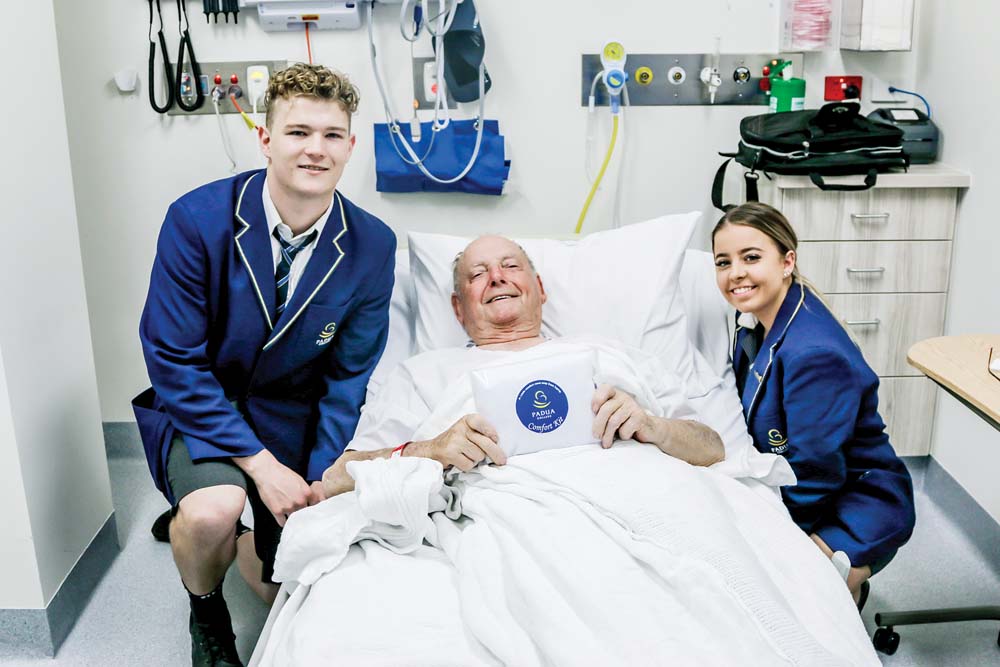 A DONATION of 200 "comfort kits" from a class of year 12 VCAL students at Padua College, Mornington will help patients at Frankston Hospital's emergency department.
The kits contain combs, toothbrushes, toothpaste, ear plugs, socks, eye masks, anti-bacterial wipes, pencils and Padua Puzzles, which members of the class created themselves.
Student and project manager Gus Gordon said the kits included common sense items: "When people come into the emergency department it often isn't planned – so they might not have the basic things they need like a toothbrush and toothpaste.
"We wanted to do something to help the local community, so we decided to make the comfort kits for the hospital. We chose things for the packs that we thought we'd need, if we were in that situation."
Over the course of the year, the students set about collecting donations for the packs and fundraising so they could buy other items needed.
"We had barbecues at school and hosted a Mother's Day stall to raise money," Gus said.
"Everyone in the class has played a big part in the project; it's been great."
Frankston emergency department nurse unit manager Elissa Rolland says the packs will make be big difference.
"We see around 220 presentations a day – this is a range of adults and kids who may have life- threatening, critical illnesses as well as less serious injuries, like a broken finger," Ms Rolland said.
"We also see a lot of people experiencing homelessness who will benefit from receiving the packs."
Ms Rolland thanked the students and teacher Deb Arrowsmith for their contribution. "This donation is absolutely amazing," she said.
"The students have done a great job pulling this all together and we're really pleased to have this great resource available to give to patients in the ED."