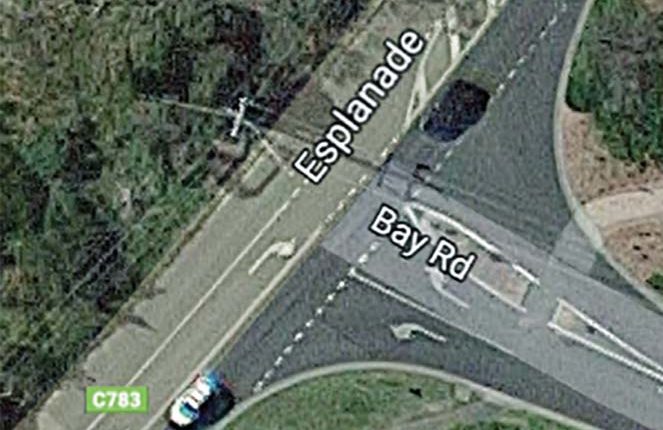 A MT MARTHA man who collided with another car at a busy beach-side intersection blames a VicRoads' line marker for causing it.
Maurie Forbes was preparing to turn right from Bay Road into the Esplanade when he clipped the rear of a car approaching from his left as it turned right into Bay Road.
He says an incorrectly sited right-turn arrow on the main road directed the car into the wrong lane and forced the driver to over-correct as she turned into Bay Road.
Mr Forbes said he saw the car approaching from some distance away but thought he had plenty of time to make the turn. "Then I got a shock to see it so close to me," he said. "The driver had almost turned into me and then realised her mistake and quickly turned again into the correct lane.
"I merely clipped her rear tyre but it could have been much worse.
"There should be one more arrow further along. It is totally misleading."
A Google Maps view of the intersection shows the right turning marker to be one lane's distance from what would seem to be the correct position.
However, VicRoads was having none of it, saying road signs and line marking was regularly reviewed as part of its maintenance schedule, as well as when there was a change in the environment or when a "crash history" at a specific location or stretch of road justified it.
"The line marking at this intersection is consistent with VicRoads standards," movement and safety manager metro south east Sasha Yarwood said. "We constantly review our road network and make safety improvements where appropriate.
"VicRoads meets regularly with local councils and Victoria Police to discuss issues such as signage, speed limits and line marking."