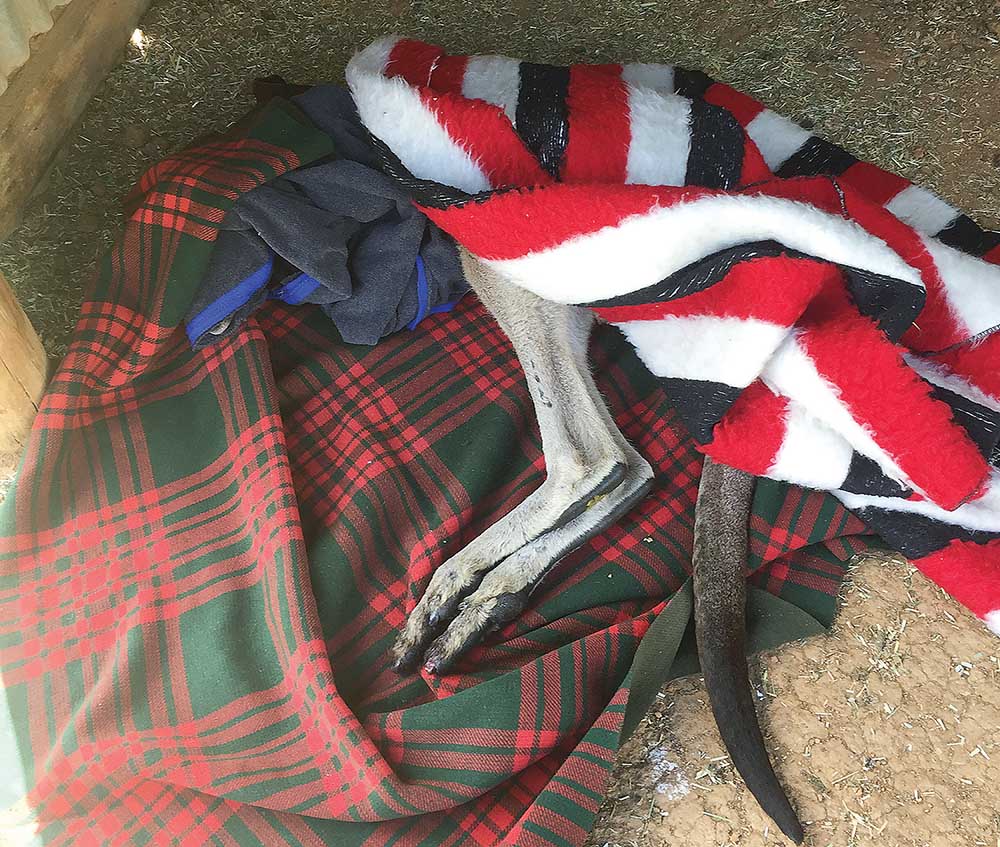 A WATERLOGGED kangaroo rescued by two policemen in rough seas off Safety Beach on Saturday afternoon was happily "hopping around" at a cosy refuge on Monday, a carer said.
Animalia wildlife rescue group president Michelle Thomas said she collected the distressed male roo from the Rosebud police station lock up later that evening, Saturday 27 October, and took him to a specialised kangaroo shelter for some much-needed TLC.
The roo's bayside rescue, by Rosebud police Sergeant Chris Russo and Senior Sergeant Kirby Tonkin, who stripped off and waded into the waves, made TV news bulletins on Saturday night.
Ms Thomas said the roo may have been "spooked" by young dirt bike riders and, in panic, hopped all the way down Boundary Road, Dromana, to Marine Drive. It fled all the way to Safety Beach followed by cars which Ms Thomas said "only made matters worse".
"We had callers left, right and centre saying they saw it hopping all the way to Safety Beach," she said, with the hard bitumen wearing his big toe nails right down.
"All the noise and the people freaks them out. When they are frightened or being chased they often hop into the water. It can be their only option. They can swim quite well but not when it is rough like it was on Saturday."
Brought to shore by the policemen, the roo was taken back to Rosebud police station in the divvy van and given antibiotics to combat the effects of taking water into his lungs.
"He will need to rest for a few days in the peace and quiet and will be released in a few days."