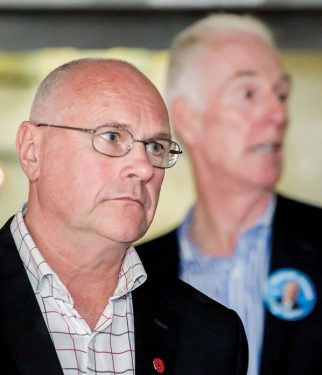 By Stephen Taylor and Keith Platt
SATURDAY'S state election has signalled to the Liberal party that it cannot always count on holding the three seats covering the Mornington Peninsula.
While it has retained two seats – Mornington and Hastings – Nepean remains undecided.
All three may be within Labor's grasp next time around and doubts are being voiced over the Liberals' ability to retain the seat of Flinders in the federal election that must be held by May next year.
Flinders is held by Greg Hunt, one of leading figures in the leadership crisis that saw Scott Morrison eventually succeed Malcolm Turnbull as prime minister.
The previously safe Liberal seat of Nepean held by retiring MP Martin Dixon since 2002 being sought by Liberal candidate Russell Joseph was too close to call yesterday (Monday) following Labor's landslide election win. Mr Joseph was Mr Dixon's office manager.
As vote counting continued yesterday morning Mr Joseph and Labor's Chris Brayne were neck and neck, with Mr Brayne on 17,441 votes (50.95 per cent of two-candidate preferred votes) and Mr Joseph 16,789.
Meanwhile, the neighbouring Liberal seat of Mornington was easily retained by incumbent David Morris, albeit with a reduced majority.
Mr Morris was on 19,010 votes after 51.20 per cent of the vote was counted – well ahead of ALP candidate Ryan White on 15,427 votes (44.80 per cent). While Mr Morris's win was solid, it should be remembered that Mr White was virtually unknown in the seat.
Mr Morris has held Mornington since 2006 and was re-elected in 2010, 2014 and 2018.
An anxious Mr Joseph said yesterday the result was still "too close to call" and that he would wait until all votes were counted on Wednesday, taking solace from the fact he had had a "good bounce from pre-poll and postal voting".
He said Nepean had previously had a 7.6 per cent margin on a two-party preferred basis, but that this was insufficient to withstand "the Labor tsunami that swept across Victoria" giving the ALP its second term in office.
"That margin was not strong and I never took my position for granted," Mr Joseph said.
"I had some good policies and achievements, such as the [proposed recycled] water pipeline scheme and the Jetty Road overpass to my credit, whereas Labor and the Greens didn't even have one policy down here."
Mr Joseph alluded to "external issues", such as the ousting of former PM Malcolm Turnbull, as having a "greater impact down here than elsewhere".
The ALP's Chris Brayne, who lives at Balnarring, said he was "very pleased with the result in Nepean".
"It was a resounding endorsement of the policies of the Andrews government," he said. "People on the Mornington Peninsula want to see investments in schools, hospitals, roads and rail.
"We expect the result to be decided by just a small number of votes, so a result may not be known for some days still.
"Every voter in Nepean deserves to have their voice heard."
Mr Brayne, who writes sit-com pilot scripts and works at Dromana drive-in on weekends, said the "significant swing to Labor was indicative of the hard work my team and I put into the campaign … over the course of this year".
"We did what we could with little resources, but it is clear that the message from myself and the Andrews Labor government resonated with this community."
Prophetically, in his candidate statement to The News two weeks ago, Mr Brayne said: "Imagine a day where the peninsula was on a knife edge every election leading to both parties focusing more heavily on our area."
On the weekend he got his wish.
Over at Hastings, sitting Liberal Neale Burgess was looking more comfortable despite saying: "In our local electorate things are still too close to call, with 30 per cent of the vote still to be counted and recounts to follow."
But, with 18,127 two-candidate preferred votes in hand compared to the ALP's Simon Meyer's 16,685 votes, Mr Burgess should be home and hosed. He was sitting on 52.07 per cent of the vote on a two-candidate basis compared to Mr Meyer's 47.93 per cent.
On Monday Mr Burgess said: "Victorians spoke loudly and clearly on Saturday and, as always when our community speaks, I listen.
He congratulated the Andrews Labor government for "being given the honour of governing our great state for another four years".
"I am hopeful that our local community will see fit to again give me the great honour of serving them. If so, I will continue to represent each and every one of them to the very best of my ability."
Mr Morris on Monday said he was "grateful" to voters in his electorate, but that it was "too early to analyse what went wrong for the Liberals across the state".
He said the result was "pretty disappointing", with the ongoing ructions and change of leadership in the federal Liberal/National government "being an element, but not the major factor" in the lack of voter support.
Mr Morris would not comment on how voter disenchantment with the federal government might affect the re-election chances of Flinders MP Greg Hunt. Mr Hunt was one of senior ministers who stood alongside Home Affairs Minister Peter Dutton in the split that ultimately led to the resignation of then Prime Minister Malcolm Turnbull.
Mr Morris said that during the election campaign he had not seen any indications of a major swing against the Liberals. "We were an incredibly unified team, but that was not the same in Canberra," he said.
"I haven't had time to process [the result] yet, but I didn't really get a feeling [in the campaign] that anything was different this time.
"I wasn't expecting a swing either way or, at the most, thought we might take a one or two per cent haircut.
"On Friday [the day before Saturday's election] I received an email from a 50-year-old woman saying she had voted Liberal all her life but could not do it this time."
Mr Morris believes the federal problems account for "less than one third of the swing against us".
He said he "gets on well" with John Presutto (Hawthorn) and Michael O'Brien (Hawthorn) the two main contenders for leadership of the Liberals in parliament if Matthew Guy decides not to stand. "They've both got what it takes to lead the party."