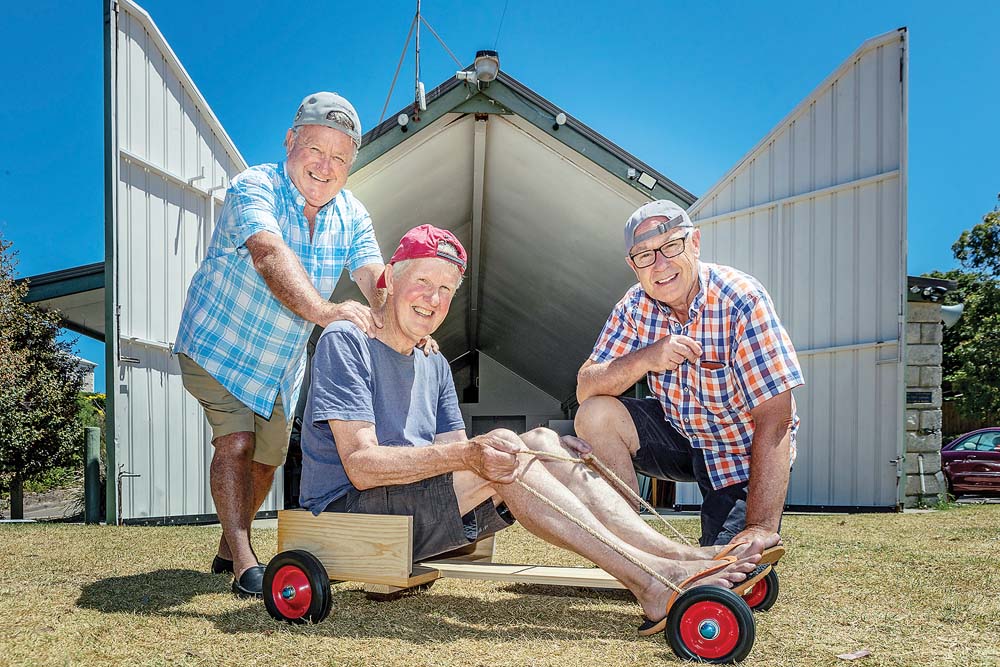 WHAT could be more fun than competing in a billy cart derby?
Point Nepean Men's Shed members have got together with Rye Community House by holding a Buy a Bale Billy Kart Derby to help struggling farmers.
The derby, to be held in Wilby Street, Sorrento, 9am-4pm, Saturday 16 March, also aims to revive the time-honoured art of billy cart making. Feature races will be held for children aged 6-11 racing karts built to a specific design but with their own decoration.
Men's shed member Terry Phippen said he got the idea for the derby when collecting donations.
"I saw some billy carts for sale and … bought 20 karts for $20 each," he said.
Speaking with Rye Community House manager Kerryn Ladell, Mr Phippen canvassed the idea and it has grown from there. "I live in Wilby Street which has a slight incline and I think it's a great spot for it," he said.
Flyers have been sent to nearby primary schools, information centre and the community house to let people know it is happening.
Carts will be for sale for $50 each with $10 going to the community house and $20 to the farmers. Police and other community groups will be invited to compete.
"We can sell the carts as a kit or we are happy to make them up and paint them," Mr Phippen said.
"The feature races will be for the school kids using very simple carts. Who knows what other carts will appear on the day through a challenge to the community groups and services? Let's see what they build and show."
Men's shed members are already building carts for the race in their workshop in Hotham Road, which is open Tuesday afternoons.
"This is a community event that needs to come back on the calendar and at the same time be used to support a needy charity," Mr Phippen said.
"It's getting lots of community interest and there's even a suggestion of it becoming a regular event."
A sausage sizzle, ice cream and homemade lemonade will be for sale on the day.
Details: Terry Phippen on 0488 115 433.
First published in the Southern Peninsula News – 29 January 2019