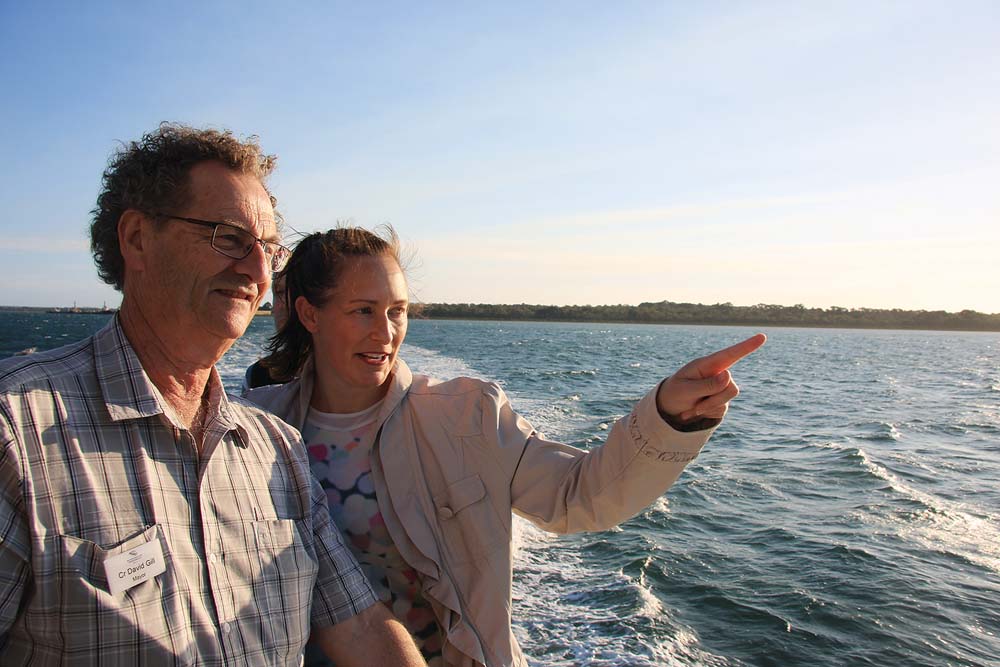 Cruising while eating canapes and drinking while spotting waders was all part of a twilight cruise on Western Port last Friday to "celebrate" the following day's World Wetlands Day (Saturday 2 February).
The 90 or so paying passengers aboard the Kasey Lee were also kept mindful of the efforts by the Save Westernport group to stop power company AGL processing imported natural gas at Crib Point and plans by successive state governments for a container port at Hastings.
World Wetlands Day marks the signing of the International Wetlands Treaty in Ramsar, Iran, on 2 February 1971. Western Port was listed under the treaty in 1981.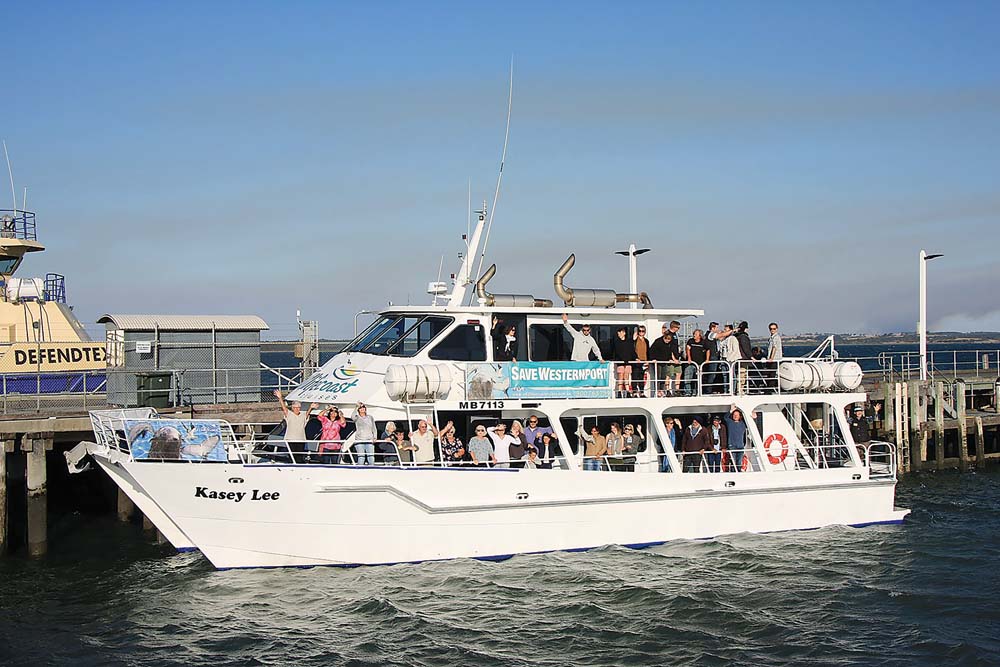 The treaty recognises wetlands as being of international importance if they hold up to 20,000 waterbirds (such as ducks, swans and herons) and up to 10,000 migratory waterbirds (including curlews and sandpipers).
"Western Port easily meets these criteria and also hosts more than one per cent of the migratory population of six wader species, including eastern curlews, common greenshanks and red-necked stint, which is another criterion for being added to the list of Ramsar wetlands," Save Westernport organiser Chris Chandler said.
"The mudflats of Western Port are a summer home to thousands of black swans, ducks, herons and ibis, as well as 30 species of migratory waders which breed in Siberia."
As passengers filled their wine glasses, the cruise sailed from Stony Point north past the Crib Point jetty, where AGL plans to berth a more than 300-metre-long floating gas processing vessel.
"The twilight tour then passed the Esso and BlueScope jetties, along the coastline that some politicians hope will one day be lined with the huge cranes of Australia's biggest container port," Mr Chandler said.
"Canapes were served as we headed east to Barrallier Island, off the north-west corner of French Island. Barrallier is an important high tide roost for up to 3000 migratory waders."
The Kasey Lee headed south along the west coast of French Island, to Tortoise Head.
"Those on board remarked at the remoteness of the mangrove-lined French Island coast, with no buildings in sight for most of the coast, and a real wilderness feel about it," Mr Chandler said. "From Tortoise Head, we headed west again into the setting sun, towards HMAS Cerberus, admiring the sunset and the first flights of short-tailed shearwaters, or mutton birds, returning to their nesting burrows on French Island from their feeding grounds in Bass Strait."
Save Westernport is planning another cruise in March. Details: savewesternport.org