PENINSULA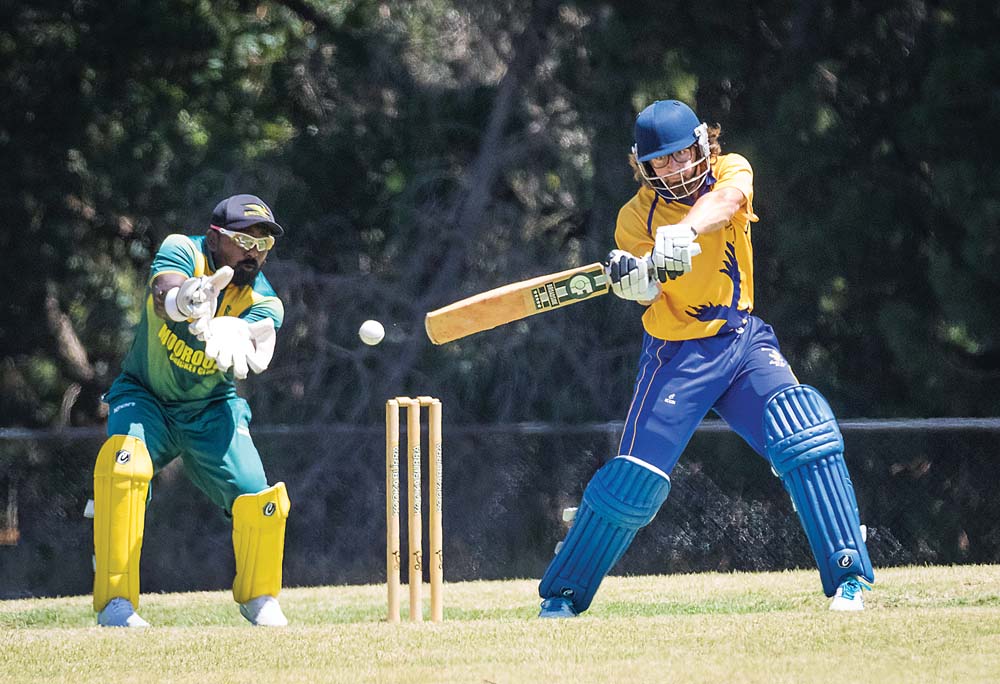 MOOROODUC have held on by a thread to claim a thrilling victory in the first innings over Somerville.
Chasing 168 to win, Moorooduc kept touch mainly thanks to an entertaining innings from Rashimal Mendis, who hit his half century by smacking 3 sixes over the boundary.
Moorooduc passed their target with just one wicket in hand, and their numbers 11 and 9 batsmen at the crease.
At Ballam Park East, Long Island surpassed their measly target of 70 despite a monumental batting collapse against Main RIdge.
The winning side had passed their target and were flying comfortably at 3/96. They ended up all out for 109.
In response Main Ridge came in for a second innings, and looked to put runs on the board quickly. They were bowled out for 115 off 27 overs.
Handed a chance to claim the second innings and an outright win, Long Island capitalised. Opener Aaron Paxton scored 47 runs and his side passed 0/79 off 22 overs.
Baden Powell comfortably defeated Crib Point on day two of their clash at Overport Park.
An opening innings of 42 runs from Mitchell Barr got them off on the right foot, and they were able to claim victory. They finished the day at 6/170 from 175 overs.
Pines have had a tough afternoon at home against Red Hill, letting slip a good total of 233 and succumbing to a loss.
Pines would have felt they were in a good position, but Red Hill's chances were helped by a good spell of bowling on day one from Lincoln Toy, who dismissed the opening three batsmen in quick succession.
On day two, Simon Dart proved the difference as he put together a knock of 85 runs off 176 balls.
Red Hill surpassed their target with three overs of play left in the day.
DISTRICT
A GOOD day one innings of 209 has not been enough for Hastings to secure a win over Delacombe Park.
Despite losing both openers for just 2 runs between them, a good middle order stand saw Delacombe Park chip away at their total.
A brilliant innings of 76 from Ricky Ramsdale batting at number 7, including six 6s and another six 4s, saw Delacombe Park take out the win with three wickets in hand.
Rosebud had a little more luck defending their total of 213 runs against Seaford, bowling well to restrict their opponents to a low score.
Seaford suffered as their tail contributed little, and they ended up all out for 137.
Rosebud's bowlers performed well as a team, but Ashley Nagel's 4/15 was the most impressive effort.
Mt Martha will be disappointed they they have failed to chase down a target of 182 set by Carrum at Ferrero Reserve.
Mt Martha were bowled out for 131, with Jake D'Atri taking five wickets,
Carrum came in for a second innings and finished the day at 1/28.
The clash between Seaford Tigers and Heatherhill ended in a win for the Tigers, as Brayden Roscoe scored 84 runs to help his side end their first innings 47 runs ahead.
SUB DISTRICT
FRANKSTON YCW have held strong to defend their total of 250 runs against Tootgarook.
Tootgarook started day two well and looked good at 0/31, but quickly fell to 3/38 and were suddenly on the back foot,
A good innings from Travis French in the middle order helped the travelling Tootgarook, but they ended up bowled out with just 14 runs left to chase.
Andrew Kitson took 4 wickets,, inducing the last 2 to get his side out of jail.
Carrum Downs have also had to bowl well to avoid defeat against Rye,
Carrum Downs were defending a total of 164 runs, which looked as if it may prove to be a difficult task. Things quickly fell apart for Rye, and at 5/43, looked dead and buried.
Rye's middle order fought but their efforts were not enough, as their side were bowled out 33 runs short.
Tyabb have timed their run well to defeat Balnarring, hitting the winning runs with just one over left to play in their first innings.
Michael and Aaron Edwards were Tyabb's best, scoring 100 runs between them to set their side up for the win.
Tyabb secured victory with 5 wickets in hand.
On day two of the clash between Boneo and Dromana, Boneo batted and scored 126 runs, well short of their target of 236.
Skye had a bye.
PROVINCIAL
LANGWARRIN have bowled brilliantly to secure an outright win over Pearcedale in their two day clash at Lloyd Park.
A great first day saw Langwarrin claim the first innings. They declared 100 runs ahead,
In reply Pearcedale could muster little response. Langwarrin were on fire, with each of their six bowlers each claiming a second innings wicket.
Pearcedale were left all out for 106, meaning Langwarrin needed just seven runs to secure an outright win. They did so in two overs without loss of wicket.
Mt Eliza also suffered a rough outright loss against Sorrento on their own home turf.
Batting first on day one Mt Eliza put 118 runs on the board, with Sorrento scoring 148 in reply.
Mt Eliza's second innings proved to cost them dearly, as their opening 5 batsmen fell for single digit figures.
Jake Wood took six wickets to help bowl Mt Eliza out for 89.
Sorrento raced to their target to take out the win, reaching 1/60 off 14 overs.
At Alexandra Park, Baxter could do nothing to get close to Mornington, who set them a target of 353 to chase down.
Baxter batted slowly and were bowled out for 104 in their first innings, and the follow on was enforced.
With just 10 overs of play remaining, Baxter avoided an outright loss.
Peninsula OB's day one target of 189 against Flinders was easily defended. A middle order innings of 66 from Nick Barfuss caused the only headache, as the Old Boys claimed a good win.
Flinders were bowled out for 126.