SOCCER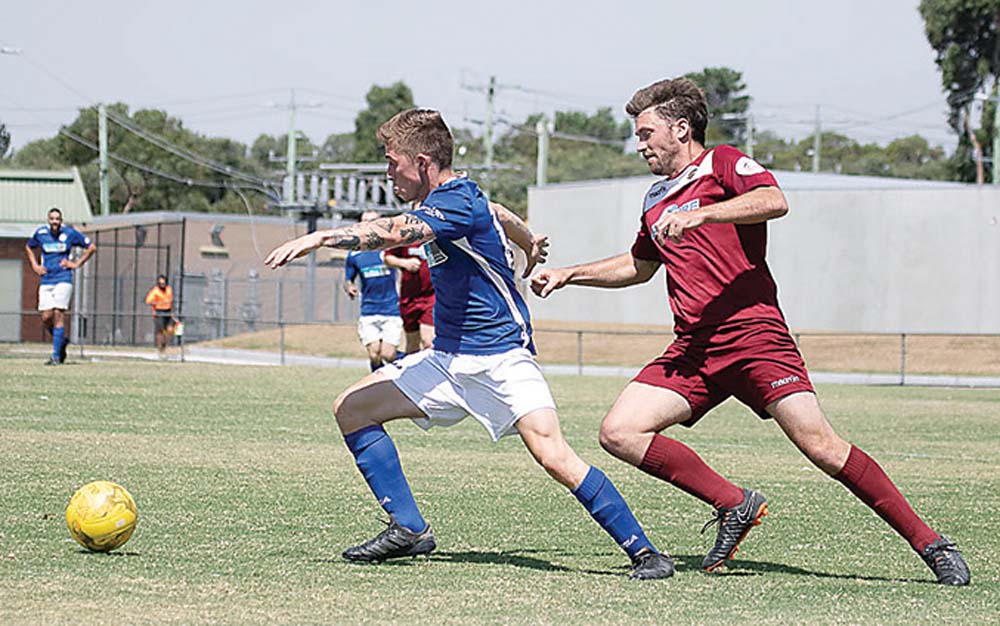 SKYE United's FFA Cup journey took a dramatic twist on Saturday when it came from two goals down to beat Monbulk Rangers 4-3 at Centenary Park.
Monbulk had beaten Skye in the promotion race from State 3 last season and came into the clash as a firm favourite.
But things didn't go Monbulk's way when injury forced Declan McAleese to be replaced by Cameron Poynter after just 14 minutes.
Four minutes later Daniel Walsh's lethargy in pushing up from defence allowed Poynter to beat the offside trap and hammer the ball past Skye keeper Jonathan Crook for the opener.
In the 34th minute Johnny Andrinopoulos lost possession on the right of his penalty area and with Crook stranded the ball was squared to Arash Sadeghi who struck it past Sajnesh Sugrim on the goalline to make it 2-0.
But a goal of stunning simplicity in the 40th minute gave Skye a lifeline.
Jason Nowakowksi had blown Skye's best early chance when he ballooned his shot from the left of the area in the 22nd minute but now he played a one-two with Daniel Attard that split the Monbulk defence and he calmly lobbed the bouncing ball over advancing Monbulk keeper Jayden Allan to make it 2-1.
Right on half-time Skye's Marcus Anastasiou was felled inside the area and Walsh easily converted from the spot for the leveller.
Two minutes into the second half Crook was beaten by Sadeghi at the near post with a low shot that squirmed through his legs to restore Monbulk's lead but loud appeals for a penalty to Skye's Mitch Blake in the 51st minute went unheeded.
Three minutes later Skye's Sean Karipis unleashed a dipping long-range drive that slammed against the bar and was scrambled clear but Skye wouldn't be denied and a low shot from outside the area by Harrison Michaelis in the 55th minute made it 3-3.
Nowakowski should have put Skye ahead in the 60th minute after Michaelis sent him clear on the left of the area only to send his shot over the bar and two minutes later Attard got free on the left but Allan parried well.
In the 68th minute Andrinopoulos couldn't control the ball properly and Steve McRae took advantage breaking into a one-on-one against Crook only to strike the ball wide of the far post and blowing one of the best chances of the contest.
Extra time looked certain until Monbulk failed to clear as the ball pinballed about inside its area before Skye substitute Mikey Turner was brought down.
Referee Patrick Chaplin pointed to the spot for the second time in the match and again up stepped Walsh and again he made no mistake to put Skye through to the next round of the cup with a possible match-up against a State 1 opponent, a clash that holds no fears for senior coach Phil McGuinness.
"We'd be delighted to draw a Division One club," McGuinness said.
"I think we play better when we play a side from a higher league.
"Yes we did well to come from behind today but the thing that impressed me most was our level of fitness.
"I've used the last couple of months to really push the boys and you could see that out there.
"No disrespect to the opposition but I think you could tell in the last 20 minutes that they were out on their feet and I think the heat really got to them."
Skye remains keen to bring in an extra striker and has spoken to some local players as well as contacting online player agency Soccer Smart.
McGuinness seems content with his stocks in defence and in midfield knowing that Billy Painting, Gerard Lawler, Mo Elhassan, Mark O'Connor and Marcus Collier still have to come back into the side.
In the second cup match at Centenary Park on Saturday State 2 side Peninsula Strikers beat State 4 opponent Baxter 4-1.
The cup heroics of the previous week were quickly forgotten when a severely depleted Baxter arrived at the venue.
Nathan Yule (suspended), Mitchell Cohen (leg injury), Charlie Jones (hamstring injury), Alan Lipsett (groin injury) and Brendan Norris (working overseas) were all missing from the 3-2 extra-time win over Altona North along with Chris Bowen and Paul Swan who were at private functions.
Baxter had hoped to have some new signings on show but Phil Greig (ex-Mornington and Langwarrin) and Sam Brown (ex-Langwarrin) were unavailable, Dau Ajak (ex-Morwell Pegasus) is still not ready to play and Jack Wyer (Mornington) only started light training last week.
Strikers were without Michael Hoogendyk (suspended) and injured Julian Malander.
In the 12th minute Strikers midfielder Jordan Avraham played in John Prescott on the right of the area and his square ball across the face of goal presented winger Alpha Turay with a first-time tap-in to make it 1-0.
But six minutes later former Strikers forward Ben Meiklem broke through and slotted the ball past Strikers keeper Colin McCormack to make it 1-1 and stun the home team fans.
Strikers' lead was restored when Josh Calle marked his debut by setting up Avraham for a close-range finish in the 37th minute to make it 2-1.
Despite huffing and puffing through the rest of the first half and most of the second period Strikers could not add to the scoreline as Baxter players refused to lie down and keeper James Foster proved a difficult hurdle to overcome.
Strikers eventually grabbed some breathing space when substitute Grant Lane volleyed home at the second attempt in the 83rd minute.
Five minutes later a neat one-two with substitute Matt Harrington allowed Prescott to beat the advancing Foster to the ball and neatly dink it past the young keeper to round out the scoreline.
In other FFA Cup news featuring local clubs, Somerville Eagles lost 6-0 to an impressive South Yarra, Aspendale Stingrays lost 4-0 to Moreland United, Seaford United lost 2-1 after extra time to Mooroolbark while Frankston Pines lost 3-2 after extra time to Thornbury Athletic.
Dylan Waugh put Seaford ahead in the first half at Esther Park but right on half-time Mario Rivera levelled for the home side.
The tie was forced into extra time and in the 108th minute Daniel Burrows nabbed the winner.
Pines had upgraded their floodlights last week and passed a lighting audit so the tie scheduled as a home match for Thornbury was switched to Monterey Reserve as Thornbury didn't have a ground available and neither club was keen to play at Darebin International Sports Centre.
The less said about this tie the better as after half-time it descended into an at times brutal contest with two players stretchered off and two Pines players red carded in extra time.
Both substitute Josh Maclaren and central defender Daniel Mota deserved to be sent off but had referee Arthur Vasiliadis took action against the numerous scything tackles from behind from Thornbury players the game would have had to be abandoned due to lack of numbers.
Travis Ernsdoerfer put Pines ahead with a low shot in the 11th minute and new signing Nick Simmons doubled the advantage in the final minute of the half.
Connor McAndrews gave away a penalty five minutes into the second half with a rash challenge and Michael Gaitanis converted at the second attempt after Alfonso Cardinale had parried his initial attempt.
Five minutes later scores were tied after Marc Macaluso's cross-cum-shot sailed over Cardinale's head and into the far corner of the Pines' goal.
The decisive moment came in the 6th minute of extra time when Bart Holod was sent clear on the right of the area and struck a superb low shot across Cardinale and inside the far post for the winner.
In NPL2 news Langwarrin came away from the long trip to Albury with a 1-1 draw against Murray United on Saturday but it had to wait until almost the last kick of the match to grab a point.
The home team took the lead in the 59th minute making Langy pay for losing possession and Tom Youngs opened the scoring.
It looked as though the visitors would return empty handed to Melbourne until Roddy Covarrubias was at the near post as the ball was played in from the right and he got a touch to send it under Murray keeper Abdulkerim Koc for a 97th minute equaliser.
In NPLW news Southern United had another dismal day at the office despite signing former Casey Comets midfielder Natalie Holmes late last week.
Holmes came off the bench for the last 15 minutes but was helpless to stop Bulleen chalking up a 10-0 win at Monterey Reserve on Saturday afternoon.
Southern's under-19s lost 5-0, the under-16s drew 1-1 with Eden Abrahams scoring for Southern, the under-14s went down 4-0 and the under-12s lost 13-0.
This weekend's league games:
SATURDAY 3pm: Langwarrin v Bulleen (Lawton Park); Southern Utd v Geelong Galaxy Utd (Monterey Reserve, under-12s 9am, under-14s 10.10am, under-16s 11.30am, under-19s 1pm).
This weekend's friendlies:
SATURDAY: Baxter v Westside Strikers, Baxter Park, 1pm & 3pm; Seaford Utd v Elwood City, North Seaford Reserve, 3pm & 5pm.