SOCCER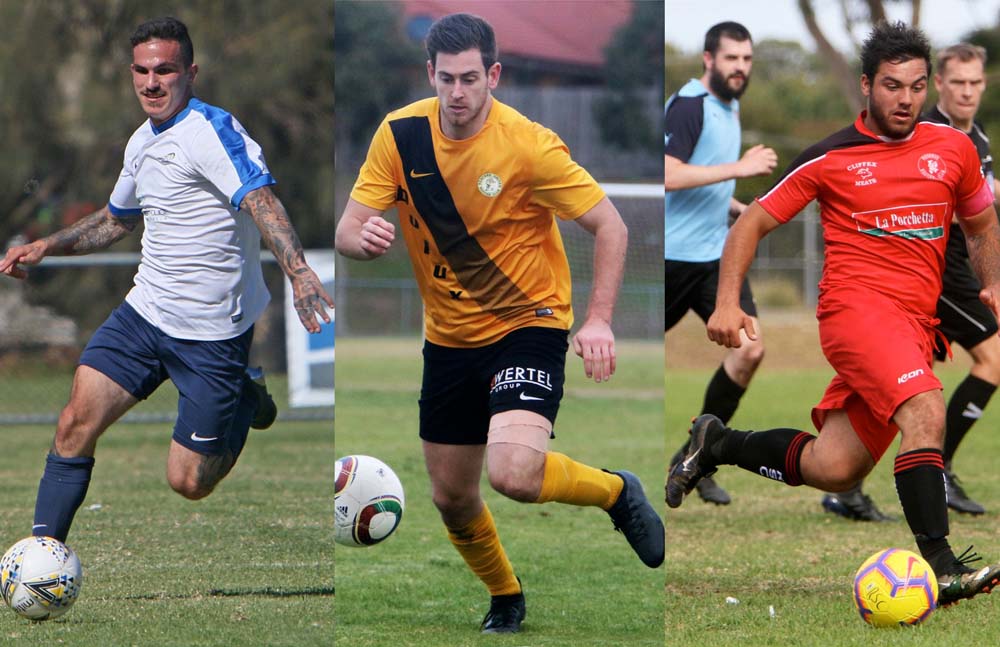 THE quest for glory among local State League teams begins in earnest this weekend when the 2019 season kicks off.
Frankston Pines is keen to open proceedings on Friday night under the new Monterey Reserve floodlights but its State 3 clash with Monash Uni was awaiting Football Victoria approval as we went to press.
Monash was drawn as the home team in this round one fixture but a ground availability problem encouraged Pines to apply to have the fixture reversed and held as its home game.
Pines has been on a roller-coaster ride throughout the off-season twice having to hold a general meeting to elect a president and committee then watching new senior coach Kevin "Squizzy" Taylor conduct one of the biggest player turnovers in peninsula soccer history.
Taylor's 24-man senior squad is the largest in the region and he has brought 21 new players to the club.
That includes CJ Hodgson, one of Pines' favourite sons, who returned to Monterey Reserve last week after a dalliance with Doveton consisting of a handful of practice matches and an FFA Cup appearance.
Former Langwarrin and Berwick City midfielder Sergio Yanez also signed with Pines last week.
Fellow State 3 outfit Skye United has been quiet on the transfer front and currently isn't scheduled to play its first match until round 3 due to ground availability issues.
Mornington hopes to be in the promotion mix in State 1 and its campaign gets underway at Dallas Brooks Park on Saturday night against Malvern City.
Mornington gaffer Adam Jamieson could add another player to his senior squad this week and while Taylor Davidson, Amir Osmancevic and Sam Scott are expected to return from injury Andre Bennett is likely to miss another week.
Peninsula Strikers' boss Danny Verdun has made no secret of his ambitions this year and expects to hit the ground running against Old Scotch on Saturday.
Verdun has brought 13 new players into the senior squad and up front will pin his hopes on English import John Prescott, a class act in what looms as a very competitive league.
Baxter faced a dramatic player shortage late last month but was able to name a 22-man senior squad last weekend and expects to be competitive in State 4 this season.
Ironically one of the promotion favourites in that league is Sandown Lions, coached by former Baxter coach Roy Kilner and their clashes are sure to be hard fought.
Fellow State 4 outfit Seaford United signed midfielder Jack Carter from Brandon Park last week and was holding talks with Pines midfielder Luke Murray as we went to press.
In State 5 Somerville Eagles seems certain to be in the promotion mix as joint coach and leading striker Dave Greening chases an incredible 10th straight league Golden Boot award.
Like Somerville, State 5 rival Aspendale Stingrays have introduced 10 new signings to their senior squad and new coach Lee Barber has high hopes of success.
The new kid on the block as far as State 5 goes is Rosebud who only officially joined the league in late January and has since appointed its senior and reserves coaches and team managers and put together a senior squad that it hopes can consolidate its newfound status.
Here are the local State League squads for 2019 with the previous club of new signings in brackets:
ASPENDALE STINGRAYS
GOALKEEPERS: Jack Lindsay (Berwick City), Matthew Self. DEFENDERS: Sonny Lindsay (Springvale White Eagles), Noah Berends, Patrick Diakogeorgiou, Adrian Pace (Baxter), Brandon De Baize (Berwick City). MIDFIELDERS: Ryan Mravljak, Keiran Hughes (Brighton), Sam Timuska-Carr, Peter Dimo (Brighton), Ryan Maokhamphiou (Berwick City). FORWARDS: Kenan Nuhanovic (Berwick City), Connor Guyett (Berwick City), Guil Ribeiro (Berwick City), Luiz Dobre.
BAXTER
GOALKEEPERS: James Foster. DEFENDERS: Izaak Barr, Chris Bowen, Dan Disseldorp, Owen Kilner, Tim Lee, Jack Wyes (Mornington), Mitchell Cohen (Seaford Utd). MIDFIELDERS: Alan Lipsett, Jake Kidder, Stuart McKenzie, Ben Meiklem, Steven Sheppard, Lewis Gibson (Mornington), Charlie Jones (Mornington), Matt Irvine (Mornington), Niko Juric (Brandon Park). FORWARDS: Bryce Ingram, Brendan Norris, Liam Kilner, Ben Hughes (Peninsula Strikers), Nathan Yole (Peninsula Strikers).
FRANKSTON PINES
GOALKEEPERS: Alphonse Cardinale (Heatherton Utd), Max Sorensen. DEFENDERS: Callum Khiath (Noble Park) Daniel Mota (Seaford Utd), Cedric Benza (Langwarrin), Christian Malgioglio (Springvale White Eagles), Kevin Brown (Dandenong Thunder), Connor McAndrews (Springvale White Eagles), Bailey Atkinson (Dandenong City). MIDFIELDERS: Lewis Potter, Cameron Bryden (Seaford Utd), Nick Simmons (Langwarrin), Joe O'Connor (Casey Comets), Serge Yanez (Langwarrin), Abdul Darmani, Harry Chapman (Somerville Eagles). FORWARDS: Jason Bradbury (Mornington) Travis Ernsdoerfer (Langwarrin), Meron Negassi (Doveton), Stefan Soler (Mornington), CJ Hodgson (Doveton), David Ofuho (Endeavour Hills Fire), Kam Ismail (Endeavour Hills Fire), Voldy Bukishie (Casey Panthers).
MORNINGTON
GOALKEEPERS: Taylor Davidson (Banyule), Josh Gates (Brighton), Steve Bayard. DEFENDERS: Andy Mclean (Langwarrin), Lachlan Thomas, Andy McIntyre (Langwarrin), Chris McKenna (Peninsula Strikers), Jerome Valadon (Dandenong City), Josh Valadon, Charlie Parker, Andrew Goff (Clifton Hill). MIDFIELDERS: Craig Smart, Sam Scott, Samuel Catherine (Dandenong Thunder), Ross Clark (Mooroolbark), Andre Bennett, Sammy Orritt. FORWARDS: Liam Baxter (Langwarrin), Amir Osmancevic (Northcote City), Charlie O'Connell, Luke LoCasto, Nick Waite.
PENINSULA STRIKERS
GOALKEEPERS: Colin McCormack (Knox City), Daniel Shaw. DEFENDERS: Michael Hoogendyk (Knox City), Oscar Marsden, Danny Black, Adam Crabb (Knox City), Abraham Lokiru (Morwell Pegasus) Sam Luxford, Lachlan Mitchell. MIDFIELDERS: Danny Brooks, Grant Lane (Knox City), Jordan Avraham (Knox City) Bosco Abbasmoi (Morwell Pegasus), Matt Harrington (Springvale White Eagles), Julian Malander (Knox City), Tuach Ter (Langwarrin). FORWARDS: John Prescott, Alpha Turay, Josh Calle (Knox City), Cassius Delaney (Langwarrin), Matt Evans, Vladimir Kosovac (Heatherton Utd).
ROSEBUD
GOALKEEPERS: James Cinar, Jason Grbac. DEFENDERS: Beau Sharpe, Chris Hatzikonstantinos, Stef Papaluca, Jacob Field, Jake Grbac, Arthur Karabatsos (Yarra Jets). MIDFIELDERS: Cory Osorio, Ryan Monk, Ben Gamble, Callum Norton, Harris Battison, Billy Gowan (Rosebud Heart Juniors) Mitchell Roberts (Knox), David Gallimore. FORWARDS: Michael Durrance, Blake Hicks, Chris Parry, Kayden Rose, Brandon Monk (UK).
SEAFORD UTD
GOALKEEPERS: Anthony Maddaferi, Liam Swift. DEFENDERS: Tristan Stass, Nick Ormond (St Kilda Celts), Dion Brown, Adam Martin, Kurt Wagner-Goldsworthy (Frankston Pines) MIDFIELDERS: Graeme Wright (Peninsula Strikers), Dean Snoxell, Matt Morris-Thomas, Kevin Derry (Peninsula Strikers), Jake Martin, Matthias Schwellinger, Jeremy Schwellinger, Josh Simmons, Jack Carter (Brandon Park). FORWARDS: Mitch Lander (Frankston Pines), Dylan Waugh, Conor McFall.
SKYE UTD
GOALKEEPERS: Jonathon Crook, Travis Mitchell, Callum Hope (Brandon Park). DEFENDERS: Johnny Andrinopoulos, Daniel Walsh, Gerard Lawler, Sajnesh Sugrim (Endeavour Utd), Billy Painting, Mo Elhassan. MIDFIELDERS: Mark O'Connor, Harrison Michaelis, Jack Gallagher, Jason Nowakowski, Marcus Anasatasiou, Marcus Collier. FORWARDS: Daniel Attard, Mitch Blake, Michael Turner.
SOMERVILLE EAGLES
GOALKEEPERS: Francis Beck (Baxter), Nathan Brown, Cameron Parsons. DEFENDERS: Charlie Conrath (AFC Ringmer, England), Stephen Curd, Michael Easton, Damian Garcia, James Liddle (Rosebud), James McKenzie, Callum Richardson (Seaford Utd), Ashley Scholes, Sean Scully (Peninsula Strikers), Matthew Swanson. MIDFIELDERS: Carlo Cardoso (Rosebud Heart), Michael Clark, Daniel Hodge (Rosebud Heart), Bjorn Kutschera, Jarryd McMinimee, William O'Brien (Frankston Pines), Joel Wade. FORWARDS: David Greening, Louis Griffiths, Nathan Grimshaw (Mornington), Mark Pagliarulo (Baxter).
In NPL2 news Langwarrin maintained its promotion push with a 3-1 away win against Springvale White Eagles on Saturday.
David Stirton failed a fitness test before the match and Callum Goulding found himself playing in an unfamiliar role as an attacking midfielder.
Striker Roddy Covarrubias gave his best performance of the season crowning his usual gut-busting display and ability to shield the ball or turn his defender with a goal and an assist.
There was no score at half-time but two goals in a minute in the second period had Langy in control.
The first came in the 65th minute when a Damir Stoilovic free kick from the left was headed firmly home by Wayne Wallace and a minute later Covarrubias skipped past a defender on the left of the area then struck a low shot across Springvale keeper Nebojsa Pejic and inside the far post to make it 2-0.
The home team stunned the visitors with a thunderbolt free kick from Aleksandar Mitrovic that rocketed into the top far corner in the 77th minute but thoughts of a comeback vanished five minutes later when Covarrubias set up Johnny Kuol whose initial attempt struck the bar but the quicksilver striker was first to react heading home the rebound from point-blank range and Springvale's fate was sealed.
Stirton should be fit to face St Albans Saints on Saturday while defender Alex Van Heerwarden is expected to get some game time in the under-20s as he returns from injury.
Southern United went down 8-1 to Bayside United at Kingston Heath Soccer Complex on Saturday with recent signing Natalie Holmes scoring for Southern.
Southern's under-19s lost 2-0, the under-16s drew 0-0 and the under-14s lost 4-0.
Southern continues to pursue overseas players and technical director Harry Chalkitis has held talks with players he hopes can fill the club's two available visa spots.
Southern also is waiting on an international clearance from Scotland for a midfielder who is expected to join the under-16s squad.
Meanwhile Baxter rounded off its preparation for the league season with a 3-1 win over Old Xaverians at Baxter Park on Saturday with Baxter's goals coming from Bryce Ingram (2) and Liam Kilner.
Other friendlies last Saturday saw Mornington go down 3-0 to Clifton Hill at Dallas Brooks Park, Pines lost 4-2 at home to East Brighton while Rosebud lost 6-2 to Seaford United at Olympic Park.
Travis Ernsdoerfer scored both goals for Pines, Chris Parry and Mike Durrance scored for Rosebud while Seaford's haul came from Matt Schwellinger (2), Dylan Waugh, Mitch Lander, Nick Ormond and Luke Murray.
This weekend's league games:
WEDNESDAY, 8pm: Heidelberg Utd v Southern Utd (Olympic Village).
FRIDAY, 8.30pm: Frankston Pines v Monash Uni (Monterey Reserve, TBC).
SATURDAY, 3pm: Langwarrin v St Albans Saints (Lawton Park), Southern Utd v Alamein (Monterey Reserve), Peninsula Strikers v Old Scotch (Centenary Park), Baxter v Chelsea (Baxter Park), Dandenong South v Seaford Utd (Tatterson Park), Bunyip District v Rosebud (Bunyip Recreation Reserve), Old Mentonians v Aspendale Stingrays (Mentone Grammar), Endeavour Hills Fire v Somerville Eagles (Power Reserve).
SATURDAY, 8pm: Mornington v Malvern City (Dallas Brooks Park).