SOCCER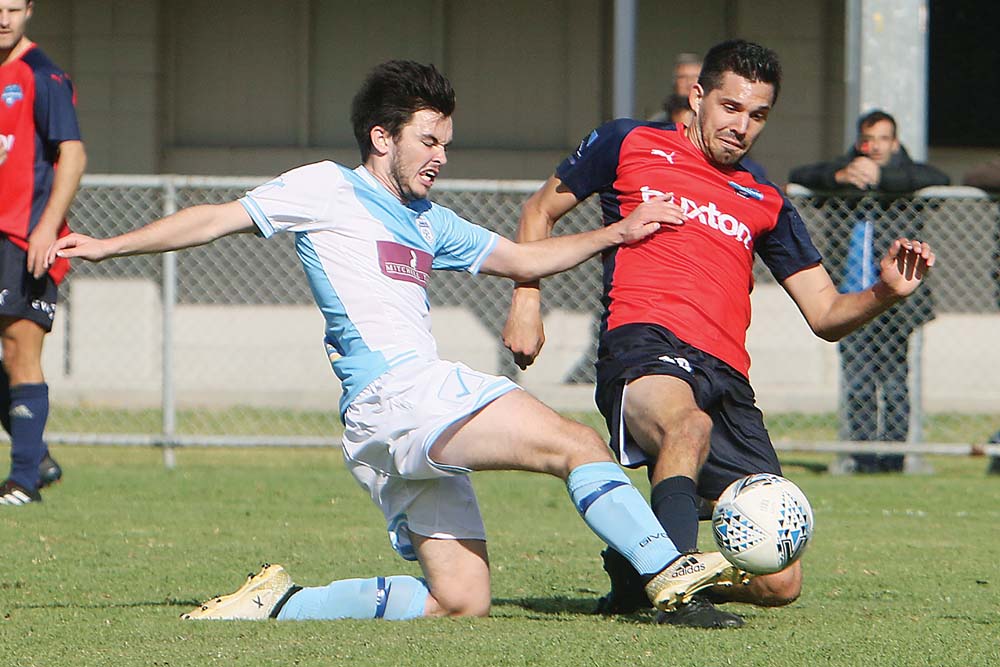 LATE goals and a Mark Pagliarulo master class highlighted last weekend's round of league games.
Langwarrin had to wait until the 88th minute to break through against Box Hill United, goals in the 88th and 90th minutes salvaged a point for Frankston Pines while "Pags" scored four goals and set up one in an impressive Somerville romp.
Both Langy and Box Hill had chances to break the deadlock at Lawton Park on Saturday but the decisive moment was engineered by a Damir Stoilovic corner to the near post and a Luke Burgess header.
That was Langy's fourth win of the season and cemented its hold on second spot in NPL2 East as it chases ladder leader Eastern Lions.
Langy has been linked with Kingston City's 20-year-old Mauritian international midfielder Cooper Legrand but it can't move for the talented youngster until the transfer window opens on Tuesday 14 May.
In State 3 Frankston Pines staged a remarkable last-gasp comeback to snatch a point in a nailbiting 2-2 draw with Bayside Argonauts at Monterey Reserve on Saturday.
Injury, suspension, illness and a wedding hit Pines' first team squad hard with Lewis Potter, CJ Hodgson, Cedric Benza, Connor McAndrew, Christian Malgioglio, Josh Maclaren, Voldy Bukishie and David Ofuho all unavailable.
There were 10 players in Pines starting line-up making their debuts for the club but six minutes in Bayside's Sam Langford got clear on the right of the area only to shoot wide.
In the 24th minute big David Dainty was given too much time to bring the ball down and on the bounce he volleyed it into the top far corner to open the scoring.
A few minutes later Pines keeper Alfonso Cardinale looked slow to react to a long-range shot eventually getting down and parrying but he set up incoming Aidan Taylor who shot low across Cardinale and into the far corner to make it 2-0.
In the 38th minute Beaumaris midfielder Lewis Broderick volleyed wide when well placed and Bayside took a well deserved lead into the half-time break.
Seven minutes into the second half a Meron Negassi strike was deflected onto the bar then over and four minutes later the contest should have been done and dusted.
Pines defender Callum Khiath gifted possession to Danny Dicken who quickly set up teammate James Hammond on the left of the Pines area only to watch in dismay as Hammond blasted his shot well over.
Former Dandenong Thunder, Berwick City and Langwarrin midfielder Sergio Yanez had come on at half-time and was to have a major influence on this contest.
As a 19-year-old Yanez spent a year playing in Chile but partway through last season job commitments forced him to stop playing when at Langy.
His close control is excellent as is his ability to quickly change direction but it was his ball striking ability from set pieces that brought Pines back into this contest.
In the 64th minute Yanez took a free-kick 35 metres from goal and Bayside custodian Lewis Cotsopoulos was at full stretch as he tipped the ball wide.
Cotsopoulos was in the thick of the action again in the 72nd minute after Negassi sent Joe O'Connor clear on the left of the area and his firm drive was parried wide by the Argonauts shot-stopper.
A minute later Bailey Atkinson gave the ball away but Dainty failed to punish the Pines right back.
Beaumaris midfielder Dicken had been involved in some verbal stoushes prior to being booked for dissent and a few minutes later he booted the ball away after a decision had gone against Bayside leaving referee Tim Dimitriu with little option but to give Dicken a second yellow card then the mandatory red.
Pines didn't need an invitation to surge forward and wave after wave of attacks were repelled by the Bayside defence.
But with just two minutes left of normal time Pines won a free kick about 25 metres from goal.
Yanez stepped up and his bludgeoning strike skimmed off a defender and went in off the inside of the far post to give Pines a lifeline.
In the 90th minute it was the turn of two other Pines substitutes to steal the show.
Stefan Soler got the ball wide on the right and his precise low cross in behind the Bayside defence was met by a sliding Cam Bryden whose only touch of the match broke Bayside's hearts.
Earlier on Saturday another State 3 side was in action with Skye United defeating Sandringham 3-1 in a friendly at John Paul College.
Former Kingston City and Bayside Argonauts striker Nicholas Miliaresis opened the scoring for Skye and Scottish import Mikey Turner came off the bench to score twice.
Wee Turner should have a had a hat-trick in the second half but he lost his footing when trying to turn with only the Sandy keeper to beat and he skied a shot shortly after when well placed to score.
Skye trio Mark O'Connor, Mo Elhassan and Billy Painting all returned from injury and are available for Saturday's season opener against Ashburton United.
In State 1 South-East news Mornington slumped to consecutive defeats going down 3-0 away to Doveton last weekend.
Former Mornington striker Wayne Gordon opened the scoring and second-half strikes from Josh Frame and Damien Miskulin sealed Mornington's fate.
In State 2 news Peninsula Strikers went down 2-0 at home to Berwick City last weekend.
The opening goal came four minutes from the interval following a corner which Strikers keeper Colin McCormack deflected into his net.
The second goal came in the 82nd minute when Berwick substitute Sayed Fatemi was given too much room and he raced clear before finishing well to settle the issue.
Berwick keeper Kris McEvoy had a trouble-free afternoon and the winning margin could have been greater for the visitors who are the only side in the league to win both opening matches.
In State 4 South news Seaford United lost 2-1 at home to Rowville Eagles last weekend.
Harry McCartney reports that the visitors had sacked their coach the previous week and it was Seaford that went closest early when a first-time volley from Jeremy Schwellinger was only denied by the woodwork.
In the 30th minute Rowville's Denny Bejan broke free into a one-on-one only to be denied by Seaford keeper Anthony Madafferi.
One minute later a sliding tackle with studs showing had Luke Murray seeing yellow for the second time in the contest leaving the home side with 10 men for the next hour.
In the 41st minute Bejan looked suspiciously offside but was allowed to run onto a through ball and round Madafferi to give Rowville a 1-0 lead.
The game opened up in the second half with Rowville's Daniel Griguruta and Ruben Ichim and Seaford's Dylan Waugh and Mitch Lander all being denied by the respective goalkeepers.
Something had to give and it was Waugh who levelled in the 60th minute with a well-placed sidefoot into the bottom corner to make it 1-1.
But a superb free-kick by Michael Gross put the visitors back in front in the 70th minute when he bent the ball around the defensive wall from just outside the area.
In the 80th minute Jeremy Schwellinger was forced off with a head injury and having used up its substitutions Seaford was forced to fight out the remainder of the contest with nine men.
Madafferi was in superb touch in a best-on-ground display that stopped Rowville from recording a more comfortable victory.
Fellow State 4 outfit Baxter went down 7-1 at home to Dandenong South last weekend with Bryce Ingram scoring for Baxter.
The local side has now leaked 12 goals in its opening two league matches and is desperate to recapture the fighting spirit that was the hallmark of its FFA Cup performances.
The headline news in State 5 South last weekend was a stunning display by Pagliarulo as Somerville Eagles thumped visitor Knox United 7-1.
The result catapulted Somerville to the top of the league ladder and despite player-coach Dave Greening still battling injury the local club's promotion push has gained early momentum.
Three goals in the first 15 minutes had Knox United on the ropes.
The first came in the 3rd minute with a bullet-like header from Callum Richardson following a Damian Garcia corner.
Great set-up play by Richardson in the 11th minute was rewarded with a classy finish by Pagliarulo and four minutes later a Charlie Conrath cross allowed Bjorn Kutschera to round Knox keeper Siamak Bayatt-Torr to make it 3-0.
Knox came back into the contest but two excellent saves by Somerville keeper Francis Beck maintained the margin.
However Beck was helpless to stop a firm header from Nic Haddad following an excellent Robert Taylor cross and it was 3-1 at the interval.
The second half was all about "Pags" as the big Scot added another three goals to his tally, the first from the penalty spot after Richardson was fouled in the 47th minute.
In the 57th minute Pagliarulo's cross was hammered home by Richardson and "Pags" nailed his hat-trick in the 70th minute when he got onto the end of a Carlo Cardoso cross.
"Pags" rounded off the scoreline and finished off Daniel Hodge's good work in the 81st minute with a left-foot strike into the far corner to complete his haul.
In other State 5 matches Rosebud and Tullamarine settled for a 2-2 draw at Olympic Park on Saturday while Aspendale Stingrays lost 2-0 away to Pakenham United.
Chris Parry and Beau Sharpe scored for Rosebud while the Stingrays' best were Pat Diakgeorgiou, Jack Lindsay, Kieran Hughes and Sam Timuska Carr.
This weekend's league games:
FRIDAY, 8.30pm: Mornington v Casey Comets (Dallas Brooks Park), Monbulk Rangers v Peninsula Strikers (Monbulk Regional Soccer Facility).
SATURDAY, 3pm: Southern Utd v Senior NTC (Monterey Reserve; under-16s 11.30am, under-19s 1pm), Ashburton Utd v Skye Utd (Ashburton Park), Whitehorse Utd v Frankston Pines (Terrara Park), Dingley Stars v Seaford Utd (Chadwick Reserve), Rowville Eagles v Baxter (venue TBC), Aspendale Stingrays v Tullamarine (Jack Grut Reserve), Rosebud v Casey Panthers (Olympic Park), Somerville Eagles v Old Mentonians (Tyabb Central Reserve).
SATURDAY, 7pm: Goulburn Valley Suns v Langwarrin (John McEwen Reserve, Shepparton).