The roar of engines in the dead of night was deafening, and the commotion the largest Tyabb has ever seen. But by sunrise, the only sign of the previous night's strange activity was a familiar light blue 747 parked off the runway at Tyabb's airport.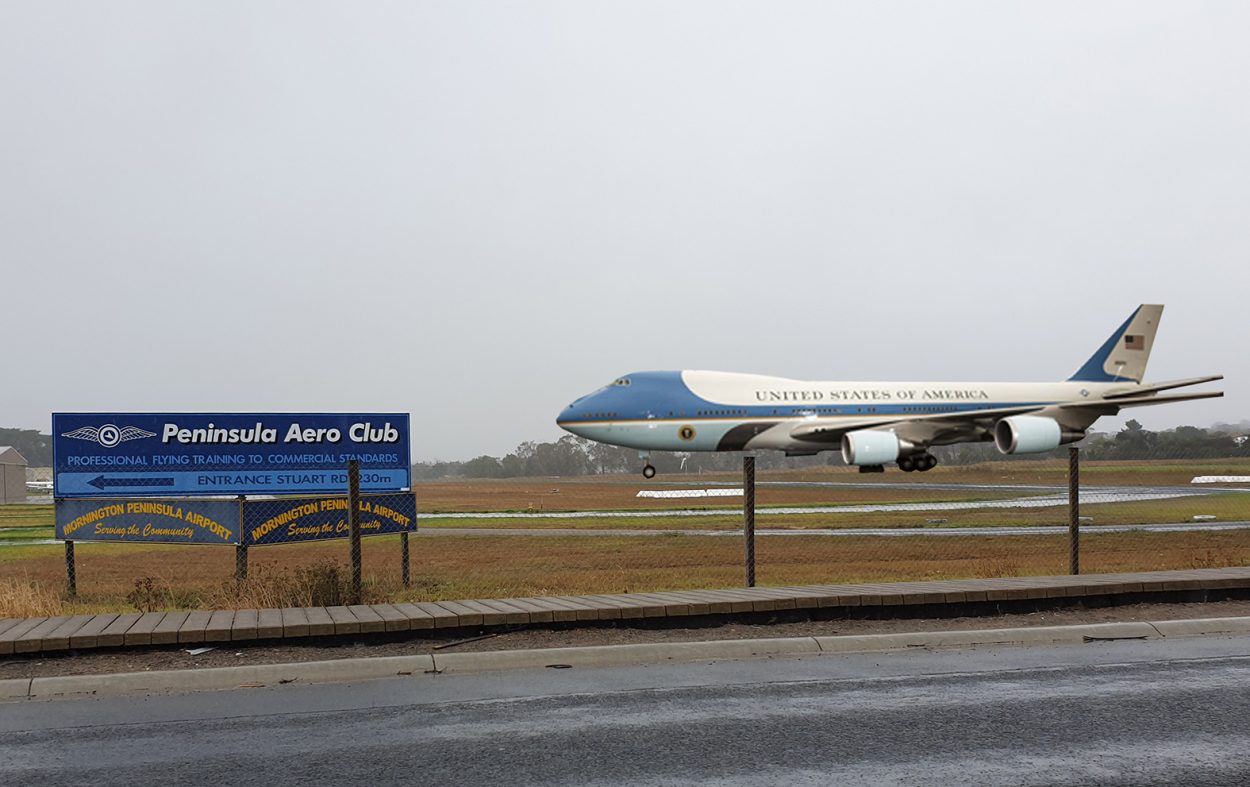 Yes, Trump had touched down, and he was a man on a mission.

He had endured a partial government shut-down to get it, but he finally had the cash to build his wall and, quite frankly, it was burning a hole in his pocket.

Back in Washington, Trump's lightning visit was top of the discussion points in Whitehouse Press Secretary, Sarah Sanders, first daily press briefing in 74 days. "The President is currently in Australia. He's gone to see their wall."
The visit took everybody by surprise, but councillors and a few trays of sandwiches were quickly convened as the presidential motorcade headed straight towards The Pillars.
"It is a wonderful thing you've done here," said Trump to the gathered media.
"You had a problem and you fixed it. You fenced from the water on one side to the water on the other, and I've come to check out what you've done. We will do this too"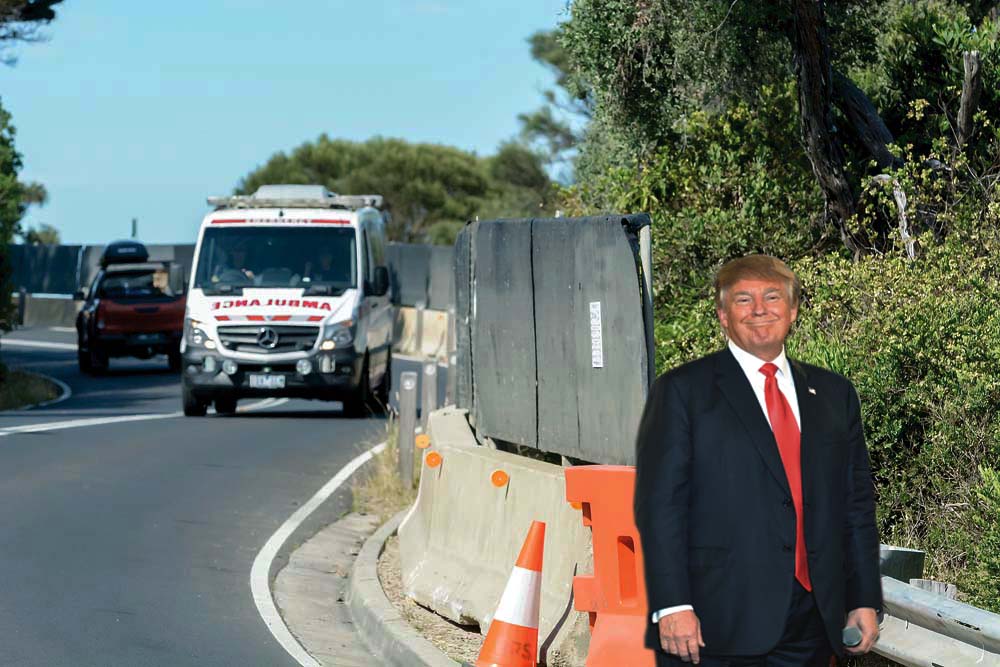 "I know you have trouble with caravans. We had a huge caravan of people head towards our border from Central America. Huge. We used tear gas, and I really recommend it. We used a wonderful type of tear gas. In fact, I am told by my people that the women and children we gassed were actually crying tears of joy. It's true. If they try and climb this wall, I'd recommend tear gas."
The fence was constructed by the Mornington Peninsula Shire in December last year without the need of a government shutdown, and has been touted worldwide as a symbol of triumph for those who want to keep people out.
"It only cost $200,000," said shire employee Frank McPuffleton, who spoke to The News on condition of anonymity. "Sure, the young ones just climb right over it, but I think it has been a total success".
After a trademark impromptu speech where he spoke about the fence, the size of his hands, and how good Kim Jong-Un is at 'Rock, Paper, Scissors', the president then huddled with a number of local councillors to discuss other matters.
While it was hard to ascertain the exact nature of the discussions, it seemed he was explaining how it is possible to get every inch of material out of ones neck-tie so it hangs down well into the groin region, rather than the traditional touching of ones belt.

"Then the rabbit runs around the tree. Then the rabbit jumps down the hole," Trump was heard saying, as his red neck-tie flourished around, and a number of local councillors watched mesmerised.
The president was then whisked to nearby Citation Reserve in Mount Martha where a group of local historians had organised a civic ceremony for the president to commemorate the nearly 30,000 United States troops who were housed there during the Second World War.
"Many of these troops never made it home," said Trump. "They went from here to Japan, and many were killed. That makes them losers. My war heroes didn't get killed."
The gathered crowd was deathly silent. People checked their watches, or wondered if they'd put on a light load or a dark load of washing when they got home.

The silence was broken by a single local historical society volunteer, who had organised the coffee truck for the day, sobbing uncontrollably into her sleeve.
Things got tense, and men in dark suits glanced sideways, fingered their jackets and moved increasingly closer to the president before making a run for him and bundling him into the safety of the presidential limousine, nicknamed "The Beast".

Official duties out of the way, it is rumoured the president spent last night at the Tyabb Fly-In, sitting in the pool pondering how big his hands looked underwater, before dining on a La-Lupa Pizza.

A spokesperson for the Mornington Peninsula Shire said "We are greatly honoured Mr Trump came to see our wall. It is a huge tick for everything we've done, and we are going to take on board some of the suggestions the president made."

It is believed the shire's purchasing department has made preliminary inquiries on where to purchase tear gas, and extra-long neck-ties.

Airforce One departed shortly after sunrise this morning, April 1st.