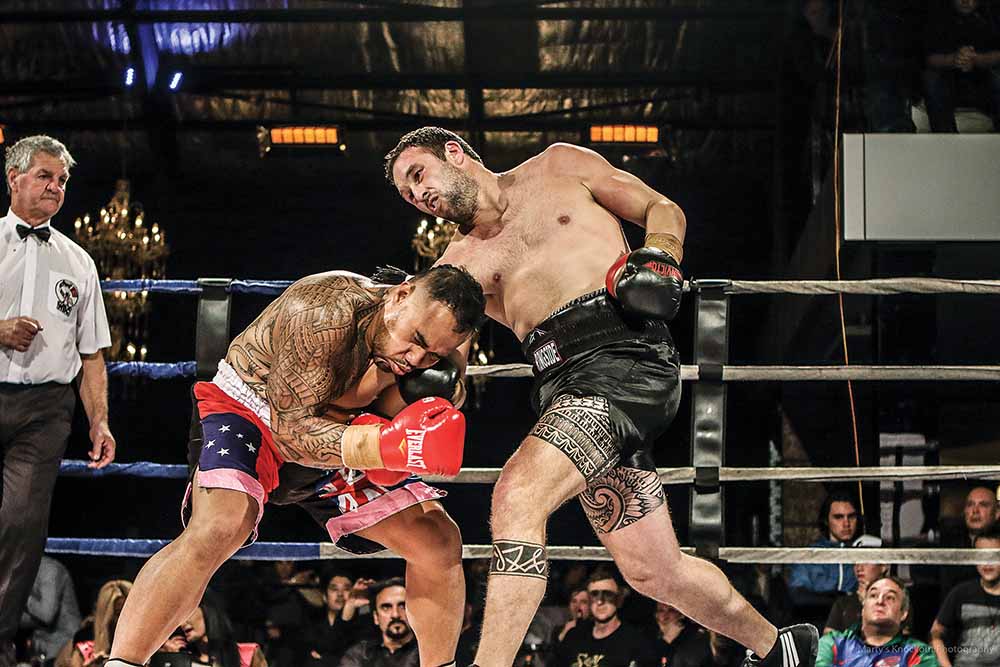 KANE Watts defeated Jayden "Plugger" Joseph to take out the WBA Oceania cruiserweight title at the Melbourne Pavilion on March 1, in a bout that lasted the whole ten rounds.
The six foot one, 200 pound boxer whose fighting name is "Sugar Kane" is a peninsula icon, having grown up in the area and playing for the Hastings and Mornington football clubs in his early days.
"I started out as a kid when dad used to take me to taekwondo, and then moved onto kick boxing at the Somerville Martial Arts when I was 14," says Watts, who came back to fighting last September after a two year hiatus. "My dad was training there and I used to go with him for fitness in between footy seasons."
"It was awesome to win the WBA Oceania title after a two year layoff. My first fight was in September and this one was on the cards for December but had to be delayed as I had a broken eye socket," said Watts, who did eight intensive weeks preparation for the March fight.
"I have never fought Plugger before as he is fairly new to the scene, starting about three years ago, but he held the Australian title before this," he said.
"It was a great fight going all ten rounds and I came off fairly unscathed."
With a fatal shooting outside on the night of the boxing tournament, Watts says he was unsure if the fight was even going to go ahead.
"We were in the dressing room when a security guard came in and said to run as there was shooting going on outside," said Watts of the incident  that was an escalation of an ongoing feud linked to a suspicious blaze at a Maribyrnong warehouse.
"The match was delayed 40 minutes and we were unaware of what had even happened," said Watts. "It was not the best lead up having something like that happen."
The title means Watts is rated number 15 in the world in the WBA, and he plans on looking to future fights.
"I really enjoy training and the challenge of the fight, which I have been doing since I was a kid," said Watts whose grandfather used to be a boxer years ago.
"They called him the Springvale Kid, and I planned to have my first fight before he passed away."
Watts did have his first fight a month before his grandfather passed and while he couldn't be there, his pride was always known.
"I am also extremely lucky to have the Kings Creek Hotel as my sponsor. The pub in Hastings is an icon and I love that it is back to my home roots where I always used to hang out," he said.