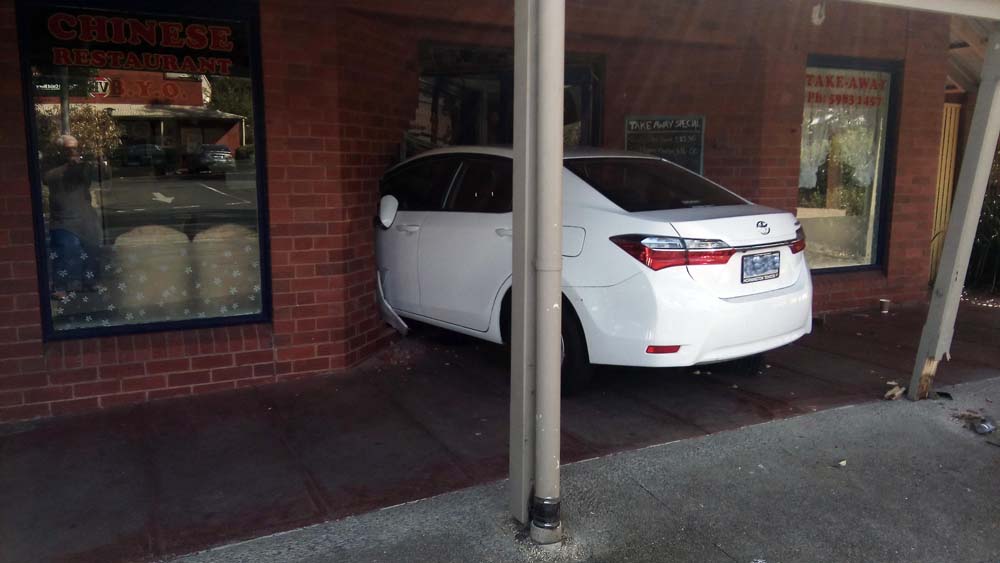 EASTER trading hours at a Balnarring Chinese restaurant were thrown into disarray last week when an elderly man hit his car's accelerator instead of the brake and rammed through the front window.
The man, from the Hastings area, was not injured in the incident in which his Toyota sedan ploughed into Hoolies Inn at Balnarring Shopping Centre, 10.30am, Thursday 18 April.
The restaurant, established for 28 years, was not open at the time.
Owner Shirley Li said the area around the front door was hit hardest.
"We hope we will be able to open Saturday evening," she said.
"This is the first time in all these years that we have suffered any damage like this."
Sergeant Simon Noonan, of Hastings police, said the man was assessed by paramedics and allowed to go home.
Ms Li said the man's daughter came by afterwards to say he was sorry for the damage he had caused.
Repair costs had not been assessed late Thursday.
Shire engineers reportedly found no structural damage to the building.
Sergeant Noonan said the cause was still being investigated.