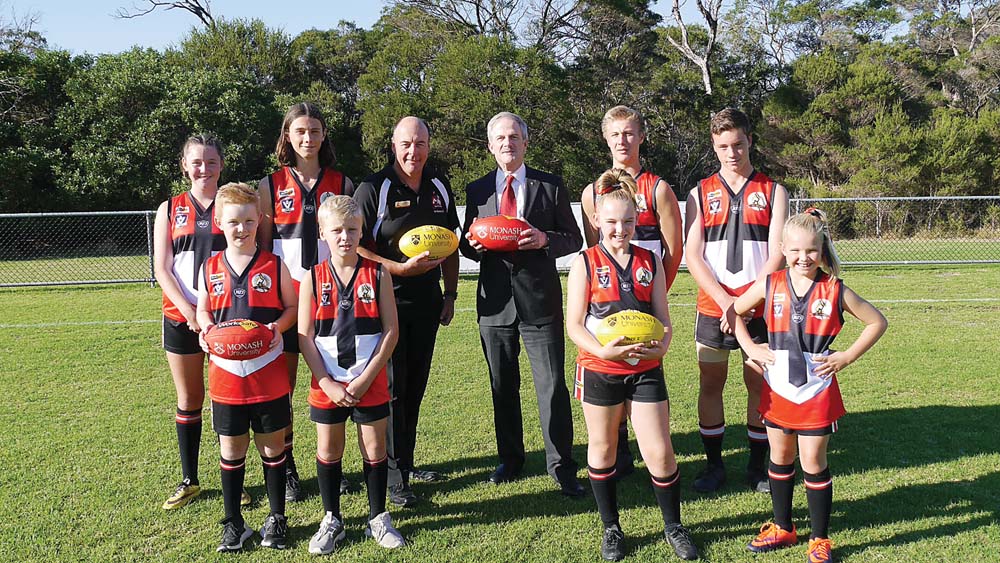 MONASH University has announced a sponsorship deal with Mount Martha Junior Football Club.
The two year sponsorship deal reinforces Monash's commitment to supporting and building relationships in the community.
The club's main oval will be renamed the 'Monash University Oval', while the university's logo will be emblazoned on all match day footballs, hundreds of training balls and signage on the two home ground ovals.
"The community sponsorship with Mount Martha Junior Football Club enables us to become more involved with the local community in the Peninsula region," Professor David Copolov AO, Monash University's Pro Vice-Chancellor, Major Campuses and Student Engagement said.
"We are building strong relationships at a grass roots level, encouraging the development of our students' skills by allowing them the opportunity to engage personally with members of the club, as well as helping to promote higher education aspirations and active lifestyles among young people and their families".
The sponsorship deal will create opportunities for Monash University students to practise their skills such as first aid and defibrillator demonstrations and training during selected home game days.
MMJFC and Monash University will also develop a linked online presence, ANZAC Day Guernsey naming rights and clubroom signage.
Mr James Barrett, President of Mount Martha Junior Football Club (MMJFC) welcomes the deal and is excited to be working with Monash.
"Monash University has a great reputation and I'm so pleased to be able to help drive awareness of the university throughout our club," Mr Barrett said.
"We have over 400 players with 21 teams male, female and mixed and are growing every year."
"The sponsorship also means the Monash students can come along on a game day or training and help educate our players' families on first aid and physical preparation."
"Junior football is a very active sport and good first aid skills are very useful to have."
The MMJFC sponsorship deal also complements Monash's other community development sponsorship with South Metro Junior Football Club in Melbourne that is now in the first year of a renewed two-year partnership.