DIVISION TWO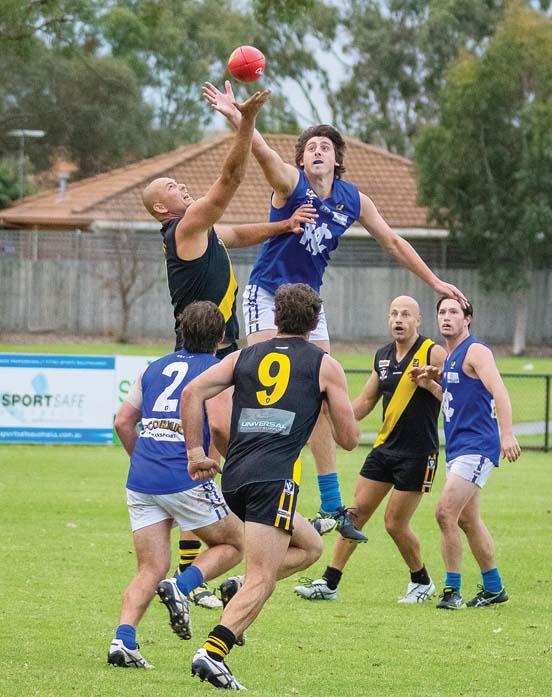 KARINGAL are now 7-0 to start the 2019 season, but only after suffering a massive scare against a brave Tyabb side on Saturday.
Tyabb have struggled this year, only recording one win all season so far. Up against the rampaging Bulls, the Yabbies were massive underdogs.
Despite the challenge facing them, Tyabb proved up for it with a massive performance. The Yabbies led all day and led by 20 points at three-quarter time, in pole position for a victory.
With their backs to the walls the Bulls would need a huge last term performance to claim a comeback win, and they delivered. Karingal held Tyabb goalless in the last quarter, and were able to scrape home in a thrilling one point victory 9.10 (64) to 9.11 (65).
Marc Holt had another good game for his new side, kicking four goals.
Although the loss will be tough to swallow, there were plenty of positives for the Yabbies to take out of their valiant effort.
At Belvedere Reserve, Hastings got back on the winners board in a tight contest against Seaford.
Both sides led at different points in a see-sawing contest. Up by nine at three-quarter time, Seaford looked to be in a good position to claim the win.
Hastings were impressive in the final quarter and did enough to drag themselves over the line. They claimed victory 13.10 (88) to 13.16 (94). In the absence of Brendan Fevola, Luke Hewitt found the scoreboard with three goals for the victors.
Red Hill hosted Devon Meadows as they looked to extend their excellent run of form. The Hillmen have been dominating teams as of late, and after holding Devon Meadows to just one goal in the first half looked as if they might continue that run.
The Panthers held their own in the second half and stopped the contest from blowing out to a massive defeat. Red Hill still did more than enough to get the job done though, as the secured the four points with a 10.19 (79) to 5.4 (34) win. Aidan Marchesani was best afield for the Hillmen.
The win cemented Red Hill as the best defensive outfit in the competition.
A four goal performance by Curtis Bywater has helped Chelsea secure a comfortable 60 point win over Rye at Chelsea Reserve.
The Seagulls got things started on the right foot with an eight goals to one first term. From there Rye had no way back into the game.
The Demons ended up defeated in a 15.16 (106) to 6.10 (46) loss.
Langwarrin had a brilliant afternoon at Lloyd Park, hammering Pearcedale by over 100 points.
Pearcedale could only manage one goal for the whole afternoon and couldn't stop the Kangaroos' onslaught.
Jesse Murphy and Zach Andrewartha kicked four majors apiece and their side won the match 17.20 (122) to 1.6 (12).
It was also another tough afternoon for Crib Point, as they were smashed by Somerville at Somerville Recreation Reserve.
Somerville put 21 goals on the board and Crib Point could do nothing to stop them.
The final score read Somerville 21.16 (142) to Crib Point 5.1 (31).