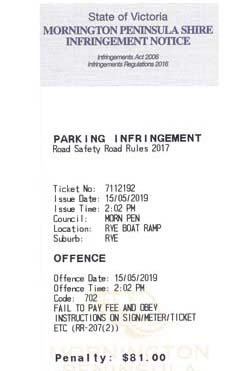 CONFUSION remains over parking and launching fees at boat ramps on the Mornington Peninsula.
A boat owner was fined $81 last week for supposedly not paying a launching fee at Rye, prompting the Futurefish Foundation to label the Mornington Peninsula Shire's management of its boat ramps a "debacle".
The Premier Daniel Andrews announced on Channel 31's "Talking Fishing" show last November that, if re-elected, the state government would run boat ramps on the peninsula, abolish fees, and establish a Better Boating Fund for boat ramp upgrades.
Six months later the shire is still waiting to have its role clarified.
"The [state government] said they were going to take over [the] boat ramps and we want them to get on with it," the mayor Cr David Gill said ("No one at helm to control boat ramp" The News 15/5/19).
Cr Gill said the shire was "doing the right thing" by checking on and maintaining boat ramps to make sure they are safe for the public.
The shire's director place Niall McDonagh said: "Yes, the shire has stopped processing boat ramp fees, and we await confirmation from the state government before we decommission the paid parking systems."
Futurefish Foundation director David Kramer last week said he had "never read so much nonsense in my life" and criticised the shire for fining the boatie "even when he had a launching ticket".
Mr Kramer has provided The News a copy of the boatie's launch fee receipt for $14.50 issued by the Parkmobile app as proof of payment and a copy of the $81 fine issued by a local laws officer later that day.
He said while there was no physical ticket, the "parking officer should have access to the parking system to check registration plates and identify if a fee has been paid".
"The shire continues to give recreational fishers good reason why they are incompetent at managing boat ramps and why the Victorian Minister for Boating needs to abolish boat ramp fees as soon as possible and take control of boat ramps," he said.
"The left hand doesn't know what the right hand is doing when it comes to the shire charging boat ramp fees.
"[It] is just unacceptable in this day and age of technology for shire officers [to be] handing out fines.
"It is very clear to me that the mayor is at the helm charging fees and fining people incorrectly: he is steering this ship with his eyes closed."
Mr Kramer said he was "seeking an urgent meeting with the new CEO of Better Boating Victoria to ask when boat ramp fees will be scrapped as he expected fees to be scrapped by 1 July this year".
"The sooner this mess is cleaned up the better," he said.
The shire's ramps include Schnapper Point, Fishermans Beach, Safety Beach, Rye, Sorrento and Hastings. Two sand ramps at Mt Martha and Flinders can be used by tractors and four-wheel-drives only. Other ramps include Tootgarook (managed by the Capel Sound foreshore committee) and Flinders (run by Parks Victoria).
First published in the Southern Peninsula News – 21 May 2019