SOCCER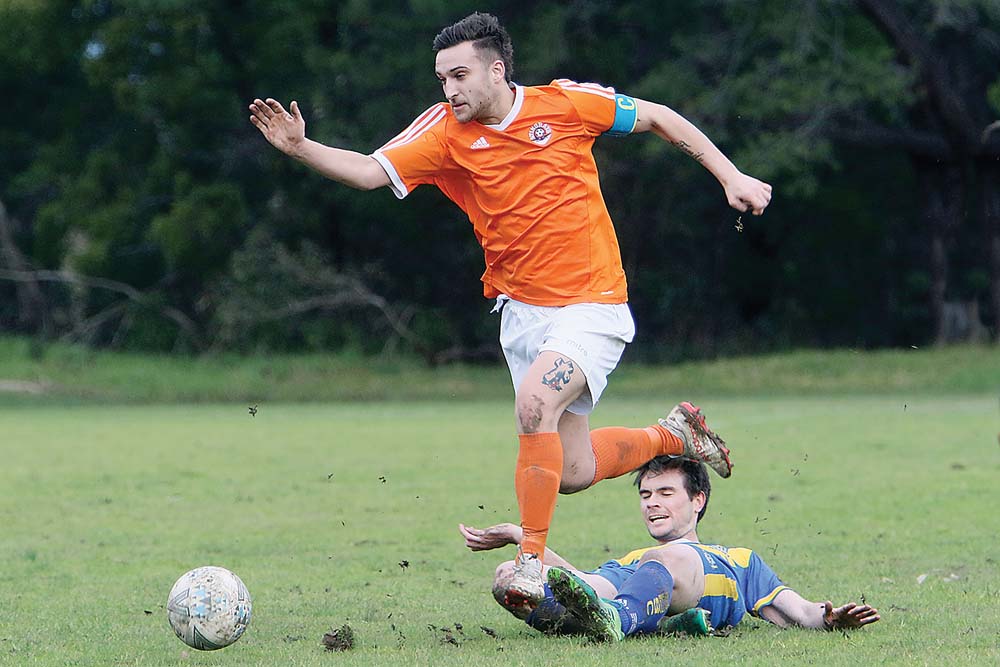 THE State 5 South championship and automatic promotion are within touching distance for Somerville Eagles after Saturday's 3-1 derby success against Rosebud.
Nearest challengers Old Mentonians continued to stumble after a second successive draw and even if the grammarians win their catch-up game this week against bottom team Hampton Park United they will be four points behind Somerville with three matches remaining.
Somerville has an inviting run home coming up against three of the bottom four sides and the biggest challenge facing co-coaches Scott Morrison and Dave Greening is to ward off complacency among their players.
Veteran striker Mark Pagliarulo gave Somerville a dream start against Rosebud when his initial shot in the 4th minute was blocked by opposition keeper James Cinar but "Pags" won the ball back and smacked it home in off Cory Osorio.
Blake Hicks should have done better five minutes later when he got free on the left of the area only to shoot wide.
"Pags" shot against the near post in the 27th minute and a Callum Richardson long-range strike in the 38th minute was tipped over by Cinar but the keeper was all at sea three minutes later when he flapped at a Dave Greening free-kick that made it 2-0.
The legendary scorer nabbed his second just before the interval when he turned his opponent on the left of the area then hammered home a shot from 12 metres.
Somerville couldn't build on that scoreline in the second half as time and again it was caught offside and the goal of the game came from Rosebud in the 73rd minute when Mike Durrance let fly from 30 metres to make it 3-1.
Rosebud forfeited the scheduled reserves game on Saturday claiming that injuries and player unavailability meant that it couldn't field a full side.
In other State 5 news 16-year-old Nathan Barnett's hat-trick underpinned Aspendale Stingrays' 7-3 hammering of Bunyip District at Bunyip Recreation Reserve on Saturday.
A Dario Maia goal after four minutes set Aspendale back on its heels but by half-time the visitors led 5-1 and the contest was over.
Bunyip had no answer to Barnett's pace and shooting prowess and the teenager also had a hand in goals from captain Peter Dimopoulos and Ben Garside.
Reserves defender Jordan Daicos came off the bench in the second half for his first senior appearance and Stingrays coach Lee Barber has much to look forward to next season with such a young side.
Barnett was one of five teenagers in Saturday's starting line-up and the oldest player was just 22.
In NPL2 news Langwarrin had to rely on a 90th minute Max Etheridge strike to rule out Shaun Romein's first-half goal for Ballarat City last weekend.
The match ended 1-1 at Morshead Park Stadium and the Scott Miller-led Langwarrin has now secured its NPL2 status for next season when the elite competition will be restructured and a third-tier league introduced.
In NPLW news Southern United lost 5-0 at home to champion Calder United last weekend.
The under-19s lost 1-0, the under-16s drew 0-0 and the under-14s lost 1-0.
In State 1 news Josh Hine continued to impress with another hat-trick this time against hapless Beaumaris at Dallas Brooks Park on Saturday.
Youngster Kyron Kerr's through ball in the 42nd minute put Hine clear and he had no trouble slotting the ball past Beaumaris keeper Dean Menere for the opener.
Great work by Liam Baxter on the right in the 58th minute and a precise square ball to the back post gave Hine a tap-in to make it 2-0.
Amir Osmancevic had replaced injured Sammy Orritt in the first half and in the 70th minute his right-foot volley from just outside the area went in off the inside of the post.
Mornington was cruising at this stage and Hine completed his hat-trick when he stole in at the back post and although his header was blocked he reacted quickly to prod the ball past Menere from close range.
Beaumaris' best player Rhys Craigie made it 4-1 with a well-struck shot from the right of the area in the 86th minute but the home side was out of sight by then.
In State 2 news Peninsula Strikers went down 2-1 away to promotion-chasing Brandon Park on Saturday.
A Grant Lane shot following an interchange of passes between Matt Harrington and John Prescott put Strikers ahead in the 25th minute.
Graham Hill equalised in the 60th minute with a low right-foot shot after being set up by former Strikers' player Josh Calle.
In the 83rd minute Scottish winger Jack Haggerty was brought down inside the box by Strikers' keeper Colin McCormack and Josh Caruana converted the winner from the spot.
Former Pines captain Hill was sent off in the 90th minute after his second yellow card.
In State 3 news Skye United remains in second spot despite drawing 1-1 away against South Yarra on Saturday.
South Yarra took the lead in the 16th minute when Jonathon Bithell broke through into a one-on-one and finished well past Skye keeper Jonathon Crook.
A superb Mark O'Connor free kick in the 36th minute tied it up and neither side could strike a decisive blow in the second half on a deteriorating pitch.
Skye striker Mitch Blake had the ball in the net in the 85th minute after a quick free-kick was taken by Daniel Attard however the referee pulled it back for a retake.
South Yarra struck the underside of the bar in injury time.
Skye's main challenger for promotion is Whitehorse United who had to come from 2-0 down to draw at home with Bayside Argonauts.
The result leaves Skye in control of its own destiny and a favourable draw.
Whitehorse has just one home game remaining and faces two of the top five sides in the last three games of the season whereas Skye has two home games left and its three remaining matches are against teams in the bottom half of the league.
Frankston Pines snatched a draw with a 1-1 result away to a physical Diamond Valley United side last Saturday.
The home team led through a first-half Jay Lal goal but Max Caridi received a straight red and Diamond Valley was forced to play for almost 70 minutes with 10 men.
Five of Caridi's teammates were cautioned but Pines got out of jail when Lachlan McMinimee equalised in the 89th minute by finishing off a Connor McAndrews' cutback from the right.
The big news in State 4 South is the snub delivered by Seaford United to Sandown Lions last weekend.
Sandown will come under Football Victoria scrutiny at a tribunal hearing on Wednesday this week to hear charges relating to its abandoned fixture against Springvale City on Friday 2 August.
Seaford told FV of its fears regarding player and spectator safety for its scheduled away match against Sandown last Saturday and eventually notified the federation that it was forfeiting both the senior and reserves fixtures.
Baxter is due to host Sandown Lions this Saturday and has asked FV to postpone the fixture pending the tribunal outcome.
Three other clubs – Chelsea, Dandenong South and Harrisfield Hurricanes – are considering forfeiting upcoming matches against Sandown.
Last weekend Baxter lost 3-1 away to Noble Park United.
Noble Park led 1-0 at half-time and despite a Stuart McKenzie goal in the second-half a brace from Vlasi Zarifis sealed Baxter's fate.
Baxter defender Tim Lee was sent off in the 89th minute after receiving a second caution.
This weekend's games:
FRIDAY, 8.30pm: Frankston Pines v Elwood City (Monterey Reserve), Springvale City v Seaford Utd (Ross Reserve).
SATURDAY, 3pm: Langwarrin v Goulburn Valley Suns (Lawton Park), Southern Utd v Senior NTC (Monterey Reserve; under-16s 11.30am, under-19s 1pm), St Kilda v Mornington (Elwood Park), Peninsula Strikers v Mooroolbark (Centenary Park), Diamond Valley Utd v Skye Utd (Partingtons Flat), Baxter v Sandown Lions (TBC), Rosebud v Old Mentonians (Olympic Park), Aspendale Stingrays v Casey Panthers (Jack Grut Reserve), Hampton Park Utd v Somerville Eagles (KM Reedy Reserve).
First published in the Southern Peninsula News – 20 August 2019