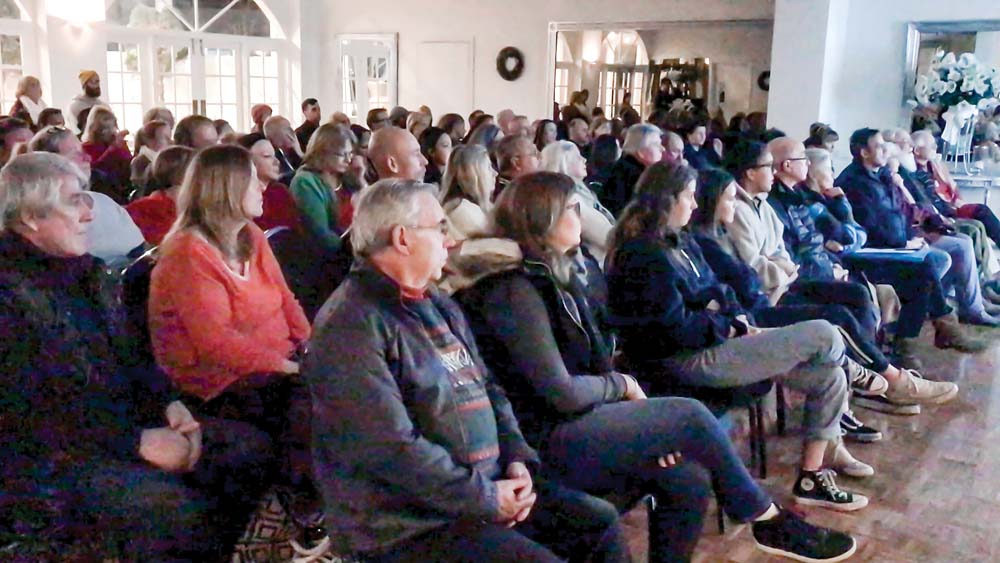 A SHOW of hands at a public meeting in Mt Eliza to discuss the introduction of 5G telecommunications services on the Mornington Peninsula showed that those attending did not want the rollout to proceed in its proposed form.
This would include positioning small cell antennas near buildings and at the ends of streets using untested millimetre waves, they were told.
Organiser Judy O'Donnell said the meeting at Norwood House, Wednesday 14 August, went "really well".
"Over 70 people attended and showed much interest in the presentations, which will be available to view on 3RPP video channel. ("Call to stall 5G rollout on peninsula" The News 13/8/19).
"Much misinformation was dispelled as many peer reviewed studies proving harm to people and other species by wireless radiation were presented.
"The later discussion demonstrated peoples' concerns about these health effects and, in some cases, their experience of subsequent illness in family members.
"Exposure from wireless radiation on children and pregnant mothers was shown to be of particular concern, as were the likely effects on many other species – notably insects, birds and bees."
Ms O'Donnell said many people "indicated their desire to see the rollout stopped and to continue with the campaign of public awareness to that end".
The next 5G community awareness meeting will be held at Rosebud Memorial Hall, 3-5pm, Saturday 5 October.
Ms O'Donnell said a free online summit on 5G which began yesterday (Monday 26 August) would run all week. Visit: urltag.net/DBm7A
The Australian Mobile Telecommunications Association (AMTA) said 5G would work alongside existing 4G networks before evolving to fully standalone networks. It said 5G would help meet the growing demand for data – up 41 per cent over the year to June 2018. "And this is set to continue."
AMTA said research into radio signals used by small cells and other mobile network technologies of all types, including by the World Health Organisation, had found no evidence that exposure to low level electro-magnetic energy levels from network infrastructure was harmful to human health.
"The benefits of 5G devices will be significantly faster speeds in data access, downloading and streaming content. Also, 5G devices will have increased computing power and make use of faster connectivity, meaning that the devices will enjoy virtually instantaneous connections to the network, as well as greater connectivity when on the move.
"For businesses and industry, 5G and the Internet of Things will provide a wealth of data allowing insights like never before. Business will increasingly operate and make key decisions driven by data, such as parcel tracking, and innovate in different application areas, including agriculture, smart farms and manufacturing. All of these will pave the way for cost savings, better customer experience and long-term growth."
Ms O'Donnell said Australian Radiation Protection and Nuclear Safety Agency, the body in Australia tasked with keeping the public safe by regulating levels of public exposure to radiation, were out of date.  "Their standards of exposure have not been revised since 2002 – before smart meters, WIFI, 4G or 4GLTE," she said.
"They do not evaluate the effects of cumulative exposure from several sources, which everyone is now exposed to evaluate, and they do not count non-thermal effects, only thermal, such as the effects of heating.
"Non-thermal effects have been found by numerous research studies to create many forms of damage to biological systems."
Ms O'Donnell said the agency's model for research on the effects was a "gel-filled plastic head based on a head the size of an adult male. Children absorb radiation more deeply into their brains and none of us are made of gel and plastic".
"Also, they do not take into account long-term exposure."