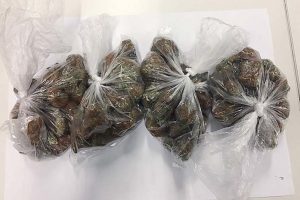 SOMERVILLE Highway Patrol police relieved one confused driver of four bags of cannabis he had allegedly left on the passenger seat, overnight Tuesday 17 September.
He was among 29 drivers issued with summonses to appear at court at a later date. Police also impounded seven vehicles.
Among 24 drug drivers intercepted was one suspended female driver who police allege "quickly turned down a side street and did a quick switch-a-roo with their passenger".
The woman then allegedly refused to undergo a drug test stating she wasn't the driver, despite number plate and video cameras showing her in the driver's seat as she drove past.
Also nabbed were three drink drivers – one traveling at 135kph on Peninsula Link and another hungry drive-through customer who returned a reading of 0.188 per cent. Others included six unlicensed/suspended or disqualified drivers, hoon driver caught doing burnouts, driver caught at 186kph and drivers of a variety of unregistered and unsafe vehicles.
The police weren't done there, Senior Constable Gregg Wolfe said. "Four motorists obviously had more important things to do and didn't want to stop when signalled to do so.
"Investigations are underway which will, hopefully, see them in court with additional charges on top of what they would have received if they had simply pulled over."
First published in the Southern Peninsula News – 24 September 2019