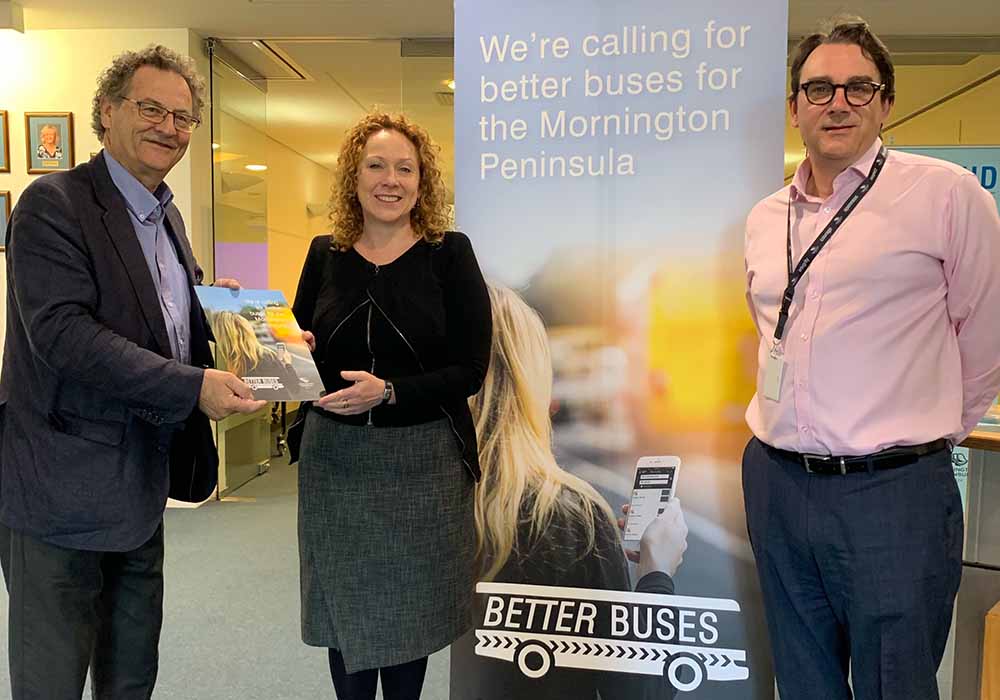 MORNINGTON Peninsula Shire is putting buses ahead of trains in its efforts to improve public transport on the peninsula.
While politicians and lobby groups continue to talk up the benefits of electrifying the rail line from Frankston to Baxter and beyond, the shire's Better Buses campaign is aiming for a more realistic outcome, at least in the short term.
The mayor Cr David Gill said although he and CEO John Baker had had "an extremely productive meeting" with Public Transport Minister Melissa Horne, "the harsh reality is that the shire is not getting its fair share of public transport funding from past and current state governments, and I want this inequality to stop now".
In the four weeks since the 26 August launch of its campaign for more frequent and passenger-friendly bus routes throughout the peninsula, the shire attracted tens of thousands of people to its online presence.
It says there have been 37,000 people "engaged with the campaign content on Facebook"; 31,000 people have watched online videos (mornpen.vic.gov.au/betterbuses); and, 714 people have accepted the invitation write their stories on the Better Buses postcards.
Thirty postcard boxes have been placed around the shire, including Rosebud Hospital, Peninsula Grange Retirement Village, public libraries at Hastings, Mornington, Rosebud and Somerville, Dromana Secondary College, Rye Hotel, Bunnings at Hastings and Mornington and Pelican Park recreation centres.
The says the feedback has allowed it to "understand attitudes, opinions and concerns of the peninsula community regarding the bus network".
The mayor Cr David Gill said the feedback "shows desperate residents are coming out in force to pick up a postcard and tell us why the peninsula needs better bus services".
Cr Gill described how a mother at Somerville was shocked "that she and her children need to catch two buses to get from Somerville to Mornington".
A Shoreham woman used a postcard to complain about "zero public transport", while another woman, from Mt Eliza, said better public transport would help ensure peninsula residents were not isolated.
To comment on the Better Buses campaign go to mornpen.vic.gov.au/betterbuses.