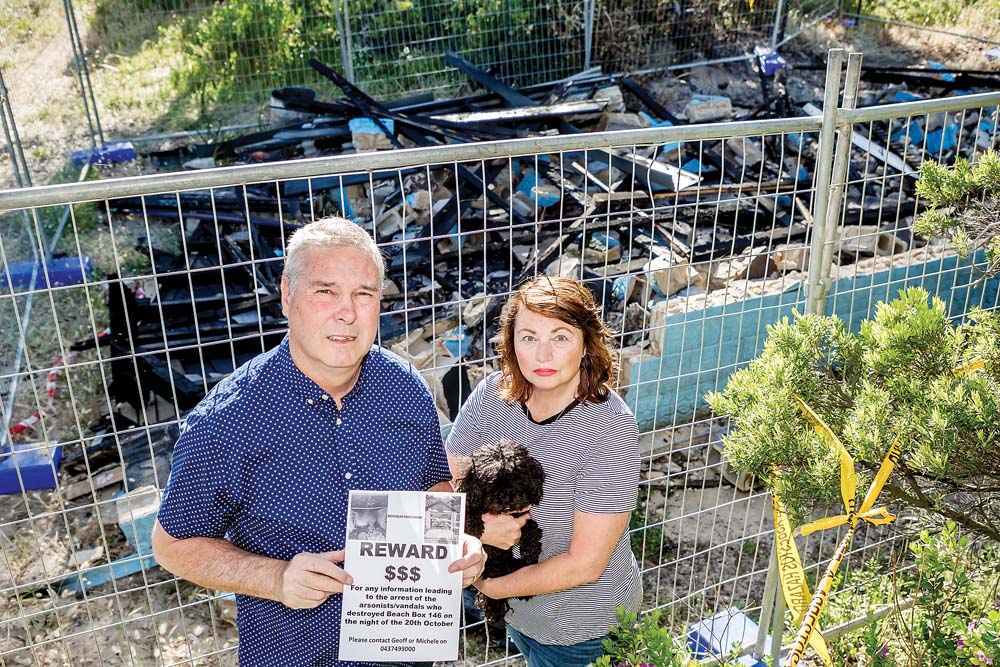 A ROSEBUD family were left devastated when their cherished beach box was burnt to the ground taking many family treasures with it.
Michelle Amoore said the beach box on the foreshore opposite First Avenue was totally destroyed in the deliberately-lit blaze, Friday 20 October.
"We had put in new flooring and new doors, lounges, day beds and lots of personal items, such as 30-year-old pictures of the kids in hand-carved frames, but nothing could be salvaged," she said.
"It's all gone; burnt to the ground."
The family is offering a reward for information leading to the arrest of those responsible.
The fire brigade was alerted to the blaze by a homeless man sleeping on the foreshore. Ms Amoore said he told her next day he saw "some kids running off".
The family recalled seeing a "suspicious group of boys walk past and then circle back" while they were at the beach earlier in the day.
"One took a long look inside," Ms Amoore said.
The family bought the older, original sandstone beach box for $94,000 only 18 months ago. "We had hoped to salvage the bricks after the fire but the builder said forget it," she said.
Ms Amoore said it appeared petrol had been used as an accelerant, prompting the Arson Squad and Dog Squad to investigate.
The family has already applied to the Department of Environment, Lands, Water and Planning for permission to rebuild. "We've just started the process," she said.
"We are scared if we rebuild it's going to happen again."
Adding to the pain is the "rigmarole that we have to go through, with one thing after another".
"Even a permit is costing around $1000."
Ms Amoore said she wanted to raise people's awareness of the dangers. "I don't want this happening to anyone else," she said.
"People should be aware."
Detective Senior Constable Darren Richards, of Somerville CIU, is urging anyone with information to call him on 5978 1400 or Crime Stoppers 1800 333 000.
First published in the Southern Peninsula News – 5 November 2019