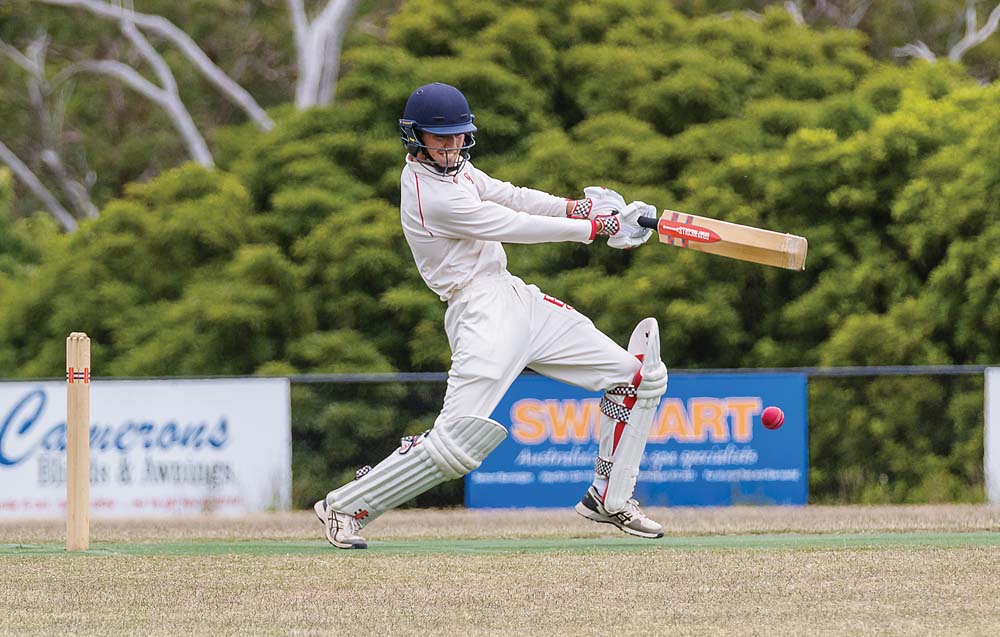 PENINSULA
SOMERVILLE star Jayde Herrick took 11 wickets and scored a century in a dazzling display of cricket against Pearcedale on Saturday.
Somerville thrashed their opponents to claim an outright win on day one of their matchup. Pearcedale came in to bat first and were thoroughly embarrassed. None of their batsmen managed to reach double digit figures and the side was bowled out for 28 off 24 overs.
Herrick posted figures of 6/13 off 12 overs, which alone would have made him the man of the match, but he wasn't content to stop there.
Herrick opened the batting for Somerville in their innings, and smashed 20 boundaries in quick fashion. He hit 14 fours and 6 sixes on his way to a total of 105. His side declared at 0/140 off 15 overs.
Pearcedale came in for a second innings to close out the day, and although they managed to perform a little better they still could not hold off the Somerville bowling attack. They were left all out for 111, dooming them to an embarrassing outright loss after just one day of cricket.
Travelling to take on Red Hill, Pines had a difficult afternoon on Saturday. They were bowled out for only 68 in their first innings, handing the Hillmen a golden opportunity to wrap up the win on day one.
Red Hill bowler Jamie McCall was brilliant, claiming a five wicket haul and only conceding 16 runs for the day.
With the willow, Red Hill managed to pass Pines' total with six wickets in hand. They finished up on 5/109 at the close of play.
Half centuries from Jake Theobald and Kristian Miller helped Heatherhill to a big total of 295 in the first day of their clash against Main Ridge. Main Ridge restart on day two from 0/4.
Moorooduc's middle order and tail end failed to capitalise on a good start in their clash against Long Island. They fell from 2/103 to all out for 198 at home.
Long Island will start from 0/10 on the second day of the match.
DISTRICT
AN impressive innings of 81 runs from opener Kane Donald has helped Rosebud put together a good total against Hastings.
Donald was working hard on his way to his first century of the season after an impressive innings of 84 last week against Dromana. He ended up caught out before he could reach the milestone.
Daniel Poulter and Kieran Hanley also lent a helping hand for the Buds, notching up scores of over 30.
Playing Delacombe Park away from home, Carrum elected to bat first in their clash on Saturday.
After losing both openers for a combined total of just 9, Carrum's innings steadied thanks to a half century from number three batsman Shaun Foster. His innings of 65 was his best showing for the season so far.
Carrum ended up all out for 207, setting their opponents a tricky total to have to chase on day two.
At Belvedere Reserve, Crib Point look in danger of falling to defeat against Seaford Tigers after  a tough first day.
The Magpies were sent packing for 98 in their innings. Tigers' bowler Liam Cox did the most damage, taking 5/38 off 19 overs. They were his best ever figures for his club.
The Tigers restart on day two from 2/46, needing 53 more runs to grab a win.
Travelling to take on Dromana, Mt Martha set a target of 141 for their opponents to chase down. Dromana reached 1/47 before stumps was called.
SUB DISTRICT
A CENTURY from Travis French has helped Tootgarook to a healthy total against Carrum Downs.
French scored 13 fours on his way to a big total. He was helped by number eight batsman Jamie Clarke, who managed to notch up a half century of his own.
Tootgarook ended up bowled out for 225. Shane Smith was Carrum Downs' best bowler on the day, posting figures of 5/57.
Carrum Downs lost two early wickets as they came in to bat nine overs before the close of play. They restart on day two from 2/23.
Tyabb had a good day against Boneo, posting a healthy total of 238.
Things got off to a bad start for Tyabb when they lost opener Nick Taranto for a duck.
Tyabb's middle order helped them to recover when they all put on good performances. Anthony Craddock was their best performer, scoring 56 runs. Jarrod White also contributed, scoring 46.
Boneo will have to reach 239 on day two in order to get a result.
At RJ Rowley Reserve, Rye were bowled out for 196 runs in their clash against Skye.
Opening batsman Jarrod Shaw was Rye's best performer, scoring 80 runs. He and first drop batsman Beau Suffern put together a 143 run partnership.
Skye's innings started poorly when their opener fell for a duck, and they finished the day at 2/31.
PROVINCIAL
WADE Pelzer's brilliant century has helped Peninsula OB to a strong total on day of their matchup against Sorrento.
The Old Boys chose to bat first on their home deck, and Pelzer was their biggest contributor. He scored 105 runs, hitting 10 fours along the way.
The damage was done after a middle order collapse. Pelzer combined with James La Brooy to put together an undefeated eighth wicket partnership of 115.
Peninsula OB ended up at 8/224 at the close of play, giving Sorrento a tough task to face on day two.
A century from Rhys Elmi put Baden Powell on track for a good total against Langwarrin. Elmi scored 104 before being dismissed. He smashed 15 fours during the entertaining innings.
At the close of play the scoreboard read 9/244. Langwarrin face a difficult mountain to climb to get a win on day two.
Flinders set Baxter a target of 223 to chase down in the first day of their clash. Baxter restart on day two from 0/10.
Mt Eliza had some difficulties at Alexandra Park, being bowled out for 145 by Mornington.
Mornington will begin on day two from 1/27.