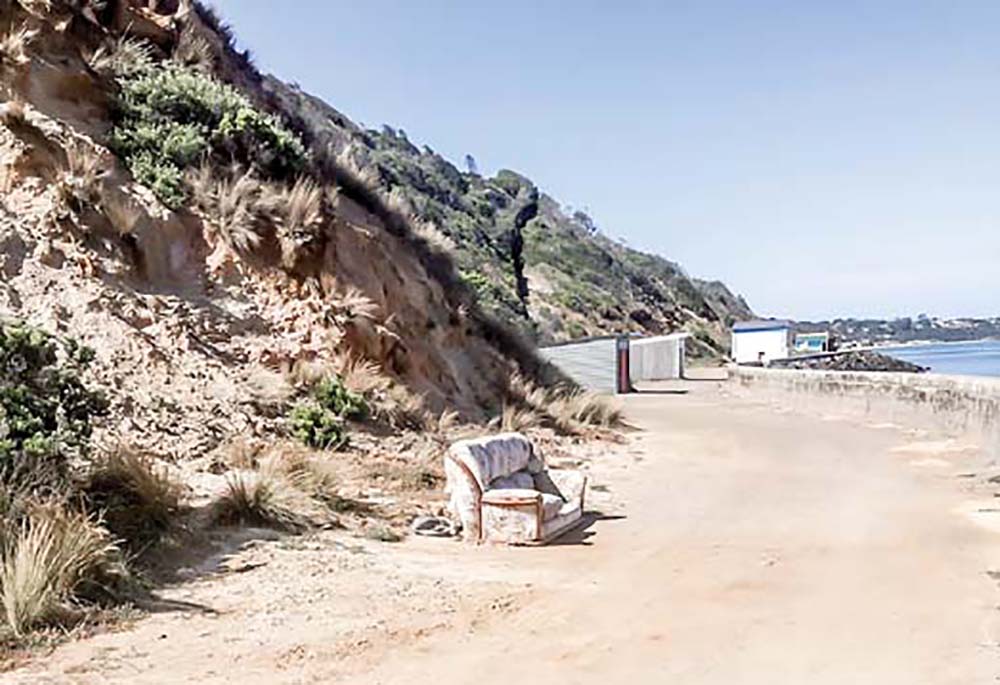 THE cost of cleaning up after vandals and illegal rubbish dumpers is costing Mornington Peninsula ratepayers $1. 5 million a year.
This amount includes about $400,000 on repairing, repainting and restoring buildings, council furniture, signs, parks, roadsides and natural systems. It costs a further $300,000 to remove graffiti.
The largest amount – $800,000 – is spent taking illegally dumped waste to the tip.
Infrastructure services manager Jessica Wingad said the infrastructure maintenance team removed 32,000 square metres of graffiti a year.
"We do see a spike in both vandalism and graffiti in all school holidays and this is across the whole shire and not one particular area."
Jackie Herron, of Hastings, told The News she had "noticed with much sadness that the feral vandals of Hastings have been on the rampage again".
"A few weeks ago, our shire council took the trouble to plant trees along Queens Road, Hastings. Within a week they had been ripped out. These trees were planted to replace trees that had suffered the same fate from these idiots several months ago," Ms Herron said.
"What kicks do they get out of vandalising other people's property and scrawling eyesore idiotic rubbish everywhere? Why?
"Our shire council has spent a few million dollars of taxpayers' money to beautify this area, but these morons want none of it. Again, why?
"Please do not tell me they are bored. Hastings has a beautiful park to play in, bike paths, bike and skateboard ramps, swimming pool and lots more. We have beautiful local beaches. Most of these kids/youths would have the use of the latest technology and computer games."
Ms Herron said Hastings "has a wonderful well-stocked library" and drawing pads, pencils and paints were cheap. There is absolutely no reason to be bored.
"And please, [don't use] the 'underprivileged' label. These vandals would have no idea what the word means. They are not venting anger, but the selfish attitude of destructive pleasure."
Ms Herron said her sympathies were with Jet Nye, of the Kings Creek Hotel, Hastings, who last month offered $1000 for information leading to the conviction of the serial graffitists.
Mr Nye said a "massively popular post" on the hotel's Facebook page "has reached nearly 6000 people and had 18,000 in engagements", including identities of alleged vandals.
"The community has really gotten around this story as it seems the whole area has been negatively affected by the tagging," Mr Nye said.
Sorrento Early Learning Centre was hit by young vandals, Saturday afternoon 26 October.
The youths jumped the high fence into the play area, broke into the storage shed and "generally got into mischief, throwing stuff around, removing the bikes and riding them around the car park", Sorrento Community Centre manager Heather Barton said.
"They were in danger of being hit by cars, destroying stuff, and using seats as Frisbees."
Women doing their shopping called the police and took pictures on their phones. In one photo a youth is seen climbing onto new shade sails "recently erected following lots of fundraising".
First published in the Southern Peninsula News – 17 December 2019