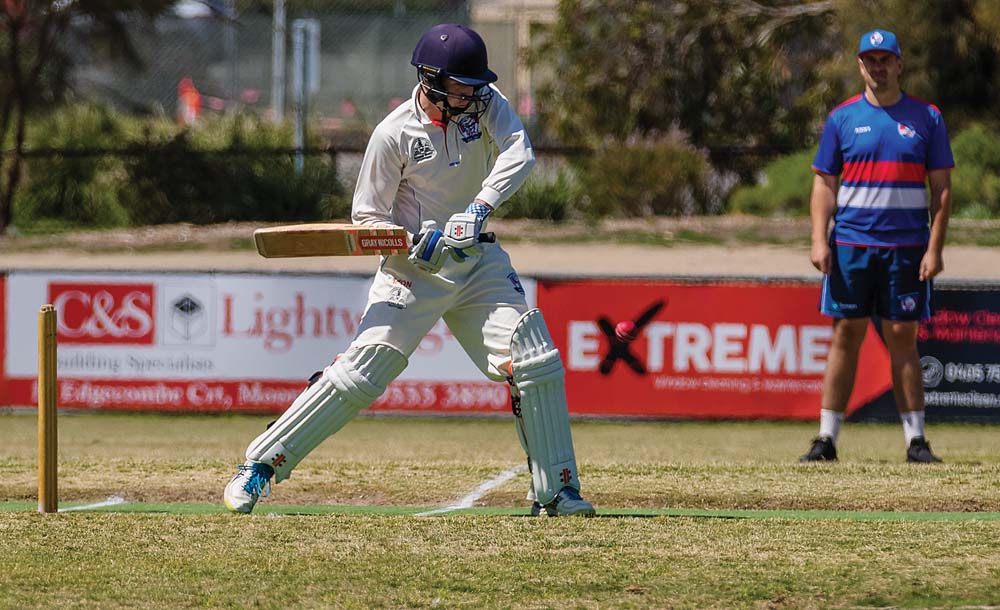 PENINSULA
A CENTURY from Jake Theobald got Heatherhill over the line in a nail biter against Pines.
Chasing 253 to win on day two, Heatherhill had a tough task ahead of them.
Heatherill ended up in a difficult position at 7/156 before Theobald took control. He scored 102 not out.
Heatherhill ended up getting over the line with just two wickets in hand and four balls left to spare.
Things were more comfortable for Somerville on Saturday, as they put Moorooduc to the sword.
Somerville had already wrapped up a win on day one, and were looking for an outright win on day two. They made 274 in their first innings in response to Moorooduc's 104.
Moorooduc made 187 in their second innings on day two. Somerville came in to bat for eight overs and made the 20 runs they needed to secure the outright win.
Pearcedale also had a tough day on Saturday, succumbing to an innings defeat at the hands of Red Hill.
The Hillmen declared for 242, with Pearcedale making just 72 in response.
Pearcedale were made to follow on, and didn't fare any better in their second innings. They were dismissed for 52 runs, losing outright by an innings and over 100 runs.
At Ditterich Reserve, Long Island chased down Main Ridge's total.
Needing 161 to win, Long Island reached their target with six wickets in hand. Brad Bailey's unbeaten century was the highlight.
DISTRICT
SEAFORD Tigers managed to secure the narrowest of wins over Dromana on Saturday.
Chasing 158 to win, a middle order collapse put Seaford Tigers in a world of trouble. A half century from opener Ashley Mills to kick their innings off ended up proving the difference.
The Tigers steadied the ship late, and ended up scraping over the line with just one wicket to spare.
At Cyril Fox Reserve, Crib Point failed to chase down an attainable target against Delacombe Park.
Needing 119 to win, Crib Point were never able to get going. None of their batsmen were able to stand up, and they ended up all out for just 100.
Andrew Stapleton was the best of the bowlers, taking 4/32. Those were his best figures for the year.
Both sides came out for a second innings, but neither wrapped up a second innings win.
After grabbing a first innings win on day one, Hastings weren't able to go on to defeat Mt Martha outright on day two.
Having chased down a total of 80, Hastings started on 1/104 on the second day of play. They declared for 197.
Mt Martha had a better second innings, batting out the day and finishing at 8/172.
At Olympic Park, Rosebud secured a win on their home turf. They defeated Carrum by 80 runs. Michael Clavin grabbed a five wicket haul for the winning side.
SUB DISTRICT
SEAFORD managed to defeat Boneo in a low scoring contest on Saturday.
Chasing 104 to win, a knock of 48 from opener Dil Pageni proved helpful for Seaford. Their middle order didn't offer much support, but they still managed to get over the line with five wickets to spare.
Seaford ended up collapsing soon after wrapping up a first innings victory, and were bowled out for 138.
Boneo came in for a second innings and finished the day at 0/55.
Skye had a tough day at home, being smashed by an innings.
Their Tootgarook opponents were ruthless. Having chased down 108 to win on day one, Tootgarook declared at the close of play last week at 7/247.
Skye made just 85 runs in their second innings off less than 30 overs, dooming them to an innings defeat. Adeel Hussain took five wickets for the victors.
Frankston YCW also did things comfortably on Saturday. They made quick work of Ballam Park.
Having set a total of 320 on day one, the Stonecats were near certainties to win. Ballam Park couldn't even get close, being bowled out for 102 on the second day of play.
The Stonecats bowling lineup shared the load, with five different bowlers grabbing wickets.
Balnarring weren't able to chase down a target of 205 as they played host to Rye.
Batsman Brenton Taylor scored 48 and was the best performer for the losing side. They fell short by 68 runs.
At Bunguyan Reserve, Carrum Downs wrapped up a win over Tyabb.
PROVINCIAL
A DOMINANT double century by Dylan O'Malley got Peninsula OB the win on Saturday,
O'Malley was untouchable, carrying his bat through the innings and finishing the day at 215 not out. The massive total moved him up to fourth on the list of run scorers across the division this season.
His Old Boys side were chasing 212 to win against Flinders. They ended up making 4/270.
The top of the table clash between Sorrento and Mt Eliza ended up being a one sided affair, with Sorrento succumbing to a tough defeat.
The top of the ladder Sharks had a shocking day, not getting anywhere near their target of 171. They were bowled out for a paltry total of 76.
Tom Baron was excellent for Mt Eliza on day two, bowling 15 maidens from his 31 overs. He finished with figures of 5/27.
At Lloyd Park, Langwarrin managed to grab a narrow 30 run win over Baxter.
Langwarrin made 180 on day one. Baxter's run chase got off to a nightmare start, and at 4/10 they had a lot of work to do.
Their middle order got things back on track but the damage had been done. Baxter ended up all out for 151.
At Alexandra Park, Baden Powell defended their total of 326 with ease.
Mornington made 156 before being sent packing. Thomas Panich worked hard for them, putting 86 runs on the board.