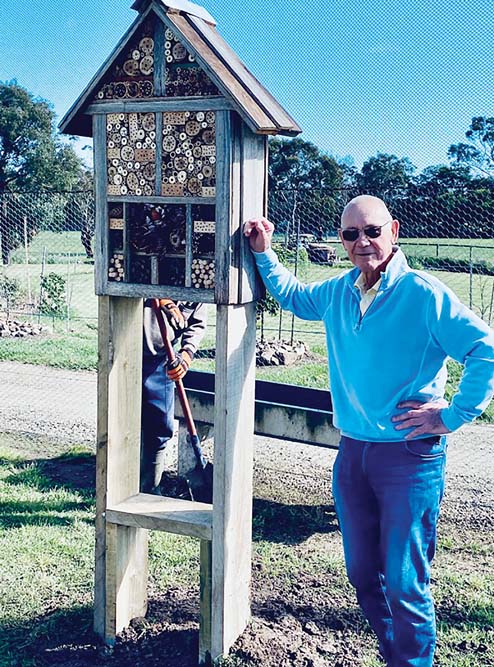 SOON after the Europeans arrived, they began to colonise territory that was already occupied and providing a living for its long time inhabitants.
The original populations were overlooked as the fast-reproducing, more powerful hordes took over the lush valleys and fast-developing agricultural areas.
But a growing number of enthusiasts are now coming to the plight of the originals, providing safety and shelter from the spreading hordes.
The narrative of invasion and a struggle for survival might sound familiar, but it is one few people know about: the takeover of Australia by European bees.
Introduced for their manufacturing and pollinating skills, the honey bees have a habit of pushing aside the smaller native bees.
There are more than 1700 species of native bees and although just 11 of them are stingless, their diminutive size means they are unable to deliver a harmful sting.
Some of the larger native bees are credited with having a sting as painful as a bull ant bite but are unlikely to do so unless trodden on or threatened in some way.
Derek Ryan, of Sorrento is one of those affected by the tales of loss and dispossession suffered by native bees.
After hearing Cr David Gill speak passionately about the need for native bees and their value to Australia's environment, Mr Ryan decided to help the bees out.
"I never knew native bees existed until I heard David when he visited Sorrento Rotary Club," Mr Ryan said.
Also, a member of Sorrento Men's Shed, Mr Ryan set about making "bee hotels", using recycled timber and bamboo that he found growing mainly on nature strips.
During the COVID-19 lockdown he made and gave away six small hotels.
But his crowning achievement, built over five months, was something on a much grander scale.
"I have a friend with a 30 acre farm and part of it is a protected orchard. So, I told him that I would make him a large bee hotel," he said.
"I have foraged for bamboo and other recycled woods and tree cuttings and I "have made a double sided bee hotel for his farm and is probably the largest bee hotel in Australia."
Cr Gill, who often give talks about Australia's endangered native bees to clubs, community groups and schools, said Mr Ryan's efforts "makes it even more worthwhile".
Now that the hotel has been installed on Mr Ryan's friend's farm near Mornington, he is waiting to see what types and how many of the native bees take up his offer of residency.
First published in the Southern Peninsula News – 3 November 2020