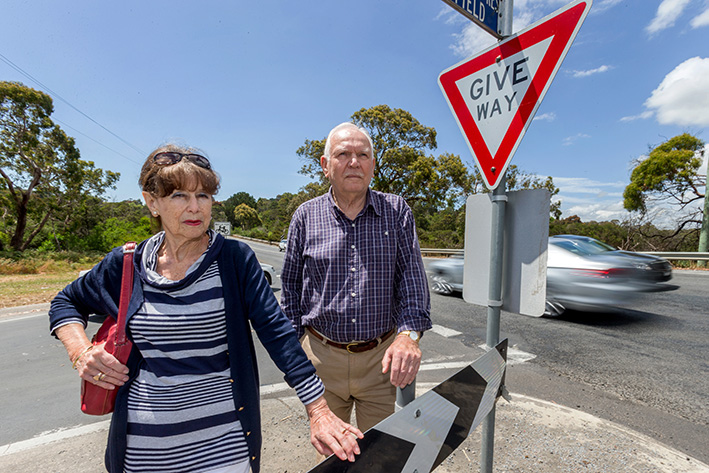 FEARS have been raised that another person will be killed before improvements are made to the two increasingly congested intersections linking Mt Martha to Nepean Highway.
A pedestrian was killed at the intersection of Forest Drive and Nepean Highway in 2014, resulting in a 700-signature petition to VicRoads urging the authority to upgrade traffic conditions at the access points of Forest Drive and nearby Uralla Rd.
But despite the Mornington Peninsula's soaring population and increased traffic accessing Mt Martha from the highway, no works have started.
Resident Mike Goethel said he had a "substantial folio" of correspondence with VicRoads going back four years.
"We are sick of talking because nothing is being done and someone else could be killed," he said.
Mr Goethel attended a meeting between residents, VicRoads and the shire last year, during which VicRoads undertook to begin "suitable safety measures". But he said the only action so far was to reduce the speed limits from 100kph to 80kph.
He said the effect of the speed reduction was negligible", with accidents still occurring regularly.
A further consultation meeting in November was "disappointing", with conceptual road arrangements presented but no timing or funding guaranteed.
However, VicRoads regional director Aiden McGann said consultation was essential.
He said almost 300 residents who attended two community workshops at the Dromana Community Hall last month heard about a range of safety measures being considered.
He said the aim of the community sessions was to begin a discussion about how people access and exit Mt Martha and the challenges they faced.
"It is important for us to gather information with the benefit of local knowledge, which is going to help us form solutions to make it safer and improve traffic flow." Mr McGann said the next step was to gather the information and "look at the sentiments" towards the approaches offered.
"Alongside our engineering principles, the input from the community will help us look at what is feasible and what isn't in terms of improvements."
He said VicRoads would present the recommended solutions "in the first half of next year" before submitting a business case for the government to consider.
Options for the intersections include:
Roundabout
Traffic lights
Staged right turn crossings
Minor intersection improvements
Right hand turn restrictions
New access points into Mt Martha, for example, Bay Rd.