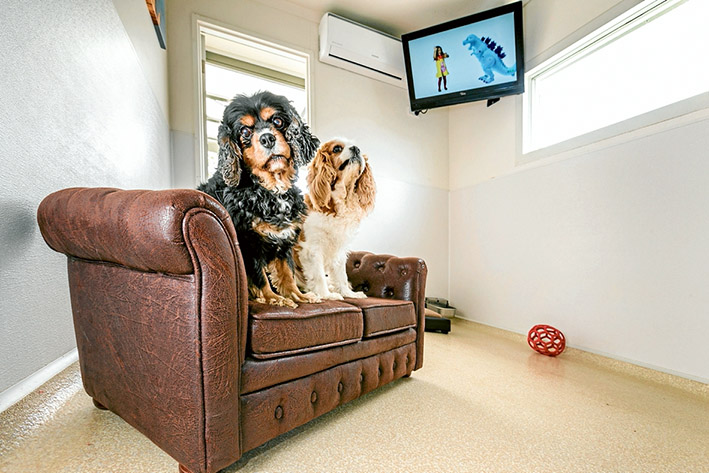 THE Mornington Peninsula has long been marketed to those seeking a pampering, resort-style holiday experience, and now it seems many want the same for their pets.
It's no secret that the pet industry is a lucrative industry estimated to be worth about $8 billion annually, with many owners today taking a "no expenses spared" approach when it comes to the social and emotional wellbeing of their animals.
Cory Andrews, who runs kennels in Baxter and whose family has been involved in the pet industry on the peninsula for 43 years, said the trend for luxury cat and dog boarding, doggy day care and other pampering services for pets is following the American lead, and is a reflection of the increasingly important role pets today play as "family members".
Ms Andrews, who took over a basic dog boarding facility with her husband Paul ten years ago and transformed it into the luxury-style Dog Country Club and Kennel Resort, has just won the 'Excellence' category in the national Pet Industry Association of Australia awards.
"Many people see their pets as very important family members and the pet industry has to respond to that," she said.
The owners make no bones about the level of luxury pets experience at the resort, with more than ten different styles of accommodation for fussy dogs and their owners to choose from, a selection of menus, chandeliers, TVs, air-conditioners and specialised furniture made for comfort and style.
While about 55 per cent of the resort's clients come from the Mornington Peninsula, others come from all over Victoria to spoil their pets and ensure their emotional, physical and social needs are met while away from home.
"Whether it's overnight or day care, it's really important to owners that their pet is treated like they would be at home and individual needs in terms of diet, sleeping styles, exercise and psychological needs are taken into account," she said.
After being involved in the pet industry through my family all my life, it's interesting to see how things have changed and how pet owners are expecting more," she said.
Mrs Andrews's mother runs Australia's largest cat resort nearby and is facing a similar rise in both demand and expectations.
"There are 200 rooms and if a cat doesn't like the one they get, they can inspect the others and choose one that suits," Mrs Andrews said.
First published in the Southern Peninsula News – 6 December 2016