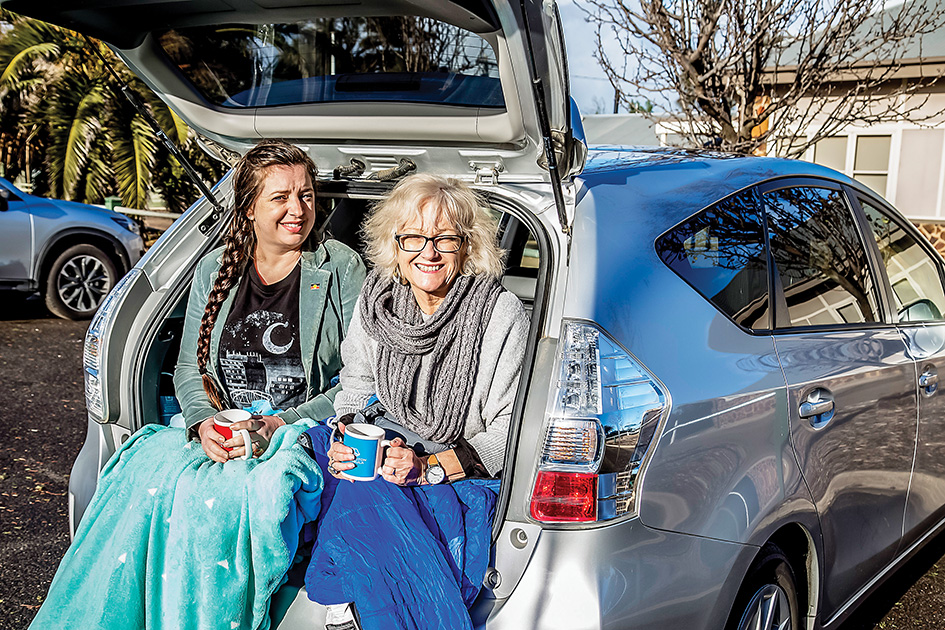 FUNDRAISING for the third annual Sleep In Your Car event in Mornington on Saturday is in full flight as the shire's mayor Bev Colomb throws her support behind the cause.
Cr Colomb will join others at Mornington Park on Saturday night who are giving up sleeping at home for one night, and she aims to raise at least $1000.
The mayor has a way to go to catch fundraising frontrunners, some of whom are halfway to their targets, but no doubt she can find plenty of sponsors among the shire's 10 other councillors and 1000 plus staff.
This is Fusion Mornington Peninsula's third annual event and this year the organisation aims to raise $30,000 "to continue to change the lives of vulnerable young people on the Mornington Peninsula", Fusion stated.
People pledge funds to support those taking part in the event at Mornington Park, Schnapper Point Drive, which starts at 5.30pm on Saturday 5 August with a community event before sleep time.
Cr Colomb said she had "always felt so lucky to have a home. There are so many hardships related to homelessness and we need to do what we can, wherever we can".
Fusion's housing coordinator Stuart Bell said anecdotal evidence from peninsula support services showed about 2000 people on the peninsula were homeless.
"People experiencing homelessness resort to resting in any way they can. This could include staying in a friend's garage or couch. It could be sleeping underneath a beach box, in a park or on a building site. Others may be lucky enough to find emergency accommodation. Some may end up in a boarding house, which could be exploitative and sometimes even unsafe."
Mr Bell said the closure of caravan parks on the peninsula had removed affordable and accessible accommodation. Renting a property on low incomes was difficult, too.
Cr Colomb said she would be joined by members of the shire's Youth Services Team "who are encouraging families to Take the Pledge", which had been developed to "encourage families to focus on positive communication and spending quality time together as a family to foster a more harmonious home environment".
People who can't or don't want to sleep in a car or under a large marquee can still contribute by coming to the park at 5.30 to take part in various activities, Fusion said.
Activities will include walk in the shoes of someone experiencing homelessness through Fusion's "The Walk Without Home" simulation; hear about services and support systems; and find out how to support someone at risk of homelessness. There will be an art installation, musicians, and food and coffee on sale. It is a drug- and alcohol-free event.
Register at sleepinyourcar.com.au. Sponsor Cr Colomb at: sleepinyourcarmornington17.gofundraise.com.au/page/BevColomb