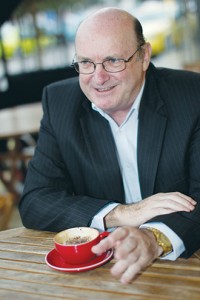 A CHARTERED accountant with a 20-year career in local government prior to 1995 is standing in Nepean Ward on the southern peninsula.
Bryan Payne, 65, will be after one of the two seats in the new multi-member ward, which is held by Crs Bill Goodrem and Tim Rodgers.
Mr Payne lives in Portsea and is involved in many Sorrento organisations including Sorrento Sports Club (president); the RSL (treasurer); David MacFarlan Reserve committee (chairman); the football, cricket and bowling clubs; Sorrento Sailing Couta Boat Club; and the chamber of commerce. He is a member of Portsea Golf Club.
He is CEO and director of JSP Partners Chartered Accountants, which has offices in Dandenong South and Sorrento.
Mr Payne started his local government career as a director of finance in 1975 in Darwin after Cyclone Tracy.
"I was unsure whether to take the Darwin job. My wife Carolyn said 'you acccountants never take a risk'. I accepted the position and away we went, with the three kids. We had a fourth up there," he said.
He returned to Victoria and was appointed CEO of Corio Shire. In the early 1980s he joined City of Springvale as chief executive. He also has been CEO of City of Whitehorse and Derwent Valley in Tasmania, after which he set up a management consultancy.
He advised councils in Tasmania, country Victoria and NSW, in Sydney and Papua New Guinea.
Mr Payne said he was standing for council due to a growing disappointment with the way the shire was bring run.
He had been dismayed over a number of issues in recent years including the difficulty of getting a permit for a farmers' market in Sorrento, which took nine months; problems with parking at the RSL; difficulties getting a permit for the Nepean Flood Relief Benefit in March 2011 and the council's lack of support of the event; and getting things done at MacFarlan Reserve.
"This year we put forward a plan to improve the reserve and its facilities on behalf of 10 groups as part of the budget process and council knocked us back," he said.
"Next thing we know the council is proposing installing a garden behind the football club rooms."
Mr Payne said he stated thinking about running for council about nine months ago.
"Local government should be the most cost-effective form of government as it is closest to the people.
"Unfortunately, too many of us are not being represented in council decisions. Rates and charges are going up but we're getting lower levels of service."
He said the council had hired 50 new people in the past four years, "but services haven't gone up".
Mr Payne wants a more effective system of community consultation that would enable residents to have a say.
"There are six master plans in my area. They create expectations in the community, but they should be backed with capital works programs."
He is critical of the cost of running Pelican Park aquatic centre CHK in Hastings and said the proposed aquatic centre at Rosebud needed to be designed properly or it, too, would become a burden on ratepayers.
There was insufficient focus on youth services, he said.
On the government's plan to open up the green wedge for development, he said it was a "challenge for the council". "We have to keep our unique green areas intact, it's why we all love the peninsula. There is room for development in certain pockets."
Mr Payne first lived on the peninsula at Dromana in his parents' holiday house. After marrying, he and Carolyn bought a holiday house just around the corner.
He has been a permanent resident on the southern peninsula for 10 years.
Mr Payne has been involved in the community since he was president of Burwood YCW Football Club at age 18.
Asked if he was a member of the Liberal Party, Mr Payne said he was once courted by the Liberals for an upper house seat in Glen Waverley and by the Labor Party for a lower house seat in Geelong – at the same election.
"Liberal people think I'm Labor, and ALP people think I'm a Liberal," he said.