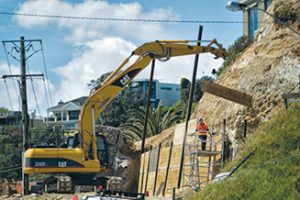 RECONSTRUCTION of the retaining wall on Nepean Highway near Olivers Hill in Frankston will take three and a half months.
Work started on the $1.4 million wall in February, but it collapsed on Thursday 19 April before it could be finished.
Dramatic pictures of the wall collap­sing were taken by a man walking his dog.
The first wall was built of rocks in steel cages and backfilled with sand.
The second attempt is being constructed using steel posts hammered into the ground, horizontal wooden planks and backfilled with lighter material.
The lighter material would "reduce the load imposed on it", said Peter Todd, VicRoads' regional director of Metro South East.
He said VicRoads engaged consultant ARUP Pty Ltd to undertake an independent investigation into the April incident.
"The new retaining wall design has been independently verified to ensure the safety of road users and workers."
Mr Todd said no lanes would be closed to motorists "however VicRoads request all road users observe the 40km/h speed limit and drive with caution".
"The bicycle lane and footpath will continue to be unavailable" during construction.
"Cyclists can use the left traffic lane and pedestrians … the footpath on the foreshore side."
Mr Todd thanked Frankston residents "for their patience while this important reconstruction work is undertaken".
VicRoads decided to build the wall to stem erosion of the cliff face, which had been monitored by a resident whose house was built close to the cliff edge.
The erosion has now gone inland beyond the boundary between the VicRoads land and private property.
Properties on the cliff have lost up to three metres of land in the past five years.
The area near the foot of Olivers Hill was once part of Frankston Brickworks and backfilled before being opened up for residential development.
Houses on the steep land have to comply with strict building regulations that include concrete foundations up to 15 metres deep.