PENINSULA Link builder Linking Mel­bourne Authority is remaining tight-lipped about the expected open­ing date of the 27-kilometre freeway between Carrum Downs and Mt Mar­tha.
Rumours about the date have been circulating since before Christmas with one Melbourne radio station broad­casting Australia Day long weekend as a possible opening time.
On Sunday, a Melbourne newspapers stated "the freeway does not open for at least another week" when reporting that users of Apple Maps on the iPhone had been wrongly directed to the unfinished road.
Apple Maps users have been directed to the freeway for more than a month.
On Tuesday, Gemma Boucher of LMA said the freeway was "still on track for the scheduled early 2013 open­ing".
"As soon as construction is finished and we know when the road will open, we will let the community know," she said.
"Construction works are continuing, with asphalting along the [freeway] al­most complete. There are also some finishing touches to be completed, in­cluding where the freeway ties into the road network at either end.
"Once these works are more pro­gressed and the independent reviewer has done his final checks, we expect to be in a position to announce [opening details]."
Asked if the freeway would open on Australia Day weekend, Ms Boucher said: "Given how busy the peninsula is over summer, it's unlikely that opening would happen on a weekend or a pub­lic holiday to avoid changes to the road network at peak times."
However, just days before last Eas­ter, freeway construction company Abigroup diverted southbound traffic off Moorooduc Highway and downhill through two new roundabouts, a radi­cal change.
Asked if it would have been better to divert traffic after Easter, Carol Bartley of Southern Way, the consortium build­ing the freeway that includes Abi­group, said: "There is a huge amount of work required to construct the major interchange between Peninsula Link, the Mornington Peninsula Freeway and Moorooduc Highway so we've im­ple­mented traffic changes now so we can get on with building this complex connection."
LMA and Abigroup, which is owned by multi­national property and infra­structure company Lend Lease, have consistently promised the freeway would be completed in early 2013.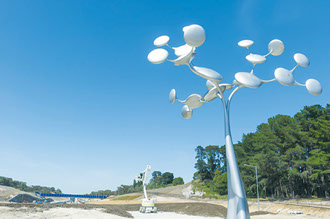 Linking Melbourne Authority is a spe­cial purpose statutory authority re­s­ponsible for managing complex road projects on behalf of the state go­vern­ment.
It built EastLink tollway between Ring­wood and Frankston, and says it is "assisting the Department of Trans­port to develop a business case and undertake early planning work for a potential East West Link, a proposed 18-kilometre cross city road connection between the Eastern Freeway and Western Ring Rd".
Peninsula Link will not be a toll road, but will be paid for by the state government out of general revenue, so-called "shadow tolls".
The freeway has been built under a 25-year public private partnership (PPP) contract, also known as a DBFOM (design, build, finance, ope­rate, maintain), where the govern­ment makes fixed quarterly payments to Southern Way regardless of actual traffic volume.
Southern Way has to meet set per­formance criteria and if the road's availability to traffic or level of main­tenance falls below standards set in the contract, the government can reduce payments or reclaim money already paid.
Last July, Victoria's Auditor-General Des Pearson said the promised econo­mic benefits of Peninsula Link may have been overstated and its potential negative impacts ignored.
His report, Management of Major Roads Projects, was a scathing critique of the freeway, one of the state's most expensive road projects.
Mr Pearson slammed VicRoads and Linking Melbourne Authority, saying the two authorities failed to take into account the concept that bigger and better roads encourage more traf­fic, so-called "induced demand", when deciding whether to build new freeways.
"They did not adequately assess the traffic induced by these improvements, communicate the risks, or estimate the impact of the economic benefits," he said.
"These shortcomings create a risk of over-estimating the benefits and giving decision-makers false confidence."
The report said LMA also had weak­nesses in the way it had made pro­cure­ment decisions.
Peninsula Link was conceived during the global financial crisis by the Brumby Labor government.